Popular deckbuilding website, Moxfield, has announced plans for a new social media platform dedicated to Magic: The Gathering.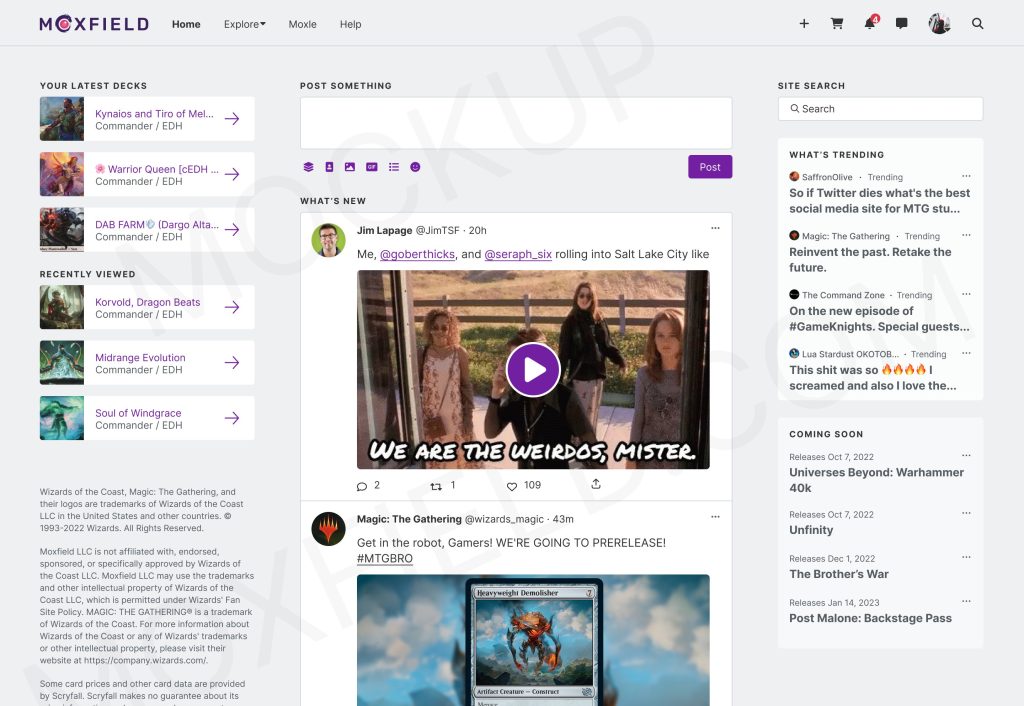 According to their Twitter thread, the project is still very early in its development, but will function similarly to traditional social media platforms (dark mode included!), but with a dedicated Magic: The Gathering focus.
Moxfield plans for the site to be accessible both on desktop and via mobile application and will allow users to follow each other, post status updates, share picture and video content, decklists, and more. The site's homepage will be unique to each user and display a scrolling feed of tailored content along with a section for trending stories and quick-access to decklists you've built or viewed.
To better grasp the scope of the project, we reached out to Harry and John at Moxfield who were kind enough to answer a few of our questions which you can view below:
SCG: What sparked the initial idea for this project?
Moxfield: There were many sparks that led us to creating a social network, but the spark that finally pushed us to action actually came from a Moxfield user, Arsteel, who suggested social networking as a way to "play bigger." We looked at our roadmap and saw features that we already wanted to do that aligned perfectly with a social network (new profiles, new ways to share content, new ways to share changes to your deck, communities, new notifications, etc).
It didn't click for us, though, until we understood the problem we were trying to solve: we wanted a social network where we could focus on the thing we cared about (Magic) and not get distracted by the pain of everything else going on in the world (and there's a lot of pain going on in the world right now).
We wanted to see news about Magic, trending topics about Magic, and new content creators in Magic… not the next horrible thing that some celebrity or politician said. We wanted a way to embed the things that matter most to us in Magic (cards and decks), directly into our feeds so we didn't have to use three sites to communicate a Magic-related thought. We knew this is where we had to take Moxfield. Once we saw the vision, we couldn't un-see it.
SCG: What is the overall goal? Does it go beyond a dedicated "MTG meets social media" platform?
Moxfield: Our primary goal is to give people a safe and inclusive place to have social interactions that are focused solely around Magic: The Gathering. We don't intend on replacing any other social media platforms – they all have their place. Just because you have a LinkedIn profile, doesn't mean that you can't also have a Twitter profile and a Facebook profile. They all serve different purposes. Our purpose is to cut out the noise, enhance the Magic: The Gathering content, and deliver it to the people who want it.
SCG: Will the site offer traditional social media practices like following, direct messaging, sharing etc.
Moxfield: We plan on supporting most (if not all) traditional social networking practices.
SCG: Do you have a timeline for release? Will it be primarily a desktop application or mobile?
Moxfield: As much as I'd like to give a timeline for this, that's a really hard thing to do for a company like Moxfield. We only have two employees, both of which have other full-time jobs and home lives. That being said, we're passionate about this initiative (and Moxfield in general) and that has served us well in the past. Personally, we're hoping to have a minimum viable product out in the first half of 2023, but we make no promises about this.
Everything we make on Moxfield works on any device or screen size. We will also be releasing a native mobile app for Android and iOS. The app will mostly be a wrapper for the website, with some additional native capabilities like push notifications.
SCG: Will you be offering verification or subscription options? (Think Twitter Blue etc.)
Moxfield: Our focus right now is working on the basics of social networking. We do have a Patreon program today that offers users an enhanced website experience as well as gives a user a visual indicator next to their names. In terms of verification, impersonation is a violation of our terms of service, with or without a verified status, so we will need some way to handle those conflicts on a larger scale. We don't know what that will be, but we don't think the right way to handle those conflicts is to offer a pay-to-verify service.
SCG: Do you plan on opening up space for advertising (IE paid promotional posts)?
Moxfield: We already support advertising on our site. We haven't examined whether we would expand this to promotional posts or not, but we may have to think about it since that is one of the primary ways we monetize. One thing we know is that we have no plans for selling user data like a traditional social network does, so we're not sure how good our promotional posts would really be. If we go down the route of doing promotional posts, I would imagine it would only be useful for companies that want to target Magic players wholesale, like UltraPro, Ultimate Guard, or Dragon Shield, to name a few.
SCG: While Magic is the main focus, do you think other TCG communities will want something similar or even attempt to migrate to your platform?
Moxfield: I think Moxfield will be the benchmark for how people react to a social networking platform built for a specific TCG with enhanced capabilities for that TCG. Our guess is that people will want this in every game, as long as the content moderation creates a place where people feel safe and want to hang out. As it stands today though, we would be unable to support expanding to other TCGs without growing our team. In order for that to happen, our social network needs to be very successful.
With 2023 marked as a tentative rollout, the future looks bright for Moxfield and their userbase. Currently, there are no plans for a beta test of the site, however if Moxfield does decide to implement one, they plan to give subscribers to their Patreon first-access.
To stay up to date on the progress of the project follow Moxfield on Twitter.