One of the most decorated players to sleeve up cardboard retired from professional Magic: The Gathering this weekend, capping more than 20 years of traveling the world and casting spells.
Carlos Romão, the only player in the history of the game to hold the title of World Champion and MOCS champion, announced his retirement on Twitter on Friday following his exit from the Streets of New Capenna Championship. The Brazilian pro's run as a member of the Rivals League came to an end this past weekend, and though he has stepped away from the game before in his life, Romão's shift in focus to fatherhood leaves little time for high-level Magic.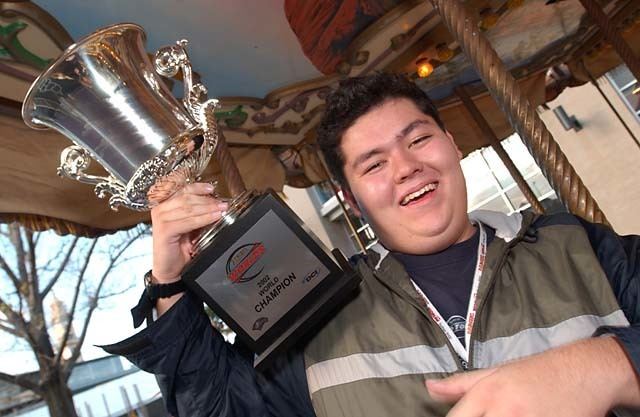 On top of his 2002 Worlds and 2010 MOCS wins, Romão won five Grand Prix, Brazilian Nationals in the 2017, reached two Pro Tour Top 8s, and was one of the original 32 players to make the MPL in 2019. His achievements came on five different continents over two decades and his success paved the way for future players from Brazil, like Paulo Vitor Damo da Rosa and Thiago Saporito, to break through in the MTG world.
SCG was able to catch up with Romão to talk about his incredible career as he prepares for his next chapter in life.
SCG: First off, congrats on an amazing career spanning multiple decades. Looking back, what is your proudest achievement?
Carlos: I believe winning Worlds 2002 is the biggest moment of my career. It is not only my first major title, but it is a threshold for the Latin community. Back in 2002 we used to be happy when we could make Day 2 at a Pro Tour. Winning a World Championship when no one expected it, including me, was something amazing. To put in a context, before my title, only one Brazilian player made Day 2 in a Pro Tour and just two others cashed in previous Worlds.
SCG: Is there one thing in particular that led you to step away from the game or a combination of many things. If so, what were they?
Carlos: I believe the combination of fatherhood and the change in the professional organized play made me step away from MTG. The new MTG pros will have to figure out how to deal with this new scenario and I couldn't see myself involved in this path of discovery.
SCG: How did it feel when you concluded your last match this weekend knowing this was it?
Carlos: I felt okay. I spoke with a couple of friends and they told me to make a post and turn my retirement into something official. The post was the best thing I could do because a lot of people showed love and respect for my career and it helped me a lot to not get sad about it.
SCG: Many MTG pros retire but end up returning to the game. Is this truly it for you or is there a scenario where you return to high-level play?
Carlos: During my career I left and came back a couple of times. I will be around, watching, and playing a few tournaments, but right now I believe it will be very hard to come back as a pro playing in high-level events. I am aiming to become a professional father, studying, improving and grinding as much as I can to achieve the FPL (Father Pro League) and play among the bests dads in the world.
SCG: Is there anything that you feel like you missed out on or you regret not accomplishing?
Carlos: The Hall of fame is something I wish I could be part of but I didn't. It is for sure my biggest disappointment in my whole career. Maybe if they bring it back, I can have another shot. Positive thoughts on it.
SCG: Thanks a lot for your time! Is there anything you'd like to express to your fans and the MTG player base as you bow out?
Carlos: The only thing I can say is "enjoy the game." I enjoyed it and the ride was amazing. MTG gave me a lot of important things in my life including my closest friends. The game gave me the opportunity to see the world, to change who I was, and to improve as a person. For the Brazilian community, all I can say is "thank you." You guys are amazing and I hope I can see the rise of new Brazilian players. We deserve it.