We are back at it with a brand-new Jumpstart release! Jumpstart 2022 is an exciting product because it is separate from recent set releases like Dominaria United and The Brothers' War. This product is a wonderful callback to the initial Jumpstart, which was released in 2020. Because the cards are not tied to a specific set, the packs aren't limited in their theming, which means we've got a bunch of exciting new stuff to explore!
Among those many new cards we were blessed with are a plethora of new legendary creatures to put our grimy little hands on. This week, I picked five of the new commanders to talk about that gave me that joyous Marie Kondo feeling when I deckbuild!
Alandra, Sky Dreamer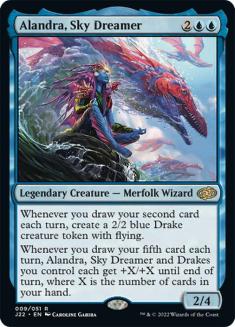 Move over, Talrand, Sky Summoner! There's a new Drake making Merfolk in the commander scene, and their name is Alandra! Alandra, much like Talrand, is in the business of making Drake tokens. Rather than focusing on casting instants and sorceries, Alandra pays attention to card draw and cards in hand. In fact, Alandra specifically pays attention to the second and fifth cards you draw each turn.
Card draw in an Alandra deck means token generation and buffs, so you'll want to run plenty in an Alandra deck. Pieces like Windfall, Tolarian Winds, Forgotten Creation, and Consecrated Sphinx have a comfortable home in an Alandra deck. Blue has no shortage of options, and you'll have an army of big, beefy Drakes swinging for lethal in no time!
Ashcoat of the Shadow Swarm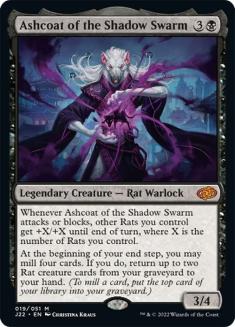 Once upon a time, I had a Rat tribal deck. Those were some dark, dark times. And by "dark," I mean insanely cool and fun. Rat tribal has a plethora of commanders to choose from. Ink-Eyes, Servant of Oni; Patron of the Nezumi; and Marrow-Gnawer paved the way for an insanely powerful new Rat tribal commander.
Ashcoat of the Shadow Swarm buffs all of your Rats when it attacks, and at the beginning of your end step, you have the option to mill and return two Rats to your hand from your graveyard. The mass buff is what draws me to Ashcoat as a commander. Aggressive plays are just so fun and exciting! Plus all of your rats become Rodents of Unusual Size (R.O.U.S.). Ashcoat loves the company of Piper of the Swarm, Ogre Slumlord, Pack Rat, and Crypt Rats! While my days of Rat tribal are behind me, if you're interested in taking a stab at this theme, I recommend giving Ashcoat a try!
Preston, the Vanisher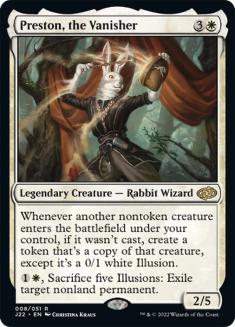 When I originally saw Preston, the Vanisher's art, I had no care for what his ability was. I knew I was obsessed because of how cute he was! I mean, how could you not love that face? His name is even a pun on the magician exclamation Presto! He's the rabbit in his own hat, for Pete's sake! When I saw his ability, however, I knew this little guy was going to be bonkers.
Preston is a blink/Flicker commander, creating tokens whenever a nontoken creature enters the battlefield under your control, if it wasn't cast. He also comes with a two-mana ability that trades Illusion tokens for exiling a nonland permanent. I love this a lot because the tokens are nonlethal (0/1's) and the exile ability specifically requires Illusions.
As someone who used to play a blink deck – I'm looking at you Emiel the Blessed – I know how gross games can get. The limitation to just white is also a welcome sight, as I felt having green made Emiel busted at times. A deck with this commander at the helm would love to see pieces like Eerie Interlude, Altar of the Brood, Charming Prince, and Spirited Companion. I might experiment with Preston in the near future on my deckbuilding stream, but until then he has a special place on this list.
Kibo, Uktabi Prince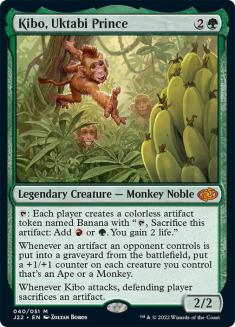 Kibo is essentially the exact opposite for me. I saw this little guy's text box first, and when I did, I was immediately hooked. Not only does he make novel Banana tokens, but they do some insanely cool things!
In fact, I actually brewed this Prince on my deckbuilding stream, focusing more on artifacts and forced Banana usage rather than going for a Monkey/Ape theme. Pieces like Sardian Avenger, Bane of Progress, Manabarbs, and Hum of the Radix seem to be fun and tricksy cards for Kibo to play around with. Whether you want to go for a tribal theme or want to play with a ton of artifact shenanigans, there are plenty of different ways to make Kibo a fun and exciting legendary to brew around.
Agrus Kos, Eternal Soldier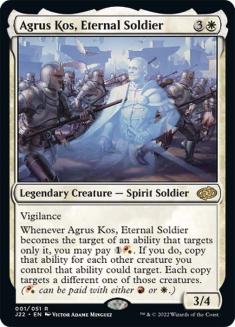 Out of all the new legendary creatures from Jumpstart 2022, I think Agrus Kos, Eternal Soldier is the most promising. I will admit that I had originally overlooked him, writing him off as a newfangled Zada, Hedron Grinder. However, this Eternal Soldier is far more interesting than that red Goblin.
Diving in, Argus acts as a sort of conduit for your abilities that only target it. If you pay two mana, an ability that only targeted Argus now targets each other creature you control. Single-target abilities quickly turn into mass buffs, keywords, protection, and more! I mean, imagine giving all of your creatures +3/+3 and flying with Elspeth, Knight-Errant, the mass land tutoring and flickering with Sword of Hearth and Home, or the insane keyword counter soup with Scavenged Brawler.
This is an absolutely insane commander that I see being a real target in future games. With Agrus out, expect the pod to get overwhelmed with power quickly. I absolutely love it.
Jumpstart Your Imagination
Jumpstart is always a fun product to fiddle with. Whether you're drafting or brewing your next commander deck, the experience always feels fun, fresh, and unique. Originally, I thought it was going to be rather hard to top the original Jumpstart legends from 2020, but the new legendary creatures from this Jumpstart product live up to the hype. Let me know if you agree with my top picks and what your brew would look like. Happy brewing, deckbuilders!