Since Magic is ultimately about dealing the twentieth point, every deck's plan leads toward that. The variables here are how far into the game that will be, how many turns the damage will take, and how many sources will deliver it. Vintage's abundant cardpool pushes decks toward the answers "soon, one, one", but Fish is the winningest deck that says "eventually, several, several". Since, unlike decks terminating in one-card blowouts, Fish uses its threats throughout its game plan, I'm focusing on it today. Whether you want to hate them or play them, it's important to consider what's winning.
Last year's GenCon Top 8 Fish deck featured a slate of entirely one-toughness guys, plus Mishra's Factory. That's why Fire/Ice was the final word in hate cards. No one could deal with enough two-for-one removal. This year, as we again approach GenCon with Fish-style decks winning broadly, the nuances that have changed could be what kills you. (The upcoming GenCon and SCG P9 IX Chicago players are most interested in the Richmond and Rochester results, so henceforth I'm referring to those six Fish decks unless otherwise indicated.)
Compared to 2004, there are more creatures. The old standard was 12 plus manlands, now it's 13-15 (U/G Fish is at the high end of that). The effect of this is that one-time board-sweeping like Balance is overall less effective because they can bounce back with more threats. This is likely connected to the Ninja of the Deep Hours addition, which demands more attacking. It's also kinda hard to distinguish the difference between an increase in creatures and a decrease in Faerie Conclave, the most overrated manland.
Grounded. Fish decks no longer have flying. Most builds still have a little of it, generally one playset, but with Spiketail Hatchling and Cloud of Faeries obviously less powerful and more vulnerable to Fire/Ice, there has been a dramatic drop. So don't add Green for Hurricane; people will laugh at you more than they already do.
No Library of Alexandria. Somewhere between the Richmond and Rochester events, Library got cut; none of the four Rochester Fishes has it. This is a consequence of other changes, but it does affect a Fish player's late game.
Turbo-Fish. Even the Null Rod versions are playing two Moxes and Lotus. Aether Vial adds a whole other layer of turbo to the picture. This both increases early board commitment for Fish players and reduces their hand-retained assets. It also presents an interesting opportunity to Welder decks, which, if they remove one of the now-abundant artifacts, can keep Jitte off the table before it gets counters. Since Lavamancer is much less of a factor than before, Welder players should anticipate this situation eagerly.
Artifacts. Instead of 4-6 artifacts, it's more like 6-12 now. Aether Vial, Chalice of the Void, and the aforementioned accelerants put a lot of weight onto colorless mana. The Almighty Jitte only amplifies the issue.
Fewer two-for-ones. Last year's Fish, besides providing juicy targets for Fire/Ice, also encouraged two-for-ones with Curiosity and the possibility that if something you did was important, you'd kill both Spiketail and a Daze in their hand. Curiosity has been fixed with Ninja of the Deep Hours, and both "Force Spike" cards are diminishing in presence in favor of more powerful defenses.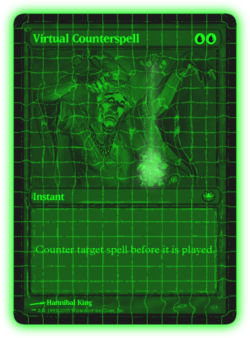 Counterspells. Speaking of more powerful defenses, what I like to call "virtual counterspells" are at the forefront of Fish strategy right now. Null Rod and the quasi-Force Spike duo were once a way of complementing land destruction to make all but the cheapest opposing spells unplayable. This strategy lost efficacy as the mana curve for other decks got faster, so modern Fish has inverted its response: Chalice of the Void and Meddling Mage are now virtual counterspells for all but the largest opposing effects (Mage is most likely to be declared for spells that are four-ofs to maximize effect, and these are typically small). Even The Almighty Jitte is a virtual counterspell for whatever small effects your opponent might play – all alone it makes every small and medium creature a corpse, and even against something like Darksteel Colossus it can buy a whole turn with life gain.
Last year, Marc "Are You Looking For A House?" Perez popularized random one-ofs in his counterspell configuration, which enabled him to out-mind trick many opponents. Absent his influence, this year there's pretty much U/G playing The Force exclusively, and the White or Red types adding in three Daze. Stifle and Misdirection are both there in the past two SCG P9s, but I'm skeptical about their efficacy.
Ask the question: what are you targeting with these spells? Fish in 2005 is less vulnerable to Wasteland than a lot of decks, and putting in a Crucible would be a more effective countermeasure than Stifle if that was a top concern. Will blocking a fetchland be a big deal? Probably only as much as killing a Mox would. Certain other effects would be cute or convenient to halt, but in general, another removal spell or a search card would be better than Stifle. Misdirection is not in friendly territory right now, either: Ancestral is still out there, but few people these days play them unprotected even in a low-Misd metagame. Mind Twist is all but nonexistent. Gifts, Intuition, and Tinker don't target. There's not often an opposing creature to redirect removal onto – unless you're in the mirror match, where Misd suffers from its inability to affect The Almighty Jitte. Finally, after the four mandatory Forces, pitching is bad. There are fewer Blue cards because of the artifact additions, and most of them are threats or Ancestral. Misd is not good enough for its cost.
With all these changes, what's a good way to face the music and metagame? The way that I keep referring to The Almighty Jitte should be a clue. Almost any attempt to neutralize modern Fish has to go through it, unless you're playing against Jitteless Fish, which is less likely by the day, because that card is insane. If they skipped Jitte, they're closer to traditional Fish and your concerns shift more to their mana denial and making sure you can deal with Chalice or Null Rod; their imminent victory is not the big problem at that point, it's their ability to delay your imminent victory.
There are too many threats with two toughness or better to just kill them all (at least, to do so more than once), so a control deck has to switch modes from Chess into Global Thermonuclear War somehow. With any attempt to race modern Fish, Jitte is the most dangerous opposing card, because it can make a little guy deal lethal damage quickly, and it has to be removed separately from the creature. This removes the ordinary default defense when the problem is a bloated swinging creature, Swords to Plowshares.
The ways to work around it are to destroy/counter it before it functions, to nullify it by preventing its conditions from being met, or to overrun it with a more powerful card. Obvious answers to these categories are artifact destruction, countering it, Null Rod, Pithing Needle, Mindslaver, and Darksteel Colossus. Here are some less obvious choices with potential. (Type One Johnny-Spikes, this is the part with "your mission, should you choose to accept it".)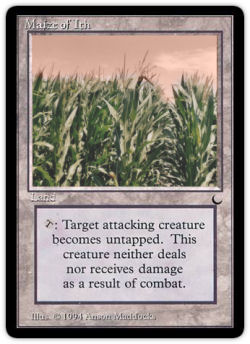 Maze of Ith

I feel that this is among the most underestimated cards in Type One. It prevents Jitte from ever getting counters, it stops whatever creature is carrying it, and it's invincible to even a million pre-existing counters on the Equipment. As an aside, the man with a Maze can safely say that Darksteel Colossus is for chumps. It doesn't do anything about Goblin Charbelcher, though, so Andy "Proboscis" Probasco is still invincible to merely mortal weapons. (see also: Whipcorder, the poor man's Maze of Ith.)
Moat

As noted above, Fish has concentrated efforts on discouraging low casting cost spells, and on getting abilities other than flying. This cuts the likelihood of an attacking Jitte-critter by a lot, and makes it easier for spot removal to solve just the fliers. It helps that Fish decks rarely have maindeck solutions to enchantments.
Powerstone Minefield

For those who think Aether Flash isn't thorough enough.
Blinding Angel is difficult to resolve, but she's a Moat and a win condition in one card. If Jitte is the only removal a Fish opponent has, you win; if Swords to Plowshares is also present, the fight continues. Even after reading this article, your opponent still won't Meddling Mage for it, so it retains the advantage of unpredictability.
Exalted is not among my suggestions because she doesn't do anything to restrain the problem; Exalted just delays for a couple of turns. The fact that a weenie player with a Jitte can invalidate a creature of epic aggro-crushing proportions like Exalted Angel should demonstrate how much it rises above the other threats in Fish. Normally, Exalted flipping over across from even three Fish creatures is the turning point of a game.
As for the Chalice and Meddling Mage side to modern Fish problems, it doesn't take a genius to see that every deck needs a two- or three-pronged removal plan (depending on the cards and the deck) to make sure Fish doesn't get an accidental soft lock. It's especially important that for Fish, the X of Chalice is almost always zero or one. Decks like Landstill have this built-in (Swords to Plowshares/Seal of Cleansing/Nevinyrral's Disk), as does TPS (Chain of Vapor/Echoing Truth/Rebuild). Richard Mattiuzzo's third place Rochester deck managed with just Disk in the main, but not only can he get away with that because he's prettier than the rest of us, he also had Engineered Explosives and Rack and Ruin in the sideboard. The other famed Canadian, Peter Olszewski, used Duress as protection, and had the edge of playing diverse three-and-higher mana spells as his core strategy.
I hardly expect Blinding Angel or Moat to be the next big thing, but in sifting through my list of interesting effects from the historical cardpool, cutting off the combat phase was one of the unique answers. What's even more interesting is how these cards suggest a U/W control deck that could have very simple answers to the format's questions. Landstill, anyone?
Philip Stanton

prstanto at gmail.com
(Okay, fine, I was kidding about Powerstone Minefield. You caught me.)