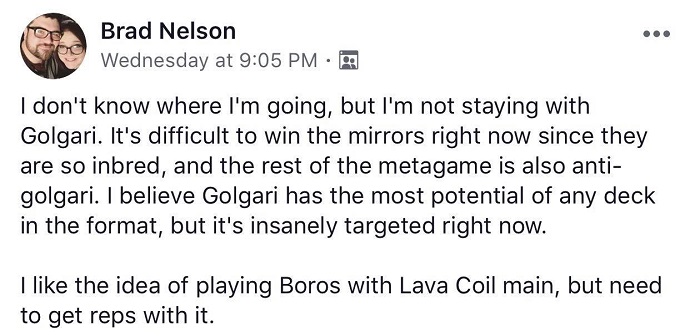 I sent this message to my team last Wednesday night before Grand Prix New Jersey. Up to that point Golgari was the deck I worked on the most, but I just couldn't get it to a place where comfort ever set in. Usually that happens after extended preparation, but not with Golgari this time around. After every testing session I wanted to make giant changes to my list, which really scared me, especially when it seemed like the format was becoming more and more hostile for the strategy. Time was running out, and I had to make a choice.
It's never easy abandoning decks right before events. Usually it means you need to effectively start the testing process over, but also that you've wasted much of your time already. The fear of the unknown meets the sunk cost fallacy in one giant muddled mess of doubt, fear, and reflection. Maybe the correct build is right around the corner? The other decks might have just as many problems. What if there isn't enough time to find a better deck?
I wish there was a formula for knowing when to switch decks last-minute, because it's not an easy thing to do. Sometimes it's correct to switch decks, and other times it's a mistake. There's no guarantee of finding a good list of a new deck, or even knowing how to properly play one when you have it.
I bring all this up because I believe it will continue to be a trend in Guilds of Ravnica Standard. The more I play the format, the more I see it emerging. It revolves around how the best creatures interact with the best removal spells. Many of the format's best threats are efficiently answered by only a small subset of the format's removal. For example, Adanto Vanguard is easily answered by Seal Away, which is also great against Arclight Phoenix, but the flash enchantment is not great against explore creatures; Aurelia, Exemplar of Justice; or History of Benalia.
Learn the difference.
Rekindling Phoenix gets embarrassed by Lava Coil, but this fantastic removal spell isn't stopping a Lyra Dawnbringer on its own and will never beat the power of Adanto Vanguard.
There's also a high volume of threats that can be played when a specific answer is overplayed. The best example of this is how Tocatli Honor Guard, History of Benalia, Rekindling Phoenix, and Adando Vanguard saw heavy play after Ravenous Chupacabra started seeing maximum play. This Beast was top dog for some time, yet quickly became a weak answer as the metagame adapted to it.
The examples go on and on, so many of them that it's probable that we'll discover many more as this format evolves. No longer do I think we'll find "perfect" builds of decks, but instead will consistently be trying to evolve strategies so they can dodge heavily played removal while also efficiently interacting with opposing threats.
This is exactly what I did when I abandoned Golgari for Boros Angels last week. The mythic-laden deck was not one I had been sitting on for weeks. In fact, I only played twelve matches with the deck before sitting down for my first match at Grand Prix New Jersey. I leaned heavily on theory and trusted the opinions of my teammates. I wasn't afraid to make aggressive changes to Alex Hon's list that I started with, and the end result was great. I took risks, and they worked out. I can't say it's always going to work out for me or you, but I do think this is the way of the future in Standard.
While I don't know exactly what's going to be the next best thing to do, I can at least catch everyone up with where I was this past weekend. I still think Boros Angels is a great deck, and one I'd highly suggest playing if Jeskai Control isn't heavily played in the metagame. Even if it is, there are cards that can be added like Banefire. Today I'll break down my card choices and provide a sideboard guide for those interested in playing this deck.
I can't stress this next message enough though: don't play the exact list. Use what I'm going to say as the blueprint to your next evolution of Boros Angels. Learn from what I've done while you explore a new version of this strategy. Boros Angels is not a strategy where we'll find a "best build" that gets played until the next set comes out. It's a midrange strategy fueled by the correct removal and mythic threats. Sometimes those will be Rekindling Phoenix, and other times they may be Shalai, Voice of Plenty. Who knows, cards never played in the deck before could start popping up. After all, it's just a threat-plus-removal strategy.
It's important to focus most of our energy on the sideboard, but I want to discuss a few things about the maindeck. The removal spells I played were keys to my success this past weekend. Most builds of Boros Angels played Conclave Tribunal, but that removal spell didn't feel that good in this deck, especially against Izzet Spells. Ixalan's Binding, on the other hand, was a great way to deal with cards like Crackling Drake, so I knew I wanted to have access to many of them. Lava Coil was also going to be great at dealing with opposing phoenix's so I the swap for Lightning Strike made perfect sense.
Then there are the Shocks. They weren't great, but I don't know what to replace them with just yet. Knight of Grace was good against Golgari for a hot minute, but it's not the type of card I want to play with right now. I'm open to suggestions for what these slots should be, but I'll just have to keep them in the deck for now so I can properly write out a Bard Narson-approved sideboard guide.
Golgari
I thought this matchup was much better than it turned out being this past weekend. While I did end up going 5-1 against the strategy, the rest of my team seemed to finish with roughly a 60% win percentage against it. That could have something to do with Boros Angels's fail rate, as the deck does not have access to deck manipulation to smooth out its draws. All I know is the matchup felt great for me when I played against it!
Composite Golgari
Out:
In:
At first glance this style of sideboarding looks foolish. Why would I bring in four creatures that trigger when they enter the battlefield when one of my best cards in the matchup shut them down?
Would it sound even crazier if I told you I never actually tried it out before the Grand Prix?
In theory, and in practice during the Grand Prix, every Golgari opponent will have in every copy of Assassin's Trophy and Vraska's Contempt. They will almost always target Tocatli Honor Guard with them and almost always lean on planeswalkers to beat us. Since Golgari's planeswalkers are great against us, we need to have good answers for them. Cards like Ixalan's Binding aren't reliable, but what is reliable is our opponents having these removal spells in their deck. I leaned hard on these "facts" when I sideboarded in my Dire Fleet Daredevils, and I can say they did not disappoint!
Izzet Spells
This is one of the best matchups for Boros Angels. We have great threats in the form of Adanto Vanguard and History of Benalia, but we also play the best removal against the strategy. One of the things I quickly learned about playing against this deck is that they can find threats much more swiftly than we can find removal, given how many cards they get to see over a game. Their threats also hit extremely hard when they connect, so dealing with them is always the most important thing we can be doing. This means we need good answers, and a high density of them so we always have one readily available when a threat's presented.
Izzet Spells with Enigma Drake
Out:
In:
Izzet Spells with Goblin Electromancer
Out:
In:
This is another matchup where we use our opponent's removal against them. Izzet Spells is scared of our fliers, so they have to have cards like Beacon Bolt and Lava Coil in after sideboard. Dire Fleet Daredevil is a great card to have so we can keep our removal numbers high but also have other things to do when we flood on them. This card works overtime in this matchup and is lots of fun to play too!
Since we have Rekindling Phoenix in our maindeck, they need to respect it, which makes it a high-risk card to keep in our deck given how efficient the trade of Lava Coil for Rekindling Phoenix is. Again, they can find specific cards easily given how many cards they get to see, so they will almost always have a Lava Coil ready to take down our ashy bird.
Jeskai Control
This is my Boros Angels build's worst matchup, by design. I didn't expect this deck to be that popular, nor did I think it would do that well. What I didn't account for is Eli Kassis and Edgar Magalhaes finding an actually well-built variant of the three-color control deck. Luckily Edgar decided to draw exceptionally poorly against me in Round 14, which allowed me to sneak into the Top 8.
Can't beat luck!
Jeskai Control
Out:
In:
I highly suggest making some concessions for this matchup in the future. The issue is, I don't exactly know what they should be. My biggest fear is the deck will need a major overhaul to make this possible, as adding a few Banefires to the sideboard doesn't seem like it would be enough. Sure, sometimes the card will win the game, but in other games they could have taken control right out of the gates.
Cards like Banefire aren't going to be as high-impact as you'd want them to be given how the matchup plays out. I'm not going to even attempt to say I understand the math of building sideboards, but it just felt like hammering the other matchups was a better use of my sideboard slots. This will change soon, though, as Jeskai Control looks like it will get better before it gets worse.
Selesnya Tokens
This is a good matchup, but things can go bad and quickly! March of the Multitudes is a messed=up card against us, as it gives them the ability to go ridiculously wide. We control the air, though, and we also have Tocatli to shut down some of their more broken starts. Settle the Wreckage is the best card I've found to have in the sideboard just for this matchup, but I decided to not play it given that it never felt necessary. I also didn't think as much of the deck would show up to the event.
On the Draw
Out:
In:
On the Play
Out:
In:
It's difficult to know exactly how Selesnya Tokens will sideboard against us. Sometimes they have upwards of three Vivien Reid, which could merit The Immortal Sun, but I'm scared to add that expensive of a card to my deck without knowing they're going control. That said, I did bring it in against my Swiss opponent, but didn't have to in the Top 8 since I saw his list.
Boros Angels
While the mirror may be different moving forward after this primer, this is what I did at the event itself. I assumed my list would have more removal, but also that both players would max out on it. Since that was the case I decided to just go full control rather than play a more powerful but split-attention strategy. I never played the matchup, though, so my ideas could be way off. Like I said, I only played twelve matches before the event!
Boros Angels
Out:
In:
I may like bringing in my entire sideboard more than I like finding optimal strategies. It just feels so good! Dire Fleet Daredevi's body is quite relevant in this matchup when the opponent keeps History of Benalia in. Who knows, it might be correct to keep the card in on the play, or even take the draw when given the opportunity. That is something I used to do in Mardu Midrange mirror-matchups in the past. I can't say that's 100% where things are going for the Boros Angels mirror, but don't write it off.
Mono-Red Wizards
This is a good matchup, but not one to just expect to win like Izzet Spells. They can get off to some very fast starts and sometimes just beat what we're trying to do. Luckily we play three copies of Lyra Dawnbringer in our maindeck, which is one of the best cards against them.
Mono-Red Wizards
Out:
In:
This sideboarding isn't set in stone, as I'm still unsure if Resplendent Angel is worse than History of Benalia. It seems like it should be, as they play so many burn spells that kill it, but History can also get brick-walled by Goblin Chainwhirler. Maybe they both are just medium in the matchup?
***
I'm going to end today the same way I began it. While I think Boros Angels is great, I do suggest working towards evolving it. If you're just looking to play powerful cards and "flex" on some opponents, just sleeve this 75 up. It feels great slamming giant flier after giant flier.
My buddy Brian Braun-Duin and I talked about how much we loved just drowning the battlefield in mythics all weekend long, and this is exactly the deck that can do it. You can be in such a bad spot, but one unanswered Lyra turns into three lifelinking Angels in a hurry. It's truly impressive how degenerate the battlefield state can get when they don't have the best answers, as their threats are never good enough to go toe-to-toe with this format's Angels.
Good luck this weekend, and remember, "We are Legion!"