Jim Davis is doing his best to ignore the StarCityGames.com Players' Championship leaderboard. While he has a considerable lead for the Season One points
race, Davis isn't letting himself get caught up in the standings. The Indianapolis Legacy Open winner knows the season is long, and he has prepared for a
schedule that has him traveling to every Open in the season other than the Los Angeles Open. For Davis, getting back to the Players' Championship as the
Season One points winner is his only concern.
After a disappointing performance in the 2014 Players' Championship, Davis set his sights on getting back by locking up his invite early on in the year.
Davis qualified as an at-large points earner last year by being one of the eight highest Open Series points earners of the year. This year, Davis isn't
looking for a year-long grind, he wants his invite secured by the end of March, leaving himself the rest of the year to relax and spend more weekends at
home, rather than on the road.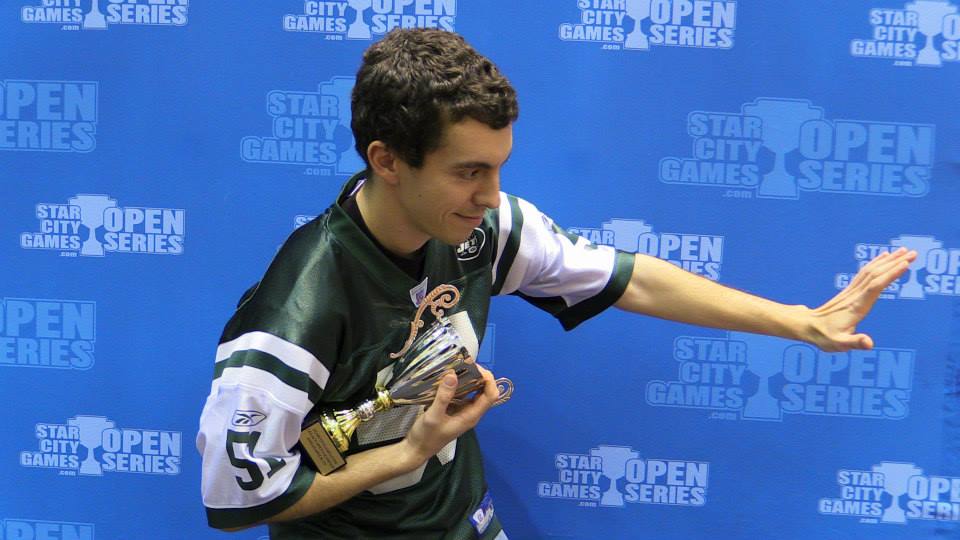 Davis protects his trophy from #SCGINDY with a stiff arm.
Davis has played every Open in 2015, already logging a win in Indianapolis and a Top 4 in Columbus. This weekend, Davis is flying to Houston for the
Standard Open, where he looks to add to his lead following an IQ win and a Regionals Top 32 this past weekend. Davis is skipping the cross-country flight
to Los Angeles next weekend to play in a pair of Super IQs in New York and will hit Baltimore and Dallas before finishing the season at the Richmond
Invitational at the end of March. A qualification to the Players' Championship for his work in Season One would mean more time at home spent with his
girlfriend, writing music, and playing hockey.
"My schedule is packed and my date book is all filled up," Davis said. "It's going to be a long month and a half traveling and playing IQs, but last year I
played Magic 44 weekends out of the year, and I got a lot of other things I want to do this year. When I saw I was high on the leaderboard, I said I can
compromise and try to win Season One by going balls-to-the-wall. If I win it, awesome – I am back in the Players' Championship. If I don't, maybe I'll cool
down and let it slide."
Spending 44 weekends playing Magic is a lot, even for a professional player. Davis, however, spends his weeks working as a teacher, juggling his
above-mentioned hobbies with a college radio show on Mondays. The Stony Brook University alumnus has
been doing his weekly show for three years, playing music and inviting local artists into the studio to play live. The show lets him stay in touch with the
music scene, a community he knows well as a former guitarist and bassist for local bands.
Another opportunity Davis took advantage of at Stony Brook was playing more hockey. The longtime hockey fan played in the streets, growing up with roller
blades. Davis took a break from playing when he was more focused on Magic, playing on the Pro Tour from 2006-2009, but he returned to the game and
captained the recreational roller hockey team at his college in 2011. The team was serious, practicing three times per week, and traveled for games and
tournaments much like Davis did with Magic. A veteran of the game since Seventh Edition, Davis was familiar with traveling and competitive play, and it
allowed him to transfer his skills from Magic to hockey.
"Playing hockey at Stony Brook was one of my best college experiences. Around fifteen guys or so piled into cars, we'd stay in hotels four-to-a-room, play
games, hang out, and go to the tournament – a lot like Magic except we played hockey," Davis said. "I really enjoyed being able to apply a lot of the
skills I learned in Magic in hockey. Everything from how to approach a situation and how to handle yourself in a competitive environment to knowing how to
prepare yourself for an event, how to not let your emotions get the best of you, how to approach the game, and how to handle being down or up. I got to
apply all of these things to hockey."
These days, Davis' travel schedule has been dominated by Magic. The two-time Invitational Top 8er references his wall map in his room, littered with pins
marking the cities he has visited for one game or another. Major cities on the Eastern seaboard are punched close to five times over, and Davis casually
estimates his stops in Philadelphia at around twenty times or more. Most of his trips these days are accompanied by Danny and Andrew Jessup, brothers who
are no strangers to the Open Series.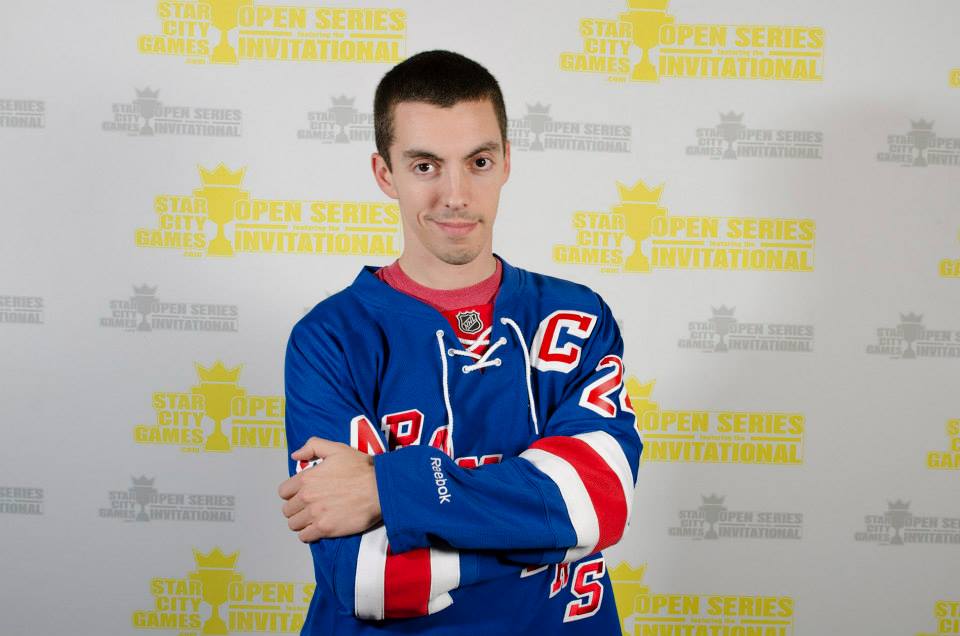 Davis rocks a New York Rangers jersey in his Season Four Invitational Top 8 photo.
The latest trip for Davis, however, would be too far for the Jessups. Davis flew to Indianapolis on his own at the end of January for the first Legacy Open
following the updated Banned & Restricted list. The trip was a success, as Davis piloted Sultai Delver through a Treasure Cruise-free metagame to a
first-place finish, not only earning him $5,000 and 25 Open Series points, but his first trophy as well. Davis has six PTQ wins, a States win, and eight
previous Open Series Top 8s, but no physical trophy. His win over Ben Wienburg in the finals changed all that, adding a missing piece of hardware to his
accomplishments while buffing his lead in the Season One points race at the same time.
"I try to be pretty even keel and not get too excited, but I am happy I got that trophy," Davis said. "I'm ignoring the leaderboard and focused on playing
well, so we'll see where I end up at the end of the season. I still got a lot of work to do. It's sweet to have that trophy. It's more tangible to people
outside the game. You tell someone you made Top 32 at a Pro Tour and they say, 'well, who won?' You say I won this tournament, and people see the photo on
Facebook of a trophy, and it is very clear I won that event."
Davis' win follows three straight money finishes this year in the new two-day Opens. He finished 27th in Washington, DC, 64th at Philadelphia, and fourth
in Columbus – all of this coming after his third-place finish at the Season Four Invitational in December. U/W Control has been the Standard deck of choice
for Davis, who is one of the only players championing the deck in Khans of Tarkir Standard. Despite not having Sphinx's Revelation like he did in the
previous year's Standard, Davis has stuck with a formula he knows.
"I am very familiar with decks like U/W Control. I am good at executing a plan and my best Magic finishes come with decks with a solid plan," Davis said.
"I don't like playing midrange decks because you're just jamming good cards and hoping it all lines up right. With U/W the plan is stay alive, and I like
having to play under that much pressure. It makes me focus, and I play my best with my back to the wall. Some of my most exciting games are when people
walk away thinking I've lost, those are the memorable wins."
Davis already has some memorable wins this year and a sizable lead in the Season One points race. Eyes will be on him as he tries to finish the season on
top. #SCGHOU is the next stop on the Open Series, and Davis will be there with control of the puck. Can he score the goal?