Welcome back to Selecting 10th Edition! I'd like to thank those of you who supported Hurricane last week. Earthquake was never any good anyhow, so I'm glad that it was kicked to the curb like the red-headed stepchild it was. (Editor's Note: We apologize to any red-headed stepchildren for Ben's politically insensitive comments in this paragraph).
This week's choice is between Paladin en-Vec and Auriok Champion. As many of you don't know, StarCityGames.com has fielded a company softball team this year. It's true! In the Men's Open Division of the Salem Valley Softball League, we are in proud possession of last place with a sterling 0-6 record! Don't let the tie fool you — we lost that game, but they still haven't updated the standings to reflect our true record.
It isn't all doom and gloom — our team has improved by leaps and bounds over the past few weeks. Our opening games were lost by ridiculous margins such as 38-0. But our sixteen-man squad has been practicing every chance we can get, and in our last game we came within four runs of winning. We're playing as a cohesive unit, and it's only a matter of time until we notch one into the win column.
Let me run you down our cast of characters on the team.
Pete "Outpost 1" Hoefling: Also known as "Hot-Hands" Hoefling, Pete's the captain of the team, and our star first baseman. He's skinned many a knee playing all-out defense, and has been the anchor of our softball team at the corner. Pete is also the owner of StarCityGames.com.
Wes Moss: Former Virginia State Champion and friend of Star City Games, Wes Moss has been our steady second baseman since the season began. Wes is known for his stellar defensive play, and his speed on the basepaths.
Josh "Spydor" Barto: Another friend of Star City Games, Josh is one of our two regular shortstops. Never short on encouragement for others, "Spydor" bats leadoff and has a swing that the ladies love.
Chase "The Dude" Smith: Our other regular shortstop and sometimes outfielder, Chase brings years of baseball experience to our softball team. Recently Chase was sidelined with a slight ankle injury after sliding hard into the bases, but he will be back and contributing in no time flat.
Chet Jameson: Chet started the season as our third baseman, but was sidelined due to Hernia surgery. Don't worry — it was unrelated to the softball season. Off the field, Chet works in the sales department, making sure all your orders ship on time.
Tony Lovern: Tony replaced Chet at third base, and had a gun for an arm. The bullets he threw across the diamond were things of beauty. Unfortunately, Tony has also been sidelined with injuries, but we expect him back within the next game or two.
Chris "C-Money" Cothren: The youngest member of our team, Chris C has taken over third base duties for the injured Chet and Tony. A regular football player on his high school team, Chris has been running our Saturday in-store Yu-Gi-Oh tournaments for years now. His natural athleticism and youthful enthusiasm are a boon to the team.
Dave "Hedgehog" Hedge: Our regular catcher, Dave has a keen eye for pitching, and has drawn walks multiple times this season. Dave's the good-ol'-boy of the team, a kind soul, and the manager of our retail store in Roanoke.
Chad Daniel: Our head UDE guy, Chad is the team's backup catcher, and one of our premier hitters. Chad travels quite extensively, and therefore has been unable to attend as many games as we'd like. Chad plays hard, and is always quick to buoy the spirits of his teammates.
Adam "Grey" Bowles: With a wild streak to match his streaked hair, Adam is our regular pitcher. Dying his hair before every game, Adam has a great eye for home plate, and cleanly fields all balls hit back up the middle. When not pitching or processing orders for the sales department, Adam can be found tearing it up on the Karaoke stage.
Chuck "Easy Out" Reynolds: Hey, he picked the nickname! Chuck is our alternate pitcher, and the reason we joined the softball league to begin with. The head of our sales department, Chuck oversees day-to-day shipping operations, and then whoops the team up into a frenzy at the ballpark.
Matt "Slacktooth Willy" Davis: The pretty boy of the team, Matt Davis usually bats cleanup, and fields with a slick glove out in Left Field. Matt works in the sales department during the day, and comes out swinging at night. Sorry ladies, he's taken!
Chris "The Wolf" Woltereck: Chris works in the inventory department, and might very well be the most important person on the team. I wouldn't want to single out any one person above the others, but Chris bridges the gap between the StarCityGames.com employees, and the friends of StarCityGames.com (Chase and Josh were former teammates of Chris's in high school baseball, Tony is Chris's brother, and Wes is a former roommate of Chris's). Chris has all the skills as our regular Left-Center Fielder (we're allowed four outfielders at once in this league), and is one of our premier clutch hitters. If there's a heart of the team, it's Chris.
Ben Bleiweiss: That's me! I split time between Right-Center field and Right Field, depending on the roster for the night. I'm the General Manager at StarCityGames.com, and I'm here to talk about the rest of the team, not myself.
Jesse "Kamahl" Novak: A former bouncer, Jesse resembles the magical Legend he's nicknamed after in stature. Jesse has played third base, Left Field, and Right Field for the team, and has been an invaluable team player when available to play.
Josh "Furymaster" Jennings: Josh has split time with others in Right Field, and has played his butt off in every game he's appeared. Another speedster, Josh ships and processes orders for the sales department every Monday through Friday.
Now, what does our softball roster have to do with Selecting 10th Edition? I'm glad you asked! As I mentioned wayyyy back at the beginning of this article, our team has been improving by leaps and bounds with every game we've played. Still, there is no such thing as too much practice. We definitely could use a little work on our offense, but there doesn't seem to be the time to hit the batting cages.
We have been made a very generous offer by the former editor of StarCityGames.com to help alleviate this problem. If Auriok Champion wins the Selecting 10th Edition vote, Ted will let us hit him with a bat for each vote Champion receives! That's right — if Champion comes out on top of Paladin En-Vec, Ted will be so black-and-blue that the winning creature will have half-protection from Ted!
The StarCityGames softball team needs your vote! Vote Auriok Champion today, and let the batting practice begin!
Ben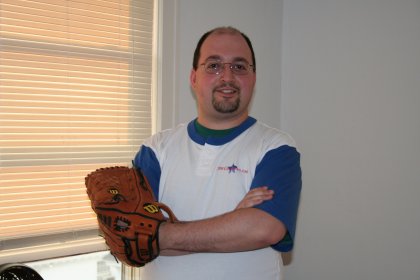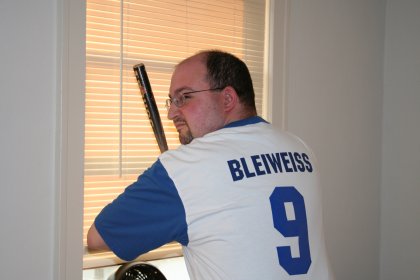 Chipper Jones pities Ted.