Team events have a long and storied history in Magic. Team Rochester is commonly accepted as the most skill-testing format in the game's history, with monstrous teams like YMG, Phoenix Foundation, and Brockafellers placing highly across the years with legends of the game at the helm. Pro Tour Charleston featured Team Unified Ravnica Block Constructed, where the three-player teams could only use four of any one card between the three decks total and showcased the deckbuilding prowess of Tomoharu Saito and his team Kajiharu80. And more recently, Team HueyTurtleDuke (my name for them, not theirs) showed that William "Huey" Jensen still has "it," winning the Somerset Team Sealed Open a decade after he led Brockafellers to their PT Boston win.
New teams and old will have the change to add their name to the illustrious history of teams with top finishes this weekend in Richmond, Virginia! Magic 2014 will be debuting this weekend in Standard as well, with the Standard Open coming on Sunday in Richmond and this week's StarCityGames.com Classic Series taking place in Lansing, Michigan!
We'll start with the Open Series in Richmond, which will be taking place at the Greater Richmond Convention Center: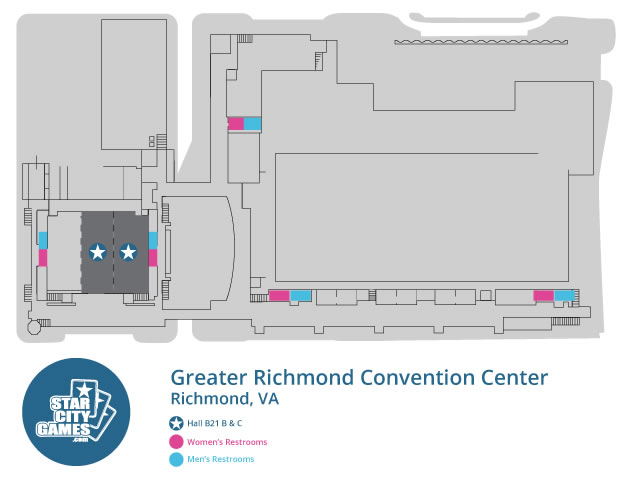 Richmond isn't as hustling and bustling as some of our other spots, but food shouldn't be tough to come by, as you can see in our chart of restaurants nearby the site:

I imagine most of you know the drill with Standard Opens by now, but since Saturday is only the second Team Sealed Open StarCityGames.com has ever held, I think it would be a good idea to go over some of the details for that event.
First, and most importantly, the Team Sealed Open is on Saturday! This is a change from the Somerset Open where we debuted Team Sealed, so be sure you and your team are registered for the Saturday event by 9 AM! Each team will register three people. There will be a player A, B and C for each team, with player B always sitting in between players A and C. In the Swiss, each team will face another team and play three one-on-one matches (which are themselves, of course, best of three games). The team with the most individual match wins will win the entire team match.
As this event will be in M14 Sealed, each team will receive twelve booster packs from the core set. This will add up to 168 cards total not including basic lands. With these cards, teams will assemble three minimum 40-card decks, one for each team member. Each player will use the same deck the whole day. Sideboards will have to be registered to one deck only as well, so sort those out before you turn in decklists.
After the Swiss, there will be a cut to the Top 4 teams. The semifinals will be the same format as the Swiss with the same M14 Sealed decks, while the finals will be preceded by a M14 draft. Then the two finalist teams will compete in a round robin, where all players will play against each of the opposing team members until one team wins five matches. The first team to five match wins is the Team Sealed Open Champion!
For more information on Team Sealed, prize payouts, and any other information about SCG Open Series: Richmond, visit the event fact sheet.
Along with our fun-filled Team Sealed Open on Saturday and Standard Open on Sunday, you should definitely stop by our art district, which this weekend will feature three talented alterists and Magic artist rk post!
rk post (all lower case, remember!) has done some truly iconic pieces for Magic over the course of his career like Arbor Elf, Avatar of Woe (regular and PT promo foil), Concentrate (Planechase 2012), Faerie Macabre, Ichorid, Morphling, Sakashima the Impostor, Simic Sky Swallower, Torchling, and many more. You can view our interview with rk here.
Leading off our alterist roster, Ron Faris will be painting custom card alterations at the event! Check out his unique alters by following him on his Facebook or his blog.
Blake Meade will be selling and taking orders for altered cards and custom playmats at this event! Visit his blog to see his work and like him on his Facebook as well!
Lindsay Burley will be selling and creating her unique brand of 3-D cards and tokens, painted alters, and custom playmats! Take a look at her website and then stop by and check out these awesome cards!
StarCityGames.com Online Content Honcho Cedric Phillips (actually his official title!) will be joined by Grand Prix Providence second place finisher (the most recent Team GP) and Pro Tour Return to Ravnica 9th place finisher Ari Lax in the booth to cover all the excitement on @SCGLive all weekend! The hashtag for this event is #SCGRICH, and you can get rich and meaty up-to-the-round pairings and standings by following @SCGPairings.
Meanwhile, back at the Hall of Justice…
Or rather, the capital city of Michigan…
The SCG Classic Series: Lansing will be underway! The first major Standard tournament to include M14 will in fact be #SCGMI a day before Richmond, so be sure to head on out to the Lansing Center if you're nearer the Midwest for your Magic: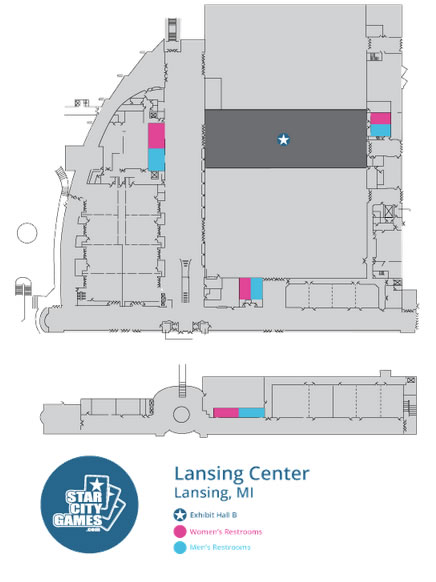 The food options are sufficient in Lansing, and you shouldn't have any trouble finding a quick lunch or a nicer dinner: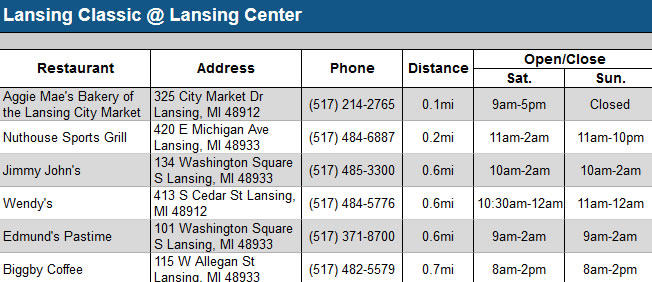 Two alterists will be joining in the festivities in Lansing!
Amber Musick will be at this event offering her custom, full-art playmats and tokens as well as creating new works of art and customizing your playmat with original art. Pricing and her current offering of playmats can be found on her deviantART page.
An SCG debut, Rei Hiroki will be selling and creating hand-painted alters and tokens! Make sure to stop by and check out these awesome cards! You can view samples of her work at on her Tumblr reihiroki.tumblr.com.
If you want to preorder cards for an event and hope to pick them up on site (I'm sure many of you need Kalonian Hydras, Archangel of Thunes, and as many Shadowborn Apostles as you can muster), you gotta get your orders today! Choose either "SCG Open Richmond" or "SCG Classic Lansing" as your shipping option and order by noon EDT on Thursday, July 18 to receive free shipping for all of your M14 needs!
Good luck, have fun, and Go Team Venture!
Video and Coverage Content Associate and Social Media Team Player for StarCityGames.com
Listen to the @InContention podcast! It's the official podcast of the StarCityGames.com Open Series with @kstube, @affinityforblue, and myself. Our most recent episode, Start Brewin', guest starring bigheadjoe, can be found here.