The StarCityGames.com Open Series travels to the most magical place on Earth this weekend for a pair of Magic tournaments in Orlando, Florida!
Last weekend in Indianapolis some of the biggest names in the Open Series points race put up stellar results. The number two overall seed Brian Braun-Duin added ten more points to get to 148, just fifteen behind current Season One leader William Jensen. Owen Turtenwald catapulted five slots into 6th place and into the triple digits thanks to his win in the Standard Open at #SCGINDY. Andrew Shrout's second-place finish in the Standard Open launched him up the leaderboard into the Top 16. And lastly, the biggest mover from this past weekend was Peter Tragos, whose Legacy Open Top 4 finish propelled him from 41st into the 25th position.
The #SCGPC race is going to be exciting all year long, so be sure to check back each week for more news and updates from the road to the SCG Players' Championship!
The home of the Orlando Magic is a spectacular location for the StarCityGames.com Open Series, especially during the winter cold. The action will certainly be heating up, as the Standard format's all-stars have been beating the competition Black and Blue… but G/W Aggro and G/R Monsters are making the big boys green with envy at their recent attention. Can either underdog unseat the favorites? Come down and find out!
Our home this weekend is the Orange County Convention Center: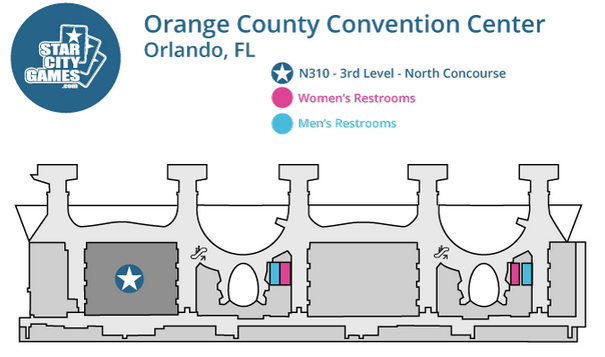 The event will be held in the North Building, in Room N130. The convention center is just off of Universal Boulevard, so food is actually pretty easy to find. And since it's right in the hustle and bustle of the city, several of the nearby options are open 24 hours a day, so even early morning breakfasts and late night snacks are on the menu.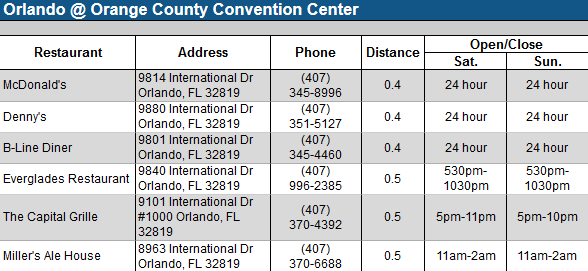 We have a special guest joining us in Florida as well: Magic artist Clint Cearley!
Trained in traditional media, Clint Cearley now works as a freelance digital artist. You can find his art featured on Curse of Death's Hold, Geist-Honored Monk, Grapeshot (MMA), Intangible Virtue, Notion Thief, Putrefy (Izzet v. Golgari), Sever the Bloodline, Syncopate (RTR), Vampire Outcasts, and many more! You can find more about his work on his website.
There is no arguing that the Open Series has the best live Magic tournament coverage team on the planet, and for those duties this weekend SCGLive will be handing the reins to our team captains Cedric Phillips and Patrick Sullivan. They will be aided in the Sideboard by yours truly, your trusty Open Series reporter! If you can't make it out to an event this weekend, be sure to catch them on @SCGLive and use the hashtag #SCGORL to join in on the discussion.
Good luck, have fun, and believe in Magic!
Event Coverage Coordinator and Social Media Sorcerer for StarCityGames.com