After last weekend's full docket of Standard, Modern, Legacy, and even Vintage events to watch and play in, it's time to take it easy and slow down a little. Put your feet up and relax a bit. Okay, just one little event . . . maybe two. How about the StarCityGames.com Open Series in Dallas featuring the Standard Open on Saturday and Legacy Open on Sunday? Well, that sounds perfect to me!
The Open Series in Dallas is a full weekend of gaming with two main events, those being the Standard Open and Legacy Open, and a Texas-sized schedule of side events. Each Open offers $10,000 in cash prizes paid out to the Top 32 finishers in each Open, Open Points to the Top 64 finishers in each Open that can help qualify you for the Invitational, and direct qualifications to your choice of four StarCityGames.com Invitationals for each of the weekend's Top 8s. That's a ton of value from one weekend!
Oh give me a home where the buffalo roam, where the deer and the antelope play, where seldom is heard a discouraging word, and the skies are not cloudy all day! Our home on the range this weekend will be the Fort Worth Convention Center: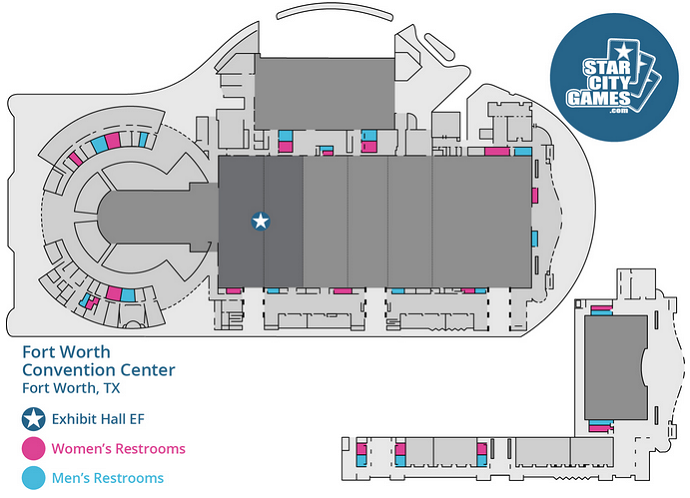 Travel alert! And don't worry, this one's actually a good thing.
Most of the time when I add travel alerts in this article series, they are for large events happening nearby that will hamper your ability to get to the site on time. Well not this time! This time I present the Trinity Railway Express, or TRE. This will be especially useful to those of you planning on traveling to or from the event by plane since the shuttle goes door-to-door from the airport to the convention center. Shuttles run every fifteen minutes on Fridays and Saturdays, but the service is not available on Sundays.
For more information on this service and how you can use it to your advantage, visit Trinity Railway Express' website.
Of course, being in the heart of a busy metro area, there's more food than you'd typically find in the middle of the prairie. You shouldn't have any trouble rustlin' up some grub.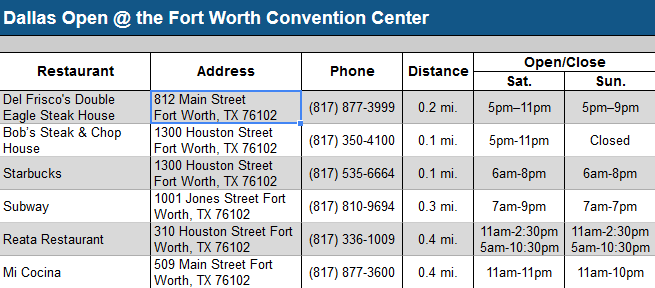 I often like to include a unique sightseeing experience in these articles, and this week's is quite the treat. AT&T Stadium, the home of the Dallas Cowboys, offers several different tours that will appeal to people of all interests. There are art tours, VIP tours, and more. I'm thinking about doing a tour of the facility myself on Friday afternoon. If something like that sounds interesting to you, check out their website.
Joining us in Texas will be Magic artist Clint Cearley and a pair of talented alterists!
Clint Cearley is trained in traditional media and now works as a freelance digital artist with Wizards of the Coast for Magic: The Gathering. You can find his art featured on popular cards like Curse of Death's Hold, Geist-Honored Monk, Grapeshot (MMA), Intangible Virtue, Notion Thief, Putrefy (Izzet vs. Golgari), Sever the Bloodline, Syncopate (RTR), nd Vampire Outcasts. You can find more about his work on his website.
Eric Claar brings his unique style of alters to the StarCityGames.com Open Series. Known for his minimalist "blueprint" style as well as full-art pieces, you can check out his work on his Facebook page and his deviantART page.
Ron Faris will be painting custom card alterations at the event! Check out his unique alters by following his Facebook page or taking a look at his blog.
This week we have Cedric Phillips and Shaheen Soorani in the booth! One commentator who is enamored with Esper Control in Standard . . . and the other is Shaheen Soorani. What is this world coming to?! Assisting them in the sideboard will be yours truly, Reuben Bresler, and don't worry folks, I'm still in on the "attacking with many 2/1s" plan. The dynamic pair of discussion and dissection dynamite will detonate on @SCGLive this weekend with live coverage of both the Standard and Legacy Opens all weekend. Follow along with us on Twitter, Facebook, and wherever else hashtags are used by using the hashtag #SCGDAL. If you're in attendance, you can follow @SCGPairings to skip the long lines at the pairings boards and find your next round's table assignment posthaste!
Good luck, have fun, and be a star!
Video and Coverage Content Associate and Social Media Cowboy for StarCityGames.com