A couple years back I threw in the towel on Sealed deck. One too many crappy card pools did me in – struggling with finding enough playable cards to round out the deck, agonizing over the mana, and fighting each round to squeeze the maximum effects out of each and every mediocre and sub-par card, only to get crushed by people with insane card pools was just too much. Sadly, this defeat cut back drastically on the number of Magic events that I wanted to attend, and I was especially loathe to give up the Prerelease experience, and getting to interact with all of the casual players who come out the woodwork for them.
Pete Hoefling solved my dilemma by bringing me on his StarCityGames Events Prerelease tournament staff, and I've worked one day of the Prereleases for several years now. I typically work Admin, taking money and signing people up for Sealed flights or drafts. I've come to recognize quite a few regulars over the years, and some of them come back by when the lines have died down to chit chat about Life, Magic, and Everything… and of course to show me their insane deck / pile of crap (pick one).
One nice thing Pete does for his events is getting Magic artists to come and sign cards for fans. These guys are amazing: the sit there all day and sign thousands of cards – imagine how sore your hands must get, and their hands are their life! Hopefully they move enough prints from their appearances to make the pain worthwhile.
Now, I have a guilty confession to make: I've been playing Magic for twelve years now, and I had never once bought a piece of Magic artwork. Not that I dislike the artwork on Magic cards – on the contrary, I love the artwork and I think the quality of Magic art is what helps make the game stand head and shoulders above so many other CCGs. When I read about Jay Moldenhauer-Salazar and other writers buying Magic artwork I always feel a twinge of guilt… but then comes the next Prerelease, and the artists come, and I slip them a few cards to sign and don't even think about purchasing a print.
At StarCityGames.com Coldsnap Prerelease, Anthony S. Waters changed all that.
The night before the Prerelease, I was sifting through my cards to find some to sign – I typically only choose cards that are permanent parts of my collection, that I never anticipate trading away because some people are funny about signed cards being "marked" and ruined by artist signatures. I ran across one with artwork by Mr. Waters, a piece of card art that always brings a smile to my face, art that perfectly captures the flavor of and function of the card.
This card – Elephant Ambush.
The artwork for Elephant Ambush has always struck me as hilariously funny without being overtly so. If you just look at the artwork out of context, it's only an Elephant standing in the woods. No big deal. But add the card name and text and the artwork becomes brilliantly comedic.
2GG, Instant: Put a 3/3 green Elephant creature token into play.
An ambush… by an elephant.
I remember playing this card in draft after my opponent announced his attackers.
"AHA!" I'd cry, tapping my mana and casting the spell. "Didn't see that Elephant hiding behind that tree, did you?"
And then I'd helplessly giggle at the artwork.
Imagine if you would the artwork as done by someone like Phil Foglio or other artists that inject their work with a humorous flair. You could have this skinny tree with this exaggeratedly huge elephant peeking out from behind it, and make it blatantly silly.
Waters played it straight. Just check out the picture: that elephant is serious about his ambush mission, and found the biggest tree he could to hide behind… but it's just not big enough for an elephant to hide behind.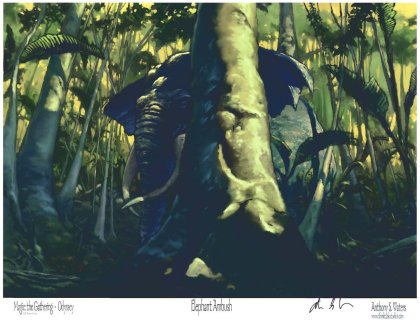 Yet, in game play, the ploy works (at least the first time) and that Elephant springs forth from outta nowhere, often indeed ambushing a hapless attacker and disrupting your opponent's plans.
While Anthony S. Waters was signing my cards, I told him why I really loved the artwork and how it was probably one of my favorites, and he was really happy to hear my enthusiasm for the artwork. I gathered up the Ambushes, and the few others he signed (including Treetop Village, since I am King of the Fattie Lands), and started to walk away… when suddenly it occurred to me – if I loved the artwork so much, shouldn't I buy a print?
I turned back around. Now, I'm not rolling in dough and if I came home with an expensive print Martha would kill me. But Waters had some $10 prints, and surely I could afford that for my all-time favorite Magic art.
"Mr. Edwards, do you happen to have any prints of Elephant Ambush?" He started digging through his prints but couldn't find any the first time through; he went through once again and found a single, last print. I held it up and looked at it.
And grinned. Brilliant. A $10 bill sprung into my hands.
I am now the proud owner of Magic art, and it feels good; no more guilt!
What are your favorite pieces of art, and why are they your favorite?