Ask any senior citizen what's wrong with the local government and they'll have plenty of answers for you.
"They give out all of that Welfare money to people who don't even work for a living and then in return they slap more taxes on me, the guy who's worked all his life!"
or
"My Social Security check got cut this month because the government spends too much money on pointless things."
I bet most of you have an elderly relative that talks like this from time to time.
So why am I even talking about this? Well, each local government certainly has its own specific problems, but as far as mine is concerned, I think the seniors are missing the boat.
The worst "problem" we have here in Pittsburgh isn't Social Security checks or Welfare or taxes. Nope, we are actually in bad enough shape to have a Drinking Straw shortage!
Clearly the government is responsible for this, and there really is no explanation for why it is happening.
For the past few weeks, every time I've gone through the drive-through of a Wendy's, Taco Bell, Mickey D's, or Arby's, I've ordered a couple drinks with my food and left the parking lot only to find that I was given no drinking straws to go with them. Now don't get me wrong, I'm not a huge straw guy, and I can certainly live without them. The problem arises when I'm trying to eat while driving and I have to actually open the lid of my drink and then put it back on. Sounds tough eh? Try doing it while driving a stick shift and trying to watch the road at the same time.
The other night things got really bad when I went to Wendy's on the way home from playing Magic all night. All I ordered was a frosty and some chicken nuggets. Not only did I forget to ask for a straw since I was tired, but Wendy's also did me the favor of not giving me a spoon! What am I supposed to eat this thing with my hands?
It's sad when the government has stooped so low to actually tell the fast food places to start hoarding straws and only give them out if the customer asks for them.
Just remember this the next time you are saying how bad it sucks to live in your state. No matter how bad it gets, at least you don't have a drinking straw shortage.
The Truth about Blind With Anger

Well, I'm back to my old tricks again. I've got a bunch of cards that I feel people are evaluating wrong in the current format as well as some other gripes I want to talk about.
Blind with Anger

Let's start with one of the big ones.
Anyone who plays Magic with me on a regular basis will tell you that I really do not like this card and feel that it is greatly overvalued by the general population. If someone gets passed a pack with Blind still in it, they often act like a little kid on Christmas by windmill slamming it or saying "YAUS" at the top of their lungs. If you pass me a pack with Blind in it, I'll probably just ship it along if there's anything else you can call a good card.
The reason for this is that the card is really only excellent against Green where you can trade two of their big men for it, or attack them with their own Moss Kami. In other matchups it often comes up short, failing to make trades since a lot of creatures have 3-4 toughness or some annoying creature like Kabuto Moth, Moonlit Strider, or Soratami Rainshaper is in play to mess with it. In my experience, the card just ends up not doing enough to warrant being such a high pick.
Before I go on, let me make it clear that I still think Blind is a very playable card, just not the bomb that most people make it out to be.
I doubt I have to tell you that I'd rather have Glacial Ray, Teller of Tales, and other very good cards over the semi-Ray of Command here, but there are also lesser cards I'd take over it. For example, I'd rather have Yamabushi's Flame over Blind almost every time, and sometimes even Frostwielder is right. I've also picked cards like Kitsune Blademaster or Cage of Hands over it as well.
So the next time you open a pack with Blind and Flame, I hope you take the Flame because it's just the better all around card. Ray of Command just isn't so hot in this format and the fact that it can't target legends is also very relevant.
Kabuto Moth

If you thought my opinion on Blind with Anger was radical, better buckle your seatbelt for this one.
I really owe a lot of this to AntonJ, who has already beat me to the punch and publicized his ideas on the card. A few months back I did a format evaluation article before Betrayers came out and at that time I was playing mostly Dampen Thought. Because of this, I still rated Cage of Hands above Moth and Anton corrected me in the forums on it. Since then, I've been playing mainly "normal" decks again and my opinion of Moth has gone through the roof.
Having an active Moth on the table will usually ensure a stranglehold on all combat steps. As Anton stated, virtual card advantage is a huge deal in this format and there's no better place to get it than a Kabuto Moth.
My advice is to take Moth over every common card, including Glacial Ray (which is still very close and you'll want to take Ray if your deck is leaning at all towards Arcane). What I mean by this is that if you open Moth and Ray pick one, pack one, I'd take the Moth most of the time because I believe it's the better overall card. Too often do you end up with a Glacial Ray and only one or two cards to splice it onto.
However, if you're already entrenched in a W/R deck with an abnormal amount of Blessed Breaths or other good Arcane, obviously you'd want the Ray. Aside from Ray, no common comes close to the power level of the Moth and you should treat it accordingly.
As far as Uncommons go, again I still take Moth over most. The few exceptions would be Strength of Cedars, Hanabi Blast, and possibly a White or Red Shrine if it was the first pick of the draft (since you have more time to get other shrines). I have taken Moth over Hanabi Blast before after first picking a Blademaster, and I think that choice will be dependent on your deck and color preferences.
There are plenty of rares that I'd take over Moth, and I don't feel the need to list them here, but just make sure it's a bomb like a Dragon and don't start taking Horobi, Death's Wail over the white critter.
The point here is that Kabuto Moth really feels like Timberwatch Elf to me and most people are not picking it high enough. Moonlit Strider also offers great defense for the Moth and I don't think I've ever lost after going turn 3 Moth, turn 4 Strider, turn 5 flier.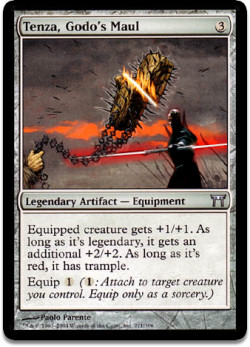 Tenza, Godo's Maul

I used to think that this was a pet card of mine until almost everyone else at CMU started taking it as highly as I do. If there isn't a great card in the pack, and I'm not sure I want to commit to a color yet, I'll just take this piece of equipment since it will usually end up being good.
There are plenty of crappy legends like Brothers Yamazaki or Sensei Golden-Tail to power up with this so you'll usually end up with at least two if you're on the lookout for them. In the very worst case scenario it saves some of your guys from a pinger like Frostwielder or Soul of Magma by boosting their toughness and being cheap to move around. The real point of the card though is that if you have actual legends to put this on it will usually end the game quickly. 8/8 flying doesn't take long to kill someone, and a 5/5 Eight-and-a-Half-Tails is quite brutal. We won't even talk about how good Godo himself is with his little toy.
I've picked this as high as third in the first pack and I would advocate picking it as highly as possible as long as there aren't any staple commons in the booster.
Samurai of the Pale Curtain

When Champions first came out and I was doing my usual card evaluations, one of the first questions I got an email about was whether or not Pale Curtain was better than Blademaster if you could reliably cast it on turn 2.
Obviously I responded that Blademaster was just better because First Strike is especially strong in this format and he doesn't cost double White. The Pale Curtain does have an interesting ability in that he stops all Soulshift, Genjus, and anything else that uses the graveyard. This used to be a very good thing before Betrayers came onto the scene.
Since the release of Betrayers, however, Soulshift has become a dominant theme in the format. Most of the good decks will abuse Soulshift, and the Pale Curtain works against that. Specifically speaking, the rise in power of Hundred-Talon Kami as well as the printing of Moonlit Strider makes it very hard for the Pale Curtain to be good in the new White builds. If I play him on turn 2 I am often hoping that my opponent kills him so that my better cards can get to work. That's not how you should be feeling about a 2/2 for two with Bushido if you ask me.
Clearly if you don't have any Soulshift or other use of the graveyard, you should run this guy as a defense measure against everyone else who is using these things. Generally speaking though, I'd almost always take Kami of Ancient Law or Kitsune Blademaster over this guy.
I actually lost a match last Tuesday due to not boarding out the Pale Curtain (it shouldn't have been in my maindeck anyway) and not being able to use my Moonlit Strider to recur Kami of False Hope for the win. It kind of sucks actually because I really like Pale Curtain and it's unfortunate that he's not synergistic with the other good White cards.
Soratami Savant vs. Teller of Tales?

This is a pick that has come up a ton of times and many people have different opinions on it.
Both creatures are solid fliers that have potentially game winning abilities tacked onto them. While the Savant probably has the stronger overall ability, the difference is that the Teller's ability doesn't cost any mana. Teller also allows itself to attack while still playing defense, simply by untapping after combat. This can prove to be invaluable when you're racing damage in the air and Teller is big enough to stop most of the common fliers in the block.
I used to believe that Savant was better until I started understanding more about the pace of the games in the format. The fact of the matter is that you're going to be tapping out on most of your turns unless you are the U/W Arcane control deck (which is virtually non-existent anymore). If you just sit with your Savant, you had better be winning already or else your opponent will just overload him eventually and manage to resolve a few key spells. Savant doesn't serve as much of a clock either, while Teller can actually kill someone pretty quickly.
All of these things lead me to believe that Teller is more often than not the correct pick in this spot since it's larger and it's ability will probably prove to be relevant more often since it doesn't cost any mana. Whenever my opponent casts Savant I'm usually not worried because I know how to overpower it, whereas with Teller I am genuinely worried about it because it is bigger and more flexible.
Scuttling Death

I expressed my view on this guy in my last archetype article, but I wanted to say again that I really believe he is the best overall Black common in Champions. Fear Rat has gotten much weaker with the inclusion of Betrayers, and Soulshift is at its peak right now. This guy is absurd in B/W in combination with Moonlit Strider, and quite formidable in any deck playing Black. I don't feel a huge need to go on here, though if anyone has a difference in opinion on this, I'd like to hear about it.
All I know is whenever I'm Black the main thing I'm looking for in the Champions commons is as many Scuttles as possible.
17 or 18 Lands?

It seems that a lot of pros are running 18 land in this format, and I really don't agree with it in most of the decks that I draft. Realize of course that this is more a matter of preference and opinion, but I generally prefer 17 land in most of my decks as I tend to get flooded a lot anyway.
If I end up having a heavy topend, then I'll go for the extra Land or an Honor-Worn Shaku or something. I've seen lots of decks from Pro Tours and other events that contained 18 land where I really don't think it was warranted. I could easily be wrong here, but I did want to drop in my opinion and see what everyone had to say about it in the forums since I think it's something worthwhile to discuss.
What's the Build?

Even the simplest things in Magic like a mono-colored draft deck can easily become complicated. You've heard in the past that every little decision you make during a draft makes a huge difference in terms of how you do, and hopefully the pieces of this draft that I'm going to share will cement that idea. Usually my draft examples come from MODO since I'm lazy and don't always take a notebook to my live drafts, but this particular example is from last Friday at one of the local card shops.
The draft starts with me cracking a mediocre pack where the best card was clearly Scuttling Death.
The next pack contains both Rend Flesh and Hideous Laughter in Black as well as a Soratami Rainshaper and a few decent Green cards. It's pretty evident that I'm taking one of the Black cards here to follow up my Scuttling Death, but which one do I want?
I'm not a huge fan of Laughter simply because it ends up killing most of my own men usually and is hard to set up properly since it's blatantly obvious to any good player if you're just not casting anything. However, I do believe Rend Flesh has declined with Betrayers and I often find myself unable to kill anything good with it. Rend Spirit is certainly better in the new format. So I end up taking the Laughter here because it's early and I might be able to make some use of it in a good B/W control deck where most of my guys will live through it.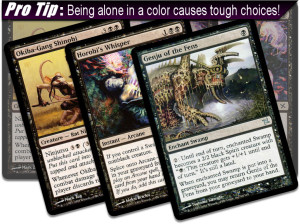 The rest of the draft is fairly uneventful until I open Sickening Shoal in Betrayers and get passed a pack with Okiba-Gang Shinobi, Horobi's Whisper, and Genju of the Fens. This pick is interesting for a couple of reasons. First, at this point in the draft I'm almost completely mono-Black with a couple of potential splash cards. Second, Horobi's Whisper is widely considered to be the best of the three cards here. Third, I am at this point in the draft very low on creatures.
So the first distinction I make in this pick is that I will not be taking the Whisper. I already have Laughter, Rend Flesh, Rend Spirit, Sickening Shoal, Befoul, and Pull Under in the removal department and I really need to up my creature count. So which of the two is better in this situation? Usually I'd end up going with the Genju here since it's the better card in most mono Black builds, but I chose the Okiba-Gang simply because I'd seen at least four Kami of Ancient Law along with three Consuming Vortex in the Champions packs which would make short work of my Genju. Okiba-Gang is also a great attacker/disruption in combination with Kami of the Waning Moon (which I had), and I feel it's almost as good as Whisper in some aggressive decks. This is a perfect example of where you'd make a different pick than normal because of what's in your deck and what you've seen going around in the draft.
So I ended up getting super lucky in this draft, and got passed another Okiba followed by three Horobi's Whispers since apparently nobody was in Black. All of that led to a difficult build since I had so many options. [*Ahem* Nice draft table. *Ahem* – Knut, just voicing what the forums are thinking]
Moving along to deck construction, since I had an abnormal amount of playables, I had a lot of decisions to make in terms of which way I wanted the deck to go. Below I'll list the playables and you should try to build the deck yourself first.
2 Bile Urchin

Nezumi Cutthroat

Distress

Cruel Deceiver

Sickening Shoal

Nezumi Graverobber

2 Skullsnatcher

Takenuma Bleeder

Kami of the Waning Moon

2 Waking Nightmare

Kabuto Moth

2 Nezumi Ronin

3 Horobi's Whisper

Rend Flesh

Rend Spirit

Oathkeeper, Takeno's Daisho

Hideous Laughter

Befoul

2 Okiba-Gang Shinobi

Dance of Shadows

Scuttling Death

Pull Under
That's 29 cards including the Moth, so there are quite a few things that need to be decided before we can arrive at the final build. What I'm going to do is list the deck that I played followed by reasons why certain cards were excluded.
2 Bile Urchin

Nezumi Cutthroat

Distress

Cruel Deceiver

Sickening Shoal

Nezumi Graverobber

Skullsnatcher

Takenuma Bleeder

Kami of the Waning Moon

2 Nezumi Ronin

3 Horobi's Whisper

Rend Flesh

Rend Spirit

Oathkeeper, Takeno's Daisho

Befoul

2 Okiba-Gang Shinobi

Scuttling Death

Pull Under

17 Swamps
Dance of Shadows

I really don't like this card that much anymore, and especially not in this deck. With so much removal in the deck, why would I ever need to give my guys Fear? There aren't going to be any opposing creatures to get in the way to begin with.
You could argue that this is good with double Okiba-Gang, or as a splice vessel for Whisper but I really just don't see it. I couldn't justify a slot for a card that doesn't do that much when I'm planning to just kill everything they play anyway.
Hideous Laughter

Again, this kills every man in my deck with the exception of the lone Bleeder. All of my other removal is better and I'm trying to be the aggressor with this deck so this was left in the board and I did bring it in a couple of times in matchups where it was better than normal.
2 Waking Nightmare

Normally this card is fine, but not great. Distress is a thousand times better than this in mono Black and I already have double Okiba to work on their hand. Sure it's a vessel, but there's just not any room and I already have plenty of spells filling up my deck.
Kabuto Moth

I've splashed this guy tons of times and been happy with the results, but it's just not worth risking the mana base in this deck. Even though I don't have any Wicked Akubas or Cursed Ronins, I'd rather keep the deck consistent than splash something that I may or may not be able to cast when I draw it.
Hopefully this little draft example showed some different lines of thinking in terms of construction. Many people feel that if they second-pick Hideous Laughter, then it damn well better be making the cut in their deck and this simply just isn't the case. You should try to build your deck with as much synergy as possible and cut out the cards that aren't going to pull their weight like Dance or Laughter in this case. Don't forget about them though, as there are certainly matchups where they will be valuable, and I boarded all of the cards listed in at one point or another during my matches. I ended up winning the draft and I feel a big part of doing so was by optimally building my maindeck as well as using the sideboard options that I had available too me. Though it didn't hurt to get shipped all of the good Black I did in pack three, that's for sure.
Nick Eisel

[email protected]

Soooooo & ThatsGameBoys on MODO