Magic Origins continues the trend of new sets being thick with goodies for your Commander decks. As I do with every new release, today I give you the rundown of the changes I'll be making to my entire suite of decks in the wake of Magic Origins.
I say this every time because it becomes more relevant each time: this exercise gets ever more difficult as more sets are released. Decks develop over time, but eventually you run out of room unless a card is strictly better (a term I hear more often than is appropriate). Frequently, it becomes a simple choice of rather playing this than that. It is easy to get excited about new cards; it's hard to cut old cards that you like. Still, it must be done.
During this process, I also take the time to update decks with changes that don't necessarily come from the new set. Taking a card out of one deck might mean putting it into another, or I'm just finally getting around to physically making a change I have wanted to make for a while.
In: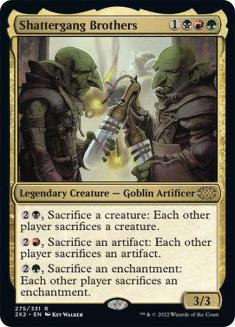 Out: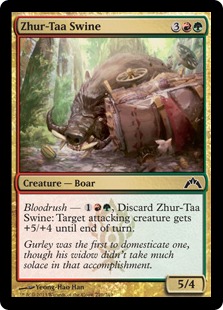 There were a number of cards from the set which could have gone into the deck, but in the end they went elsewhere. I'm happy with where the deck is at the moment, but I couldn't leave Shattergang Brothers unplayed.
In: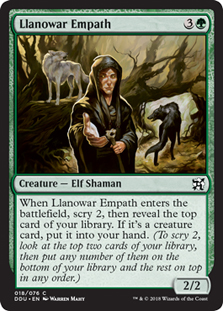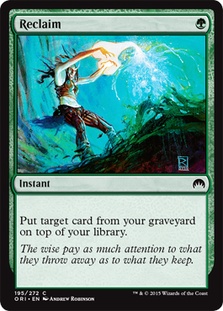 Out: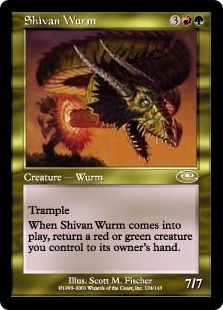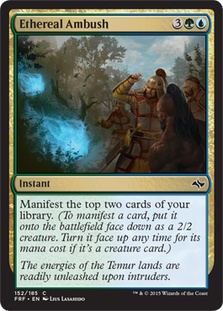 It was 22 February 2013 when I removed Llanowar Empath from this deck, and now I welcome it back. The deck's new structure means that it's almost always going to hit a creature. Reclaim had to go into a deck that has Lurking Predators in it. Kresh was my first thought because of the value of the graveyard, where Reclaim could save something from a Bojuka Bog or Agent of Erebos. In the end, there was nothing which I was willing to remove. Either Shivan Wurm or Species Gorger was going to go, and I like the repeatability of the latter more than the beefiness of the former. Ethereal Ambush had been routinely less than inspiring. It's cool that I could make this change before the Prerelease!
No changes. This, along with my mono-colored decks have been ignored for a long time. I'm either going to have to decide to play them, or just sit them on the shelf like some sort of memento of the format's history.
In: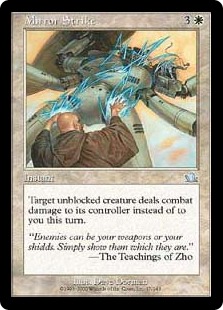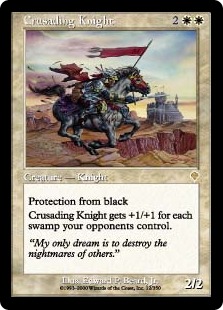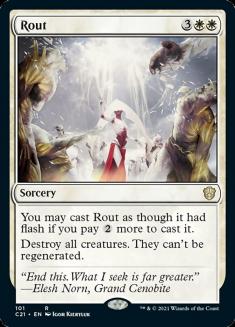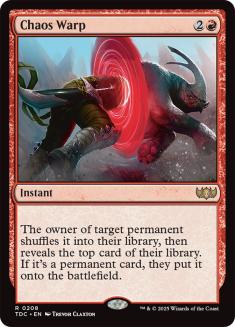 Out: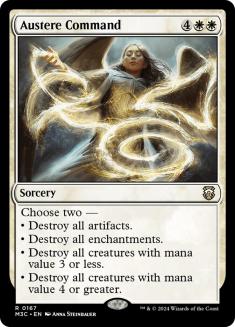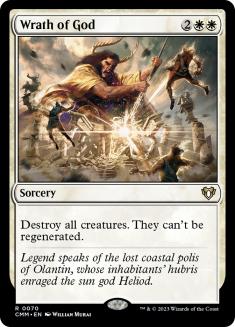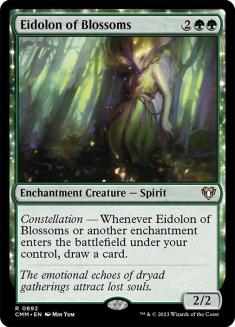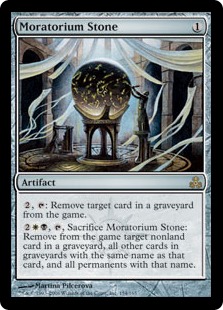 These changes represent how the deck was actually assembled as opposed to designed due to card availability.
In: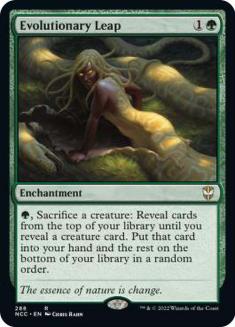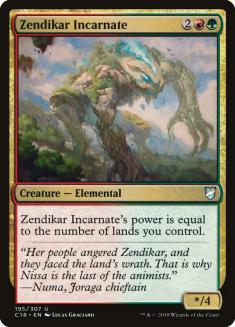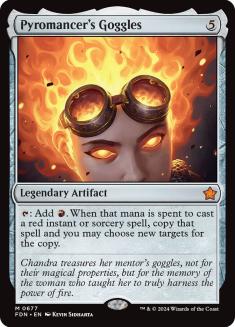 Out: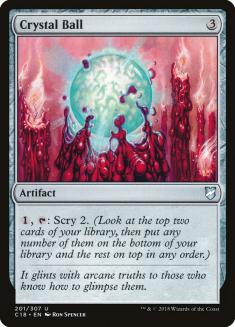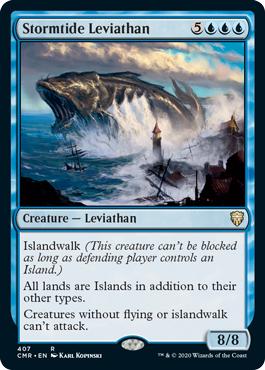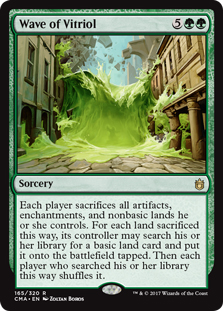 Intet, which gets played frequently as Riku of Two Reflections, gets the nicest toys. There are some utility creatures, like Coiling Oracle, which are nice to sacrifice to Evolutionary Leap because they've already done their work and I can then cash them in to fetch up what I need. I was reasonably sure that the card would go into a deck which has Mystic Snake in it, for obvious reasons. And once Mystic Snake has done its thing, et cetera, et cetera. I wanted to put Zendikar Incarnate into the deck which seems to put the most land onto the battlefield. While I don't have any hard evidence, anecdotes suggested that this is the one. Pyromancer's Goggles I simply have no words for. It's just going to roast faces. Crystal Ball went out because there are enough other library-manipulation things. Stormtide Leviathan had been facing banishment for some time because it was preventing all my other things from attacking. In a recent game, I had it, Hellrider, and a swarm of tokens from Avenger of Zendikar. Without a way to get rid of the Leviathan, the rest just sat there instead of killing people. Once two more things which would get nuked by Wave of Vitriol came in, it had to go. Plus, the nonbasic land base isn't what I'd call robust.
EREBOS and the HALLS OF THE DEAD
No changes.
In: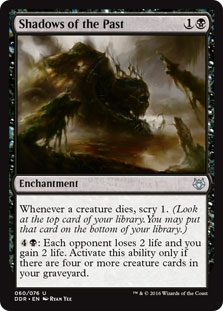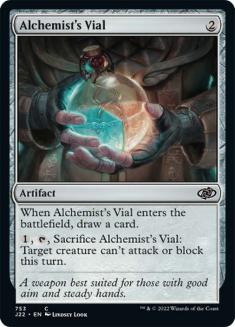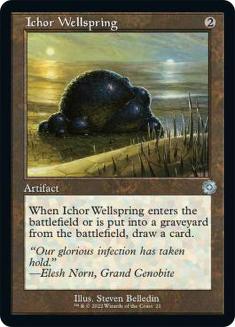 Out: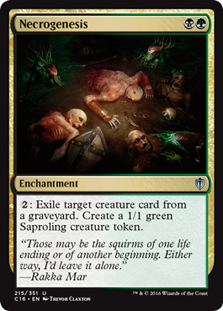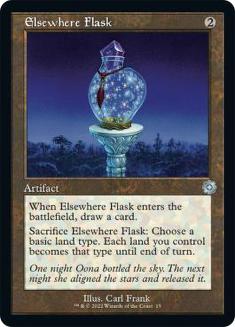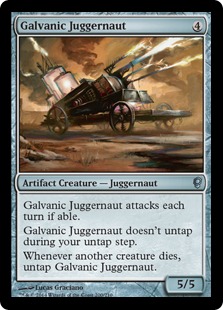 Shadows of the Past seems super techy in a deck which likes to sacrifice creatures; Thraximundar was the other thought. Alchemist's Vial is an upgrade to Elsewhere Flask. I was flabbergasted to look at the list and realize that I wasn't playing Ichor Wellspring (and it became available). There are numerous other ways in the deck of stripping graveyards, so Necrogenesis was easy to cut. Galvanic Juggernaut is an aggressive card in an otherwise control-ish deck.
In: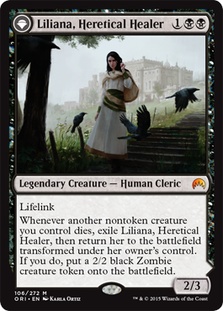 Out: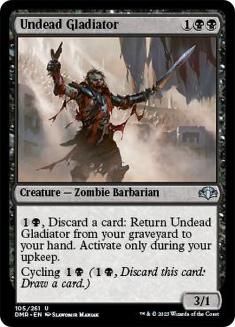 This deck was obviously in the running for Evolutionary Leap, but it doesn't have Mystic Snake. It has enough defensive ability to protect Liliana (once transformed) until I can get the emblem, and there is very little trouble getting her triggered. Undead Gladiator seemed like it was going to do work, but it just never came around. I considered trying to give it a little more opportunity to show its value by removing Wall of Omens instead, but I love that card so much it might be hard to ever say goodbye.
In: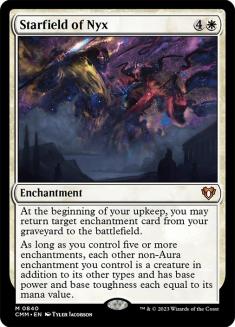 Out: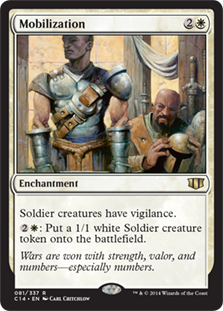 It's like they made a card just for Heliod! I can't wait to battle with a Cathar's Crusade that has put counters on itself. Since Starfield of Nyx creates attackers, Mobilization (something which creates attackers) could easily go.
In: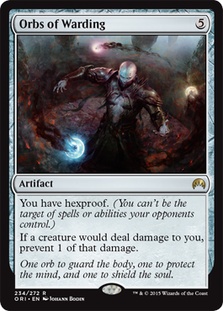 Out: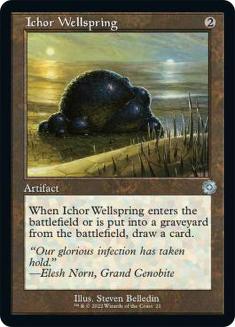 In the week between the set review and now, I figured out a place to put Orbs of Warding. It made me think of the times we played Pestilence and Urza's Armor together. The Ichor Wellspring was immediately going to a good home, moving into the Glissa deck as soon as it left this one.
KARRTHUS, WHO RAINS FIRE FROM THE SKY
In: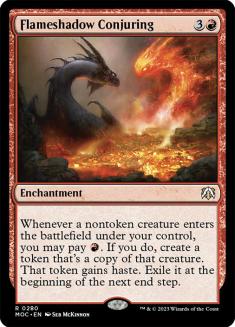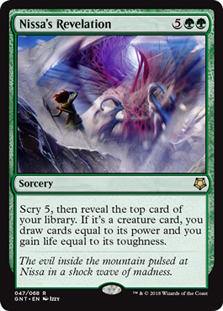 Out: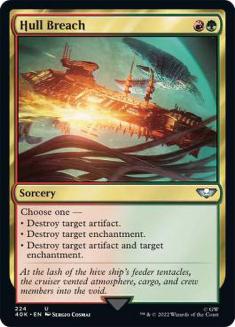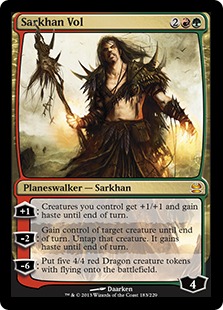 Because nearly everything in the deck is huge, making a copy for the low, low cost of R seems like a no-brainer. The same reasons apply for Nissa's Revelation. For 5GG, if a card said "gain five, draw five," you wouldn't hesitate to play it. Sarkhan Vol was a moderately easy cut because only the ultimate is thematic. Hull Breach a little more difficult because it's cheap for what it does. I kept Decimate because, for two more mana, I can also deal with a creature and a troublesome land.
No changes. Kothophed, Soul Hoarder was obviously a consideration. In the end, I wanted to see it in front of me more often, and Kresh being one of my signature decks, I know I'll play it more.
In: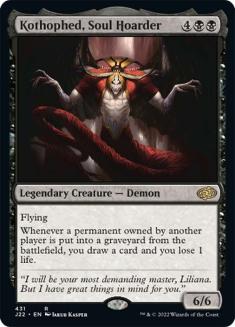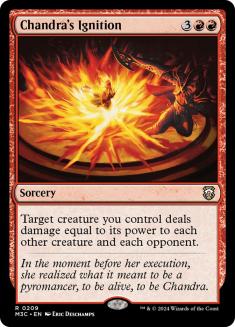 Out: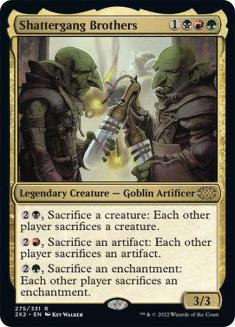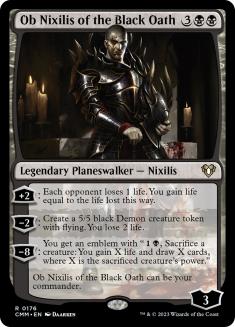 I'm reasonably sure that at some point Kothoped is going to get me killed. Before then, I'm going to draw lots of cards. I hope the lifegain in the deck offsets some of the danger, but there's something exciting about living on the edge. Most of the time, I suspect I'll see it coming — but that doesn't necessarily mean I'll be able to do something about it. We'll see. I don't expect Chandra's Ignition is going to work all that often, but when it targets Lord of Extinction faces will burn. I'd prefer to have more creatures with either lifelink or deathtouch in order to get extra mileage out of the spell (like anything with Basilisk Collar equipped), but that's hardly necessary. Shattergang Brothers was always an ill fit in the deck. Hopefully it will do better in Adun. Ob Nixilis of the Black Oath belongs in a more control-oriented deck. This one is too aggressive for it to have much hope of staying around. I considered working it into Obzedat, which is still a possibility for the future.
No changes.
LAZAV, SHAPESHIFTING MASTERMIND
In: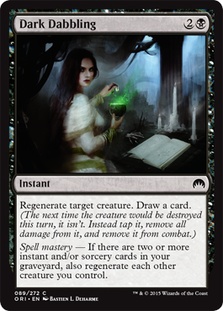 Out: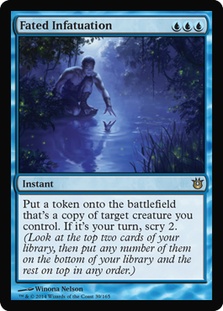 This deck has the highest percentage (of all my decks) of instants and sorceries, so I'm counting on having Spell Mastery most of the time I want to play Dark Dabbling. Even if I don't, regenerating one thing and drawing a card is well worth the mana investment. I kept waiting for Fated Infatuation to be worthwhile, and I kept being disappointed.
No changes.
In: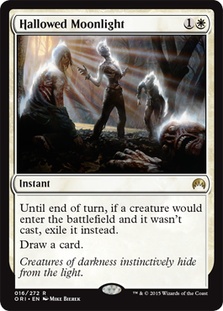 Out: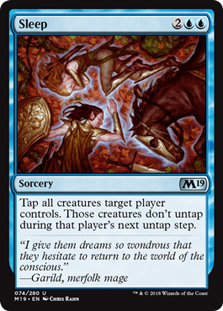 Hallowed Moonlight is going to end up as one of my favorite cards in the set. I considered putting in Lavinia to combo off of Portcullis, but that would catch all of my creatures behind the gate as well. I also considered playing it alongside Hixus, Prison Warden; that seemed just a little too cute and narrow. I took Sleep out of this deck because I want to build some kind of Sleep deck in the future where it will be a better fit. Frost Titan got a look to be cut from a few decks for that same reason, but I decided to keep it for now.
In: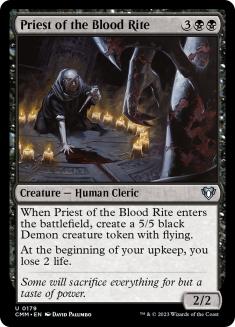 Out:
Value associated with Nath is more than just the cards being inexpensive. Everything has to cost five mana or less as well (which I almost forgot and nearly put Woodland Bellower in). Priest of the Blood Rite has a nice enters-the-battlefield trigger and comes back nicely with any of the reanimation tricks in the deck. Ulvenwald Tracker belongs in a fight-themed deck.
No changes.
In: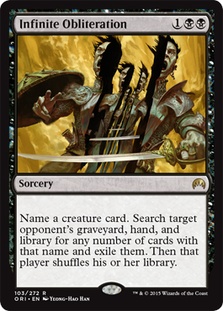 Out: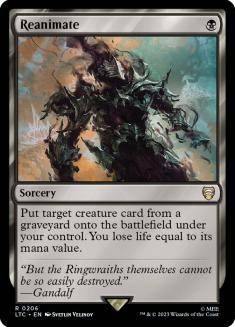 Infinite Obliteration gets some intel for you while taking out a creature that's dangerous. It's nice that no place is safe. I want to think long and hard about where Reanimate will end up, but it will definitely be in a deck with more creatures.
No changes.
PURPLE HIPPOS and MARO SORCERERS
In: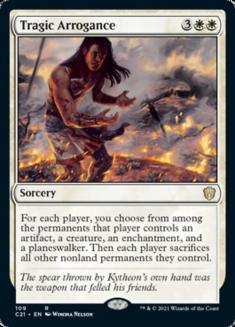 Out: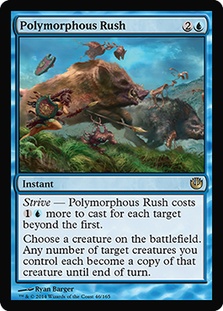 In this format, Tragic Arrogance will end up being quite undercosted for what it does. It's going to end up taking out loads of enchantments and artifacts along with the creatures. Because you get to choose, you always leave them with the least impactful permanents while keeping the strongest of your own. In this deck, it lets me give away Hippo tokens with less impact. It also narrows the field of permanents so that Spine of Ish Sah can do more directed work. Polymorphous Rush deserves to be in a deck, but one which creates more mana.
In: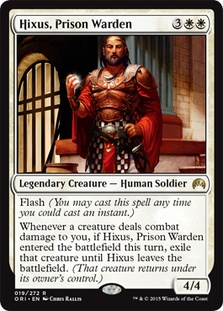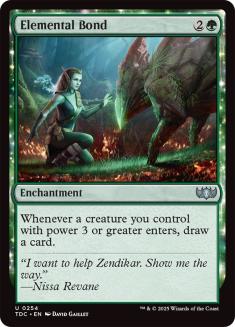 Out: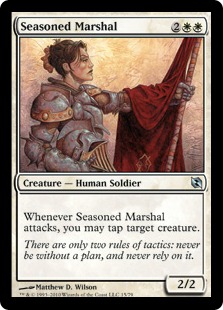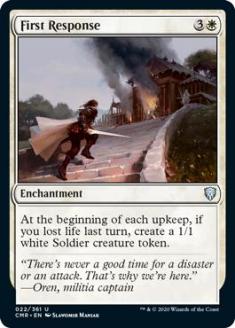 One of the things I like to protect against is having my own creatures attack me. Hixus can help get them back (although I suppose I could just play Brand). As I mention above, I considered playing it alongside Hallowed Moonlight; in the end, this deck's Soldier theme won out. Card draw being one of the weaker points of the deck, Elemental Bond is a welcome addition. While Seasoned Marshal is a Soldier, it wasn't doing any particularly heavy lifting. With First Response, cutting the making of some tokens in favor of card draw was an easy choice.
RURIC THAR AND HIS BEASTLY FIGHT CLUB
No changes. I considered Woodland Bellower since it's a Beast, but I wasn't all that happy with the green creatures in the deck that it could find so it still searches for a better home.
In: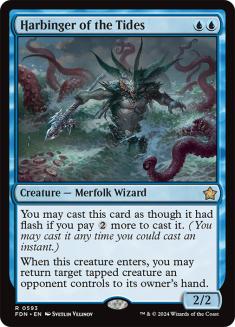 Out: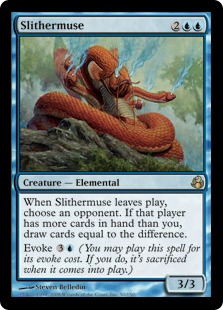 Pretty simple choice that Harbinger of the Tides is a Merfolk and Slithermuse isn't, it's just a favorite card of mine. Having the choice of playing it as an instant opens some strategic doors; you can use it offensively to get rid of that last blocker, or use it defensively to keep that giant creature out of your kitchen.
In: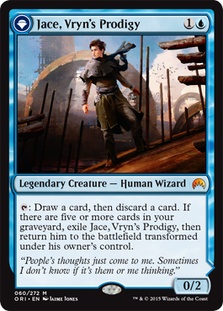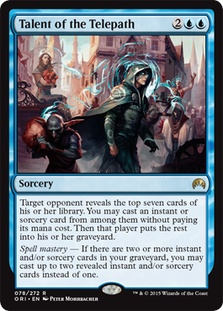 Out: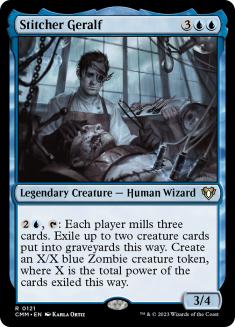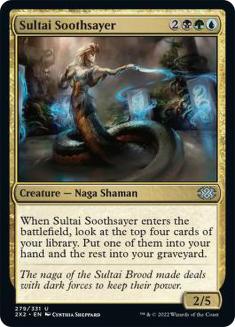 I'm feeling a little like this is The Deck That Jace Built. It's certainly gotten away from the original idea of milling stuff so that I can copy it with The Mimeoplasm. Not that I mind, of course. Like with Tragic Arrogance, Talent of the Telepath feels like it's going to be an outstanding bargain every time it's cast. You just have to pick the target carefully. Stitcher Geralf had a new home, so it was easy to cut. Sultai Soothsayer was a little more difficult, but it got a little expensive for what it does.
In: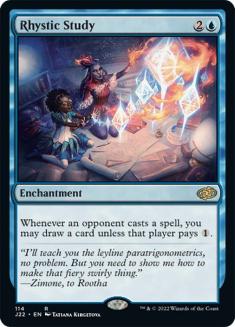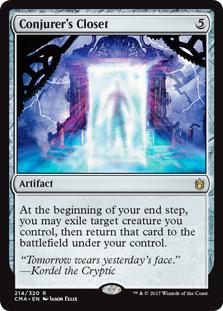 Out: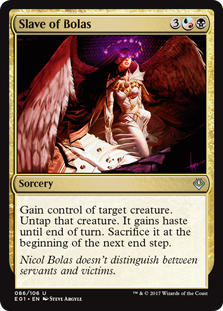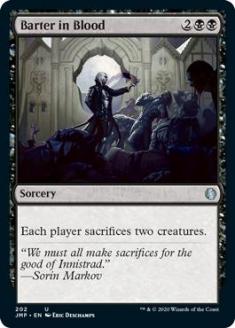 Both of the cards that I put into the deck (taken from others) were a case of "why am I not playing that in Thraximundar?" Grixis decks need some help making sure they hit their land drops; an early Rhystic Study can be just what the doctor ordered. There are two major reasons for Conjurer's Closet. The first is obvious: a bunch of great enters the battlefield triggers. The slightly less obvious reason is in combination with Dawn of the Dead. At end of turn, I can stack the triggers with Conjurer's Closet resolving first, meaning that Dawn of the Dead won't exile it. Over the life of their time in the deck, I found both Slave of Bolas and Barter in Blood, while fitting the theme, weren't doing enough.
In: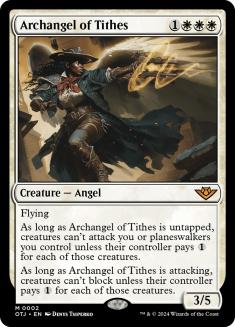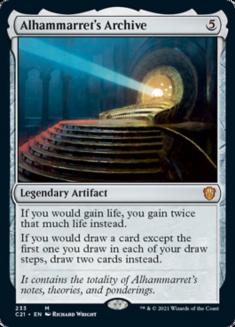 Out: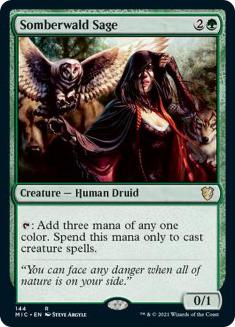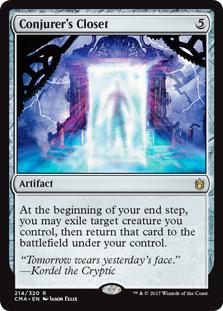 The deck is a little slow, so keeping attackers off my back for a bit makes Archangel of Tithes a nice fit (being an Angel and all). Alhammaret's Archive simply goes with the lifegain theme, plus it combos nicely with Well of Lost Dreams, effectively halving the cost of extra draws. I imagine the card draw ability is going to make it a very popular Commander card. Somberwald Sage is a hit-and-miss card. Early, it's grand. Late, it's a dead draw. Not being an Angel damned it. Conjurer's Closet provided some laughs (like when both Trostani and Serra Angel were on the battlefield), but in the trim will do better service in Thraximundar.
In: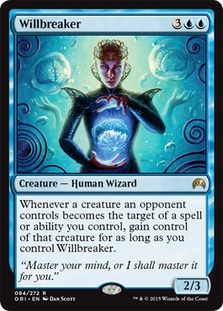 Out: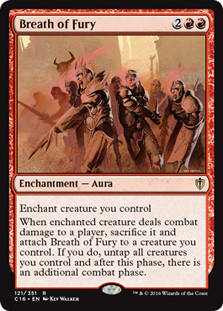 Willbreaker finally answers the question "Why would I play Sea King's Blessing?" It will cause me to think about adding some additional cards, especially permanents, which can target creatures. I know you can't feel the rush I just felt, but as I typed that last sentence, Opposition came to mind. We may be onto something. Holy cow, Erhnam Djinn. The possibilities are astounding. Breath of Fury was going to be cute with stealing creatures and sacrificing them, but it never worked the way I imagined (and I have other ways of doing that).
In: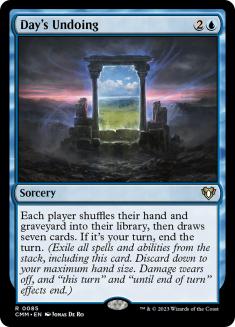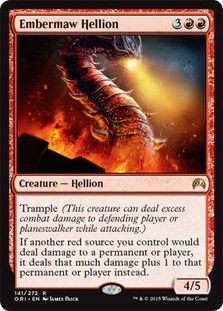 Out: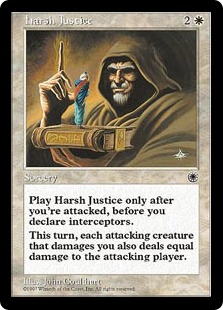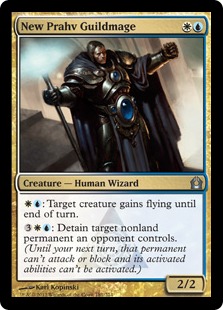 Day's Undoing is the perfect card in this deck for refilling my hand. I don't do much on my turn anyway, so ending the turn isn't all that bad. In fact, if I'm in a situation where I don't want to be forced to attack with Ruhan, I can cast it before combat. Embermaw Hellion ups the damage on a number of things, to include Powerstone Minefield and Aether Snap. Harsh Justice makes you take the damage first; it was never a card I'd search up with Sunforger, which is as much of an answer as I need. New Prahv Guildmage was only situationally good and a leftover of the days when Angel's Trumpet was in the deck.
In: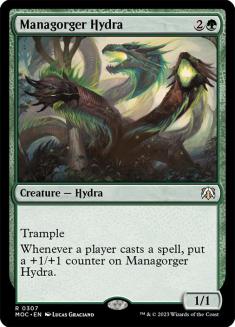 Out: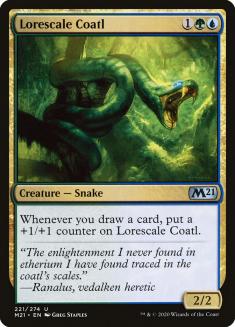 Creatures with trample that keeping getting larger are okay by me. Managorger Hydra fits that bill. Lorescale Coatl was doing things backwards; I wanted to draw a card when I put a counter on something.
In: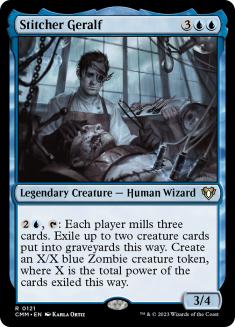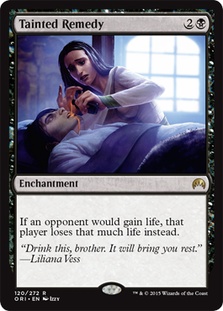 Out: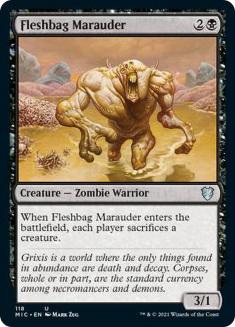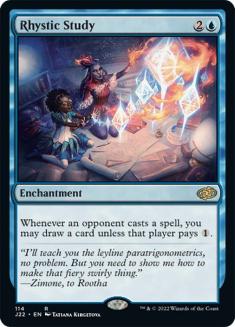 Stitcher Geralf isn't a Zombie, but he's a Zombie-maker, which qualifies as on-theme for me. He's like a graveyard-eating Grave Titan. Tainted Remedy is a nice little protection against opposing lifegain which fits thematically (corruption and decay and all that). I'm in the minority at my LGS in being ambivalent about Fleshbag Marauder. I don't hate it, but other folks there really love it. Rhystic Study was doing just fine in this deck, but I decided I wanted it in Thraximundar more.
No changes.
In: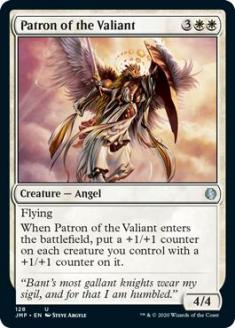 Out: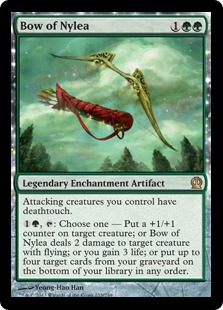 Patron of the Valiant was built for a deck like this, so it was an easy addition. Bow of Nylea was a difficult cut. When it came down to it, there was nothing else I was willing to part with.
No changes.
No changes.
There are a few cards which I held out for future decks. Nissa, Vastwood Seer and Nissa's Pilgrimage will serve as ramp for future Do-Over green decks which won't be able to play the usual suspects. I didn't put Knight of the White Orchid into anything new, but I will pick up a foil copy for the Ruhan Do-Over. After considering other folks' opinions, I'm warming up to the idea of including Sword of the Animist in a deck. It would go into a non-green deck which has enough small creatures to equip it to early and get mileage. That deck is most likely Aurelia, but we'll see.
Decks Without Comment will return next week.
Check out our awesome Deck List Database for the last versions of all my decks:
ADUN'S TOOLBOX;
ANIMAR'S SWARM;
AURELIA GOES TO WAR;
CHILDREN of a LESSER GOD;
DEMONS OF KAALIA;
EREBOS and the HALLS OF THE DEAD;
GLISSA, GLISSA;
HELIOD, GOD OF ENCHANTMENTS;
DREAMING OF INTET;
FORGE OF PURPHOROS;
KARN, BEATDOWN GOLEM;
HALLOWEEN WITH KARADOR;
KARRTHUS, WHO RAINS FIRE FROM THE SKY;
KRESH INTO THE RED ZONE;
LAVINIA BLINKS;
LAZAV, SHAPESHIFTING MASTERMIND;
ZOMBIES OF TRESSERHORN;
MELEK'S MOLTEN MIND GRIND;
MERIEKE'S ESPER CONTROL;
THE MILL-MEOPLASM;
MIMEOPLASM DO-OVER;
NATH of the VALUE LEAF;
NYLEA OF THE WOODLAND REALM;
OBZEDAT, GHOST KILLER;
PURPLE HIPPOS and MARO SORCERERS;
ZEGANA and a DICE BAG;
RITH'S TOKENS;
YOU DID THIS TO YOURSELF;
RURIC THAR AND HIS BEASTLY FIGHT CLUB;
THASSA, GOD OF MERFOLK;
THE ALTAR of THRAXIMUNDAR;
TROSTANI and HER ANGELS;
THE THREAT OF YASOVA;
RUHAN DO-OVER;
KARADOR DO-OVER;
KARRTHUS DO-OVER
If you'd like to follow the adventures of my Monday Night RPG group (in a campaign that's been alive since 1987 and is just now getting started with a new saga called "The Lost Cities of Nevinor"), ask for an invitation to the Facebook group "Sheldon Menery Monday Night Gamers."