There's the excitement of knowing that new Magic cards are coming our way,
doubly so when it's a set for Commander. That doesn't replace the
excitement of seeing actual cards, especially the ones that make you go
WHOA!
Our friends on
the Commander VS crew previewed this card yesterday
, and the only reason you're not running around the house screaming and
waving your arms right now is that you didn't see the episode or catch the
card (so check it out). I present to you Arixmethes, Slumbering Isle 2GU.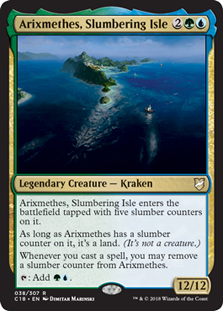 Like the rest of us, the guys had some trouble with the pronunciation. My
best guess would be uh-RIX-muh-THEEZ, but your mileage may vary. Of
everyone, Stephen seemed the most excited about the prospect of casting a
land. The comparisons to Dark Depths were well-taken, although Stephen
considered that there might be some value to not taking off the counters. I
shared his excitement (although I think it was mostly on Justin's behalf)
when he posited that there might be something like Arixmethes in the Jund
deck-a slumbering mountain, perhaps, although Justin suggested a slumbering
pit of death.
One of the things to always tune into Commander VS for is the Vorthos part
of the discussion. You can't help but love that all four of them want to
figure out the whens and wheres of a card, if it thematically makes sense,
tells a story, or fits into the game's back story. Here, they broke down
the art and came to a rough agreement that the card is somewhere on Theros,
since it's the plane with the most Krakens. What I didn't notice that I
picked up from them are the pincers, making it look like some kind of giant
shrimp.
All in all, Jeremy, Justin, Jon, and Stephen agreed that Arixmethes is
pretty sweet. They then moved on to playing a variant which I'm going to
suggest to my local crew. It pairs a commander with the weapon that they
would wield. Said weapon also starts in the command zone, as if it were a
partner. If it would go away, it goes back to the command zone and you can
recast it with the appropriate commander tax. Jeremy went right for the
flavor win, pairing Dakkon Blackblade with Blackblade Reforged. I might
suggest for this variant that the weapon must also be legendary. You can't
just have Skullclamp in the command zone (although I'm okay with Stephen's
Moonsilver Spear explanation). And before anyone asks, no Jon's Tamiyo,
Field Researcher isn't a legal commander, but I'd allow it at my table,
especially since he chose Tamiyo's Journal as the "weapon." That's a flavor
win. This is a perfect example of a group sculpting the format to meet
their own needs, and the Commander RC fully supports them. I encourage you
to tune in to the episode to find out how the game played out. While you're
doing that, I'm headed back to Arixmethes.
Now that I've done my own running around and screaming, I'll try to talk
rationally about this amazing card. From top to bottom, from theme and
design to utility and badassery, Arixmethes is exactly the kind of card
that Commander loves.

First of all, a 12/12 for 2UG will wake you up more than that early morning
double espresso. The fact that it enters the battlefield tapped (like most
of the lands which natively produce two mana) keeps it from being
busted-but that's what Amulet of Vigor is for (as the VS crew suggested).
Maybe Garruk Wildspeaker the turn before is the right play. The dream is
casting Arixmethes, then tapping it for mana into Coiling Oracle, right?
Nonetheless, it becomes a strong mana acceleration spell that becomes a
giant beater after it's done its early work. Often in Commander (and Magic
in general), we have to choose whether a card is a good early or late game
thing; Arixmethes does both. This kind early/late duality in a card is
something I'd like to see designers play around with even more. It's like
that double espresso that then turns into a full breakfast after you've
drained the last drop.
You know what's also to love about Arixmethes? It's a card that enters the
battlefield with counters that Doubling Season makes worse. To be frank,
Doubling Season is a card that we've discussed numerous times during
Commander Rules Committee (RC) meetings. It's a really cool card that makes
some other cards problematic. It was a significant factor in our
discussions of planeswalkers as commanders; its presence and popularity
made some of them quite untenable. Arixmethes is also a non-bo with Deadeye
Navigator. This card is getting sweeter and sweeter by the minute.
So how do we wake the Slumbering Isle? We get busy-busy casting spells. We
have lots of inexpensive and useful cards in our deck to make sure that we
can hit them. Reasonably, if you cast Arixmethes on Turn 4, you should have
the last counter off of it by Turn 7. Of course, one of its colors is
green, so Turns 4 and 7 are reasonable, with Turns 3 and 6 not being out of
the question. Then the beatings can commence. Of course, if Arixmethes is
your commander, you don't need to beat that often. I'll also note that
removing the counter is optional, and although it's hard to imagine a
situation in which you'd rather it just be a land, Commander is a wacky
format and strange things are bound to happen.
Arixmethes is built for starting in the command zone. Guaranteed mana
acceleration on a relatively early turn will fuel your other cool stuff.
Arixmethes isn't ramp, it's ramp plus. Double plus ramp multi-pass. Unlike
other commanders that you might want to be a little careful about due to
spot removal, it's relatively safe to cast Arixmethes as soon as you
can-although make sure you don't walk into a Wasteland. In my local group,
folks don't run an overabundance of land hate, but be warned that other
environments are different. For the most part, players don't want to slow
down their own development on a 1-for-1 like Wasteland, but your mileage
may well vary.
The aforementioned Coiling Oracle aside, I think I'd like to start waking
up the Isle with Tatyova, Benthic Druid-unlike fellow SCG Con panelist Bennie Smith,
who would most definitely want to get into Grothama, All-Devouring. Brother
is a little obsessed with that card.
That got me thinking, so I did a quick poll of some folks who had already
seen the card. I wanted to see what they would like to be the card they
cast removing the last counter to wake up the Isle. Commander 2018
Lead Developer Gavin Verhey said he'd be pretty excited for it to be Prime
Speaker Zegana. Fellow Commander Rules Committee member Scott Larabee gave
me three choices: Deepchannel Mentor, Whelming Wave, and Slinn Voda, the
Rising Deep. The latter is probably the most flavorful and what I'd pick
for the winner. DailyMTG Editor Blake Rasmussen said Mulldrifter, "because
Mulldrifter is my answer to every 'what would you most want to cast'
question." R&D's Ethan Fleischer, who is the liaison to the Commander
Rules Committee, said that Arixmethes is taking over as the commander of
his sea monster deck, so Kederekt Leviathan seems like a good choice. And
it is.
Cards that untap lands and/or creatures can make Arixmethes a little silly.
You can certainly put it at the helm of an Intruder Alarm deck. My caution
here is that you might lead yourself into some unavoidable infinite combo.
I don't think there are too many that you can come up with unreasonably
early, so it's moderately safe. Paradox Engine is obviously a great fit for
after you've woken him from his slumber, since you can have mana to cast
stuff and still have him available for battles.
Even in its hugeness, Arixmethes doesn't have any kind of evasion. The good
news is that you're in colors that are pretty good for getting your
creatures to get some. First in line, and well within the boundaries of
being thematic is Thassa, God of the Sea. In addition to just being good
enough to play for its first ability alone, especially at its ridiculously
cheap casting cost of 2U, the ability to make a creature unblockable for
the low price is 1U pushes it into the realm of true battle force enhancer.
Archetype of Imagination gives all your creatures flying and takes it away
from everyone else's. Sun Quan, Lord of Wu, gives all your creatures
horsemanship (a mechanic I'd love to see revisited). There are more than
enough ways in green to give trample. One super cool way is with Goreclaw,
Terror of Qal Sisma. Goreclaw with both let you cast Arixmethes for 2 less,
and give it trample when they attack together. The Slumbering Isle also
works well together with Rhonas the Indomitable. It turns on Rhonas and
Rhonas makes it deadly. Speaking of all by itself, once it's a creature, it
all alone gives you formidable (having creatures with total power 8 or
greater). The most relevant of these is Stampeding Elk Herd, because like
Goreclaw, it'll give Arixmethes trample when they go together into the Red
Zone. If you want to run the God suite, Nylea, God of the Hunt simply gives
all your other creatures trample plus lets you buff them.
That's not to say that you can't have Arixmethes as 1 of 99. You can go get
it with Momir Vig, Simic Visionary, or if you cast it with Momir Vig
already on the battlefield, you'll get both triggers. Fierce Empath on Turn
3 into Arixmethes Turn 4 is a nice play. You probably won't ever mind
getting it off of a Lurking Predators trigger, although it might be daggers
in a late game tight spot. It certainly works in an appropriately-colored
deck featuring the aforementioned Intruder Alarm or Paradox Engine.
You might consider Arixmethes in a deck led by Battlebond's
Chakram Retriever and a green or blue/green creature with partner for
delicious land untapping. Kydele, Chosen of Kruphix, is the first one that
comes to mind, although Ley Weaver makes things saucy as well. Certainly
Thrasios, Triton Hero also belongs in that conversation. You probably don't
want to play it with Pir, Imaginative Rascal, since Pir puts an extra
counter on things.
The only downside I see is casting it late game and not being able to
battle with it right away. There's nothing in Arixmethes' color identity
that removes all the counters from a permanent; the cards that do are black
or white (Aether Snap, Suncleanser, Thief of Blood, Vampire Hexmage). Even
in the color identity, there aren't that many cards that remove counters.
The best is probably Power Conduit, because you get to put either a charge
counter on an artifact or a +1/+1 counter on a creature. There's Chisei,
Heart of the Oceans, a 4/4 flyer for 2UU, which has you remove a counter
from a permanent at the beginning of your upkeep; problematically, if you
don't, you have to sacrifice it. Ferropede does the job when it deals
combat damage-the upside being that it's unblockable. Spinal Parasite can
do the trick, but it's pretty convoluted; you have to remove two +1/+1
counters from it to remove a counter from something else. Still, I'm not
letting the potential lategame issues get in the way of enjoying
Arixmethes.
I'll also tell you that Arixmethes isn't the only card I've previewed this
week. On Monday, I

Tweeted about Treasure Nabber

. Having played with it already when the Rules Committee tested out the
decks last year, I can tell you that it's loads of fun even if you don't
combo any cards with it. It's a political card that can make or lose
friends. I know there are some of you who might think that comboing it with
Mycosynth Lattice and Zuran Orb is a good idea. I'll ask you to resist any
such urge. Mycosynth Lattice might yield some one-sided possibilities, but
Armaggedon for everyone but you is pretty much fun wrecker defined. The
body it's on is strong enough to withstand some nonsense that will kill
smaller Goblins, so even if it's not in your tribal deck, it has a spot. It
certainly goes right into a Yasova Dragonclaw-style deck that likes to
borrow stuff. Check out the art as closely as you can. It's clear our
little Treasure Nabber is holding a Sol Ring, but if you look a little more
deeply, you might see more.
Finally, we also previewed Echo Storm on Monday.
Bennie talked about some of the social media reaction
. You can add me to the list of people who really wanted commanderstorm as
a keyword mechanic (which it may have been at some point in design and
development). I'll see if I can get Gavin to verify that and let you know
what he says.
Question of the Week

Our question this week comes from scatteredsun on the
official forums.

I see some new players falling for what I call "trap cards," such as
Iona, Shield of Emeria or Vorinclex, Voice of Hunger-cards that look
like they're big, powerful, fun cards but are, in actuality, fun
killers. I find they tend to remove those cards after a few games, but
I feel bad for them because most are not cheap. They end up spending
$20 on something they only use for a few games before they get ganged
up on. It's an expensive learning opportunity for some of the kids I
play with. I am typically a fan of a smaller, sleeker banned list but I
wonder if this viewpoint of saving new players from making a mistake
has ever been taken into consideration when the RC discusses potential
bans?

The short answer is no, but that's not the end of the answer. We can make
exemplar-style bans (and to some extent, we do), but we'd still have to
bloat the banned list to hit every angle. This is where I think social
engineering might shine. We can discuss, both as content creators and
members of the community, the things we like and don't like in our
environments. We can do this online and in person, encouraging positive
play styles and reinforcing our values. While I don't want to reduce
everything to a catch phase or slogan, this one fits: make games that
everyone will love to remember, not those they'd like to forget.

Check out our comprehensive Deck List Database for lists of all my decks:
SIGNATURE DECKS






Purple Hippos and Maro Sorcerers


;


Kresh Into the Red Zone


;


Halloween with Karador


;


Dreaming of Intet


;


You Did This to Yourself


.
Mono-Color



Heliod, God of Enchantments


;


Thassa, God of Merfolk


;


Erebos and the Halls Of The Dead


;


Forge of Purphoros


;


Nylea of the Woodland Realm


;


Karn


Evil No. 9.
Guilds







Lavinia Blinks


;


Obzedat, Ghost Killer


;


Aurelia Goes to War


;


Trostani and Her Angels


;


Lazav, Shapeshifting Mastermind


;


Zegana and a Dice Bag


;


Rakdos Reimagined


;


Glissa, Glissa


;


Ruric Thar and His Beastly Fight Club


;


Gisa and Geralf Together Forever


.
Shards and Wedges










Adun's Toolbox


;


Angry, Angry Dinos


;


Animar's Swarm


;


Borrowing Stuff at Cutlass Point


;


Ikra and Kydele


;


Karrthus, Who Rains Fire From The Sky


;


Demons of Kaalia


;


Merieke's Esper Dragons


;


Nath of the Value Leaf


;


Queen Marchesa, Long May She Reign


;


Rith's Tokens


;


The Mill-Meoplasm


;


The Altar of Thraximundar


;


The Threat of Yasova


;


Zombies of Tresserhorn


.
Four Color



Yidris: Money for Nothing, Cards for Free


;


Saskia Unyielding


;


Breya Reshaped


;


Yidris Rotisserie Draft Deck


.
Five-Color
Partners




Tana and Kydele


;


Kynaios and Tiro


;


Ikra and Kydele


.



Adun Oakenshield Do-Over


;


Animar Do-Over


;


Glissa Do-Over


;


Karador Do-Over


;


Karador Version 3


;


Karrthus Do-Over


;


Kresh Do-Over


;


Steam-Powered Merieke


Do-Over;


Lord of Tresserhorn Do-Over


;


Mimeoplasm Do-Over


;


Phelddagrif Do-Over


;


Rith Do-Over


;


Ruhan Do-Over


.
If you'd like to follow the adventures of my Monday Night RPG group (in a
campaign that's been alive since 1987) which is just beginning the saga The Lost Cities of Nevinor, ask for an invitation to the Facebook
group "Sheldon Menery's
Monday Night Gamers."