Now that War of the Spark is fully previewed, it's time to get down and dirty with some drafts! Mythic Championship London is this weekend, and in order to prepare, the best in the world are simulating drafts with their teams. I don't see a reason we can't do the same. What would you take out of this pack?
Pack 1, Pick 1
The Pack:
The Pick:
Parhelion II is a powerful rare, but overall too expensive. You need to have eight mana and untap with a creature that can crew it. That's a huge ask in Limited. End-Raze Forerunners wasn't a good rare in Ravnica Allegiance Limited because of how difficult eight mana is.
And it didn't have a crew cost of four.
Devouring Hellion can range from extremely mediocre to a potent threat. I think an important aspect of evaluating the card is the amount of amass 1 cards in the set. Curving Lazotep Reaver into Devouring Hellion makes a 6/6 on Turn 3. That dodges pretty much all the common removal spells that your opponent can cast in the early game. How good Devouring Hellion is will depend on how easy it is to set it up early. However, it's still not a card I'm excited to first-pick.
I think this pick is between the two black cards. Eternal Taskmaster is an extremely efficient two-drop. A 2/3 for two mana is already above rate, and it comes with an ability that scales well into the late-game. Furthermore, two-drops will be more important than ever in this format. The earlier you get on the battlefield, the easier it is to both pressure and protect planeswalkers.
The question here is whether Spark Harvest, a flexible and efficient removal spell, is a better pick. In many formats I think you could justify Spark Harvest, but War of the Spark is overflowing with removal spells at common and there aren't many premium two-drops. Because of this, the pick is Eternal Taskmaster.
Pack 1, Pick 2
The Picks So Far: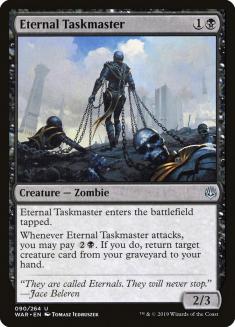 The Pack:
The Pick:
Tamiyo's Epiphany and Kasmina's Transmutation are both solid blue commons. Which one is better is a question I'm curious to pursue. Epiphany is a much more powerful card; however, for the same reason I outlined regarding the importance of two-drops, this format may be hostile to a four-mana sorcery that doesn't impact the battlefield.
Kasmina's Transmutation, on the other hand, can answer many threats. The problem is that a 1/1 isn't nothing. It's a chump blocker to facilitate another activation of a planeswalker, it can chip in against planeswalkers, and it doesn't even stop a Zombie Army or any threat with +1/+1 counters (and there are a lot of those in the set). I'm not sure which is better between the two of these, although I lean towards Tamiyo's Epiphany. Luckily, there are better options in the pack.
Cyclops Electromancer has quite the high ceiling, but you can only achieve that in the Izzet archetype. If that archetype is one of the best and the Electromancer is a key component to the architecture of the deck, I believe speculating on it is reasonable here. However, my gut says that not everything will line up. I think at the beginning of the format there's merit to taking Cyclops Electromancer to experiment, but that's not what I'm going to do.
Vraska's Finisher is a solid common. This is a card that can range anywhere from a filler common to a premium one. It's also very powerful with Eternal Taskmaster. I wouldn't fault anyone for staying the course with black.
That said, my pick is Sunblade Angel. I know that a million different common removal spells answer Sunblade Angel efficiently. However, if your opponent can't answer it, the game might just end. Keyword soup is a powerful mechanic, and this Angel has the perfect combination of keywords to win combat while being a good defensive play. I have a suspicion that this card will play like Azorius Skyguard.
Pack 1, Pick 3
The Picks So Far:
The Pack:
The Pick:
Between the two white commons, I think Law-Rune Enforcer gets the nod. Divine Arrow is solid but cannot push through damage in the same way that Law-Rune Enforcer does. Furthermore, with an Eternal Taskmaster, it opens the door to Raise Dead a removal spell.
Chandra's Triumph is a premium uncommon, as two-mana removal is incredibly efficient, and I wouldn't fault anyone for taking it here. I would take it over Law-Rune Enforcer, even though there's a white card in the pool and no red card. It's just a more efficient removal spell and it's better to stay open at this point in the draft although I wouldn't fault anybody who disagrees here. Regardless, I don't think Chandra's Triumph is the pick.
Elite Guardmage is an incredible Magic card. Remember how unbelievable Cloudblazer was? Elite Guardmage draws one less card, but it has a third point of toughness, gains one more life, and is one mana cheaper. There isn't a Flicker theme in this set, but I expect the Guardmage to be of a similar power level. That third point of toughness matters much more than you think. I believe War of the Spark will be a set defined by Wind Drakes, and cards like Aven Eternal and Trusty Pegasus are some of the best commons and will be important tools for keeping planeswalkers in check, so a 2/3 flier is a better body than we're used to.
Pack 1, Pick 4
The Picks So Far:
The Pack:
The Pick:
Dreadhorde Arcanist is a rare that I'll try out at some point, but I don't expect it to be good. Limited decks don't have many cheap instant or sorcery spells, and red isn't great at augmenting power in this set. That's more the job of green and white. Maybe the Arcanist will be good in Boros, especially if that deck wants to play Defiant Strike, but with the current start to the draft, I think it's safe to pass on the Arcanist.
Do not take Liliana's Triumph here. I expect a lot of players to look at Spark Reaper and Liliana's Triumph and take the Triumph. It's a removal spell, it's Constructed-playable, and it's an uncommon. It doesn't matter. Edict effects are not good in Limited, especially in a set like this one with cards like Aven Eternal and Lazotep Reaver running around at common. I'm unsure if it'll ever be correct to even include Liliana's Triumph in your deck. If you take a black card, take Spark Reaper. It's a solid common and it synergizes well with Eternal Taskmaster and plenty of other cards in the set.
The best card in this pack by a country mile is Band Together, the green Murder. The downside of fight and punch spells is that they get blown out by removal spells. Because Band Together punches with two of your creatures, you will often be able to play around removal spells. We've never seen a card like this before. I'm unsure whether this or Bloom Hulk will be the best green common, but both are fantastic. Even though this is Pick 4 and taking Band Together adds a fourth color to the pool, it's too much better than the rest of this pack to justify anything else.
Pack 1, Pick 5
The Picks So Far:
The Pack:
The Pick:
Callous Dismissal and Aid the Fallen are solid commons that will almost always make your deck. But I don't expect either of them to be premium in the same way that Bloom Hulk is. If Band Together wasn't in the last pack, this pick would be closer. But it's starting to look like green is open, and picking up this Bloom Hulk is a nice little reward for staying open last pick!