I love doing play-by-play articles. I think they're better than anything else at showing off the format and the abjectly wild things that can — and do — happen. I have written fewer of them in the last year or so because of school pressures. I have the time to write, but having a block of six or so hours to play (and record games) is a different story. At least for the rest of the summer (which I realize is just getting started for the rest of you in the Northern Hemisphere, but it's in full swing here in Florida), I anticipate having more time to play — which means more play-by-plays.
When I put together my decks to take to the shop last Thursday, I ticked off the decks for which I had already done one, and I knew Karador was on the list. The thing was that I really wanted to play the deck. Since I only remembered that I had done it and not when, I looked it up. It was a while ago. This is episode #297. That was episode #149, meaning it's been the better part of three years since you saw some Karador action. We're going to change that.
In case you haven't seen it before, here's the awesome alter of Karador that Ron Faris of Blackwing Studios did as a gift for me a few years back (and would quite obviously not be legal for sanctioned play).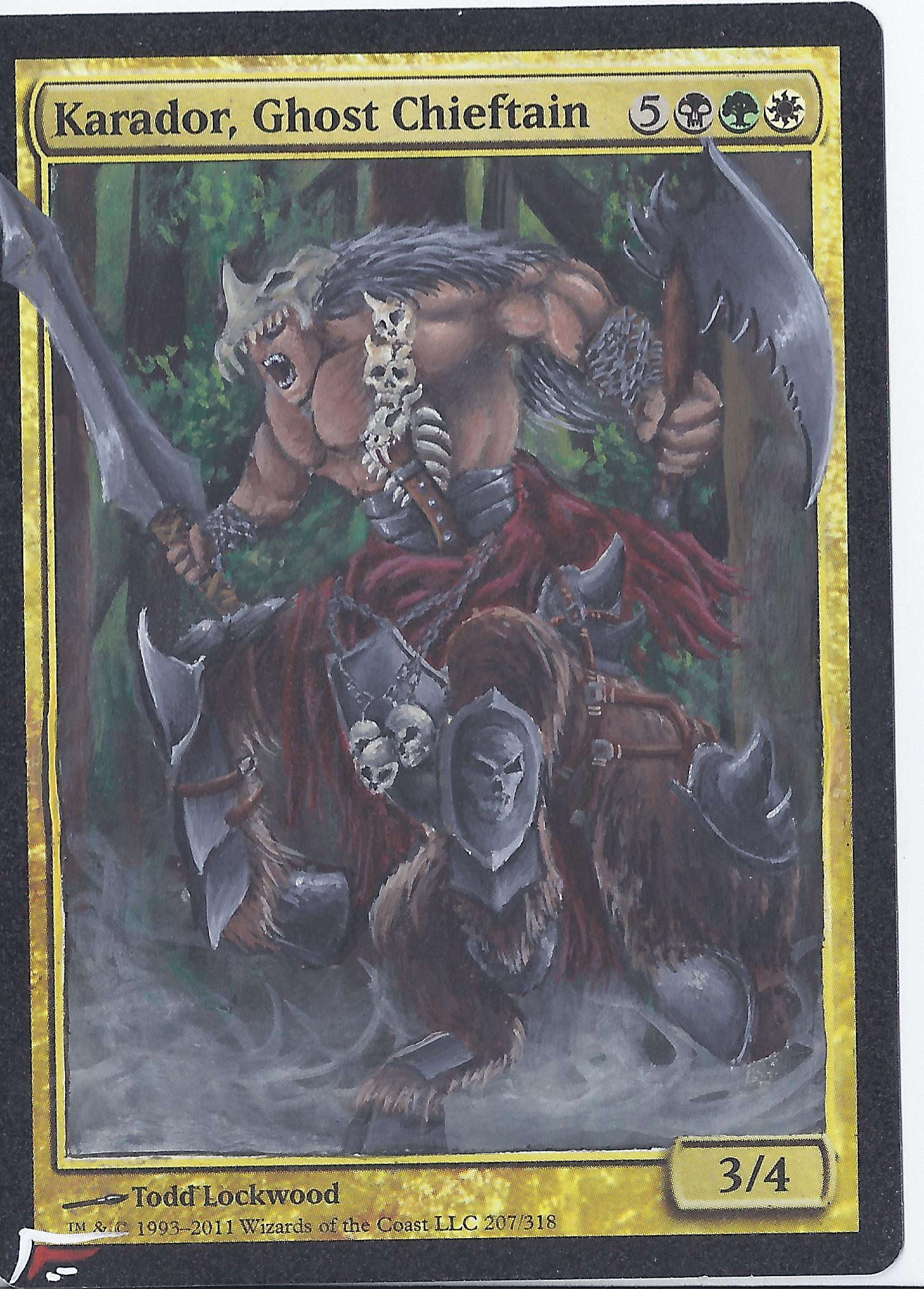 I sit down with Armada Games regulars Shea, Chris, Kyle, and Anthony. Often when we have a table of five, we play in star format (the two people next to you are allies, the two across from you are enemies; you win when your enemies are eliminated). This time, we decide to simply go for a free-for-all.
Shea: Halfdane
Chris: Vela the Night-Clad.
Kyle: Zirilan of the Claw.
Anthony: Mishra, Artificer Prodigy.
TURN ONE
Shea: Plains.
Chris: Command Tower.
Kyle: Mountain.
Anthony: Crumbling Necropolis.
Me: Godless Shrine.
TURN TWO
Shea: Island.
Chris: Island, Blood Artist.
Kyle: Mountain.
Anthony: Island.
Me: Forest.
TURN THREE
Shea: Swamp, Burnished Hart.
Chris: Swamp.
Kyle: Mountain, Dragonmaster Outcast.
Anthony: Command Tower, Trinket Mage for Sol Ring.
Me: Plains, Necrotic Sliver.
TURN FOUR
Shea: Sacrifices Burnished Hart for Island and Swamp, drops Plains.
Chris: Swamp.
Kyle: Tawnos's Coffin. Everyone has to read it. We look up the Oracle wording just to make sure we understand correctly what it does. Techy card choice.
Anthony: Swamp, Sol Ring. Muzzio, Visionary Architect.
Me: Plains, Wall of Reverence. End of turn, I go to (42).
TURN FIVE
Shea: Island, Spear of Heliod.
Chris: Reliquary Tower.
Kyle: Attacks Chris with Dragonmaster Outcast (39). Casts Zirilan of the Claw.
Anthony: Island, Wurmcoil Engine. Attacks Chris with Trinket Mage (37).
Me: Forest, Silverchase Fox.
TURN SIX
Shea: Halfdane and Phyrexian Metamorph, paying two life (38). Copies Wurmcoil Engine.
Chris: Island, Fathom Trawl. Chris has been playing this for a while now and has shown good results. At the same mana cost as Jace's Ingenuity but at sorcery speed rather than as an instant, you're guaranteed to get three gas cards (assuming you don't build your deck with non-gas). He gets Carrion, Shorecrasher Elemental, and Altar of Dementia.
Kyle: Mountain. Attacks Chris with Dragonmaster Outcast (36).
Anthony: Arcane Lighthouse. Activate Muzzio (at six) for Solemn Simulacrum, getting Mountain. Casts Swiftfoot Boots and equips to Wurmcoil Engine. Attacks Kyle with Wurmcoil Engine. Kyle activates Zirilan, fetches up Bogardan Hellkite. Targets Muzzio for 3, Blood Artist for 1, and Anthony for 1 (39). Blood Artist dying drains Kyle (38), Chris to (38). Kyle then blocks with the Hellkite and puts it in the Coffin. At EOT, I destroy the Coffin with Necrotic Sliver for two reasons: one, I can see the tomfoolery Kyle has up his sleeve and two, piling up the graveyard for Karador. I'm also testing out the hypothesis that spending all available mana every turn is a good idea. It's easy — especially in a multiplayer game — to want to wait for the perfect time to blow up the perfect thing, but especially early on in a game just doing what's available to you might make more sense. I wouldn't use Necrotic Sliver to destroy something weak, but we know the Coffin isn't going to be weak here. Using Silverchase Fox to exile Spear of Heliod is also an option, but that's mostly inoffensive at this point. The Fox is there to take care of dangerous things, including Gods, which we can't get rid of in normal ways. The Hellkite comes back, dealing 2 to Trinket Mage, 2 to Solemn Simulacrum, and 1 to Anthony (38).
Me: No land for me — another reason I spent the Necrotic Sliver mana when I could. If I drew land there, I would want to be doing a number of other things. At EOT, I gain 2 (44).
TURN SEVEN
Shea: Halfdane becomes 7/7 (then 8/8 due to the Spear). Attacks Kyle with it (30).
Chris: Knowledge Exploitation, targeting me. Pretty sure he's going for Planar Cleansing or maybe Decree of Pain. Arguments for both exist, but he wouldn't draw many cards off the latter. He does indeed get Planar Cleansing. Shea responds with Debt of Loyalty (so techy) on Dragonmaster Outcast (and he has enough lands for it to trigger). Anthony and Shea both get lifelink and deathtouch Wurm tokens.
Kyle: Quicksilver Amulet. Really nothing to do after you cast that.
Anthony: Buried Ruin. Casts Daretti, Scrap Savant and Myr Retriever. Uses the -2 on Daretti to sacrifice Myr Retriever and return Wurmcoil Engine to the battlefield. Gets Solemn Simulacrum back with the Myr Retriever trigger. Attacks Kyle with both Wurms (24), Anthony to (41).
Me: No land again, but at least I can now casts Karador with my five mana.
TURN EIGHT
Shea: Upkeep, gets a Dragon. Esper Panorama and no battles.
Chris: Homeward Path. Casts Druidic Satchel (which everyone in unison calls by its nickname) and Altar of Dementia.
Kyle: Cryptic Gateway.
Anthony: Terrezet. Uses the +2 of Daretti, discarding only Solemn Simulacrum. Attacks Chris with the two Wurm tokens and Wurmcoil Engine. Chris activates Druidic Satchel, getting Evolving Wilds. Chris takes the damage and goes to (26), Anthony to (50). Anthony activates the +1 ability of Tezzeret to untap Wurmcoil Engine and the Wurm token with deathtouch.
Me: Peel Yavimaya Elder, which is almost as good as land here. Crack it, get Swamp and Forest, drop the Swamp. You don't see folks often activating Yavimaya Elder right away, but it was the only way for me to not miss another land drop.
TURN NINE
Shea: Gets another Dragon. There's some table discussion that Planeswalkers need to go, but no agreement on which one. He ends up attacking Daretti. Shea then plays Bojuka Bog, targeting Anthony. This causes some more discussion because I'm the Karador player. Shea doesn't think my graveyard is spicy enough yet (it only has Necrotic Sliver, Yavimaya Elder, Silverchase Fox, and Wall of Reverence at this point), and Anthony's has some tricks. We later find out that Shea has a bounce land, making this the right play.
Chris: Beseech the Queen (with nine lands) for Aether Gale and casts it for Tezzeret, Anthony's Wurmcoil Engine and two tokens, and Kyle's two artifacts, Cryptic Gateway and Quicksilver Amulet.
Kyle: Recasts Quicksilver Amulet.
Anthony: Myr Battlesphere.
Me: Forest, Angel of Despair targeting Dragonmaster Outcast.
TURN TEN
Shea: Aetherling, Azorius Chancery bouncing Bojuka Bog. I'll be very careful with my graveyard from here on out.
Chris: Caged Sun naming black. Activates Druidic Satchel, getting Island. Casts Conjurer's Closet.
Kyle: Cryptic Gateway. Says he doesn't have any Dragons in his hand.
Anthony: Temple of the False God. Casts and activates Tezzeret's –X ability for four, getting Slate of Ancestry. It's clear that he has a plan.
Me: Temple Garden untapped (42) so that I can cast Sun Titan. Debate over whether it's better for me to bring back Necrotic Sliver or Yavimaya Elder. Choose the former. I would really like to get all the stuff out of my graveyard to minimize the damage of Shea's Bojuka Bog, but at the moment, I consider keeping Necrotic Sliver mana up to be the better play.
TURN ELEVEN
Shea: Morphling and Arcane Sanctum.
Chris: Swamp, Ghastly Conscription targeting Kyle. Seems like a good deal of mana just to get Dragonmaster Outcast and Bogarden Hellkite — but that Conjurer's Closet is about to start doing some work. Casts Vela the Night-Clad. At EOT, targets Dragonmaster Outcast with Conjurer's Closet. The rest of us lose a life. Kyle then puts Utvara Hellkite onto the battlefield with Quicksilver Amulet.
Kyle: Insurrection. Looks like he can kill two of us. Shea decides that he doesn't want it to be him, so he casts Dimir Charm. Kyle shrugs and says "got me." At EOT, Anthony activates Slate of Ancestry, discarding Inkwell Leviathan, Wurmcoil Engine, Soul of New Phyrexia. Draws five cards thanks to Myr Battlesphere tokens.
Anthony: Trading Post — which I can tell is already not good for us. Attacks Chris with Myr Battlesphere (I mean, what else do you do with it besides battle? It's not called Myr Blockingsphere). Taps the four Myr tokens, taking Chris to (22). He blocks with the face-down Hellkite. We all lose one.
Me: Swamp, Duplicant (Dupli-CAN!) on Dragonmaster Outcast. Chris responds by activating Druidic Satchel, revealing Cyclonic Rift. We all lose one from Vela. That Cyclonic Rift is going to get inconvenient, and I'm pretty sure it's worth eliminating Chris. Attack him with Sun Titan and Angel of Despair. I put back Yavimaya Elder with Sun Titan's trigger. He blocks Sun Titan with Vela and we all lose another one. Chris goes to (19), setting him up for Shea.
TURN TWELVE
Shea: He does indeed attack Chris for lethal damage. He drops Hallowed Fountain and blinks Aetherling. Chris says he probably wasn't going to cast Cyclonic Rift yet — which reinforces that it was the right choice to get rid of him. Everyone else wants to play their stuff, and knowing that there's an eventual Rift is unsettling.
Kyle: Recasts Zirilan. Attacks Anthony with Utvara Hellkite (40) and gets a Dragon. At EOT, Anthony activates Slate of Ancestry (for 5), pitching Triskelion, Thada Adel, and Pentavus. After that resolves, he activates Trading Post, sacrificing a Myr token to get Triskelion. He then sacrifices Buried Ruin to get back Wurmcoil Engine. Shea untaps Morphling.
Anthony: Possibility Storm. In addition to being the fun play, this is a good play for Anthony since he has lots of shenanigans with Trading Post and being able to swap artifacts between the graveyard and battlefield. He basically gets to have the things he wants while we all have to spin the wheel. At EOT, I destroy Trading Post with Necrotic Sliver in an effort to slow his roll a little. He sacrifices it to draw a card.
Me: Of course, with Karador on the battlefield, I can have some choice of what I cast as well, since Possibility Storm only triggers when you cast something from the hand. I cast Wall of Reverence from the yard. Drop a Plains. I attack Anthony with Sun Titan, getting back Necrotic Sliver. He chump blocks. At EOT, I gain 6 from the Wall (46).
TURN THIRTEEN
Shea: Cairn Wanderer turns into Mirror Entity (seems like a pretty good upgrade). Battles Kyle with Wurmcoil tokens and two Dragon tokens. Kyle puts Dragon Tyrant in off of Quicksilver Amulet. Blocks both flyers. Shea makes all his creatures 7/7 with Mirror Entity. Kyle to (13), Shea to (44).
Kyle: Furnace Whelp becomes Scourge of Valkas. He hits Shea (42) with the trigger. Archwing Dragon turns into Hellkite Igniter; the Scourge trigger once again goes to Shea's face (39). Swing at Shea, getting two more Dragons, both to the dome again (30). Shea takes 14 (16). That's a serious chunk of damage. At EOT, Anthony casts Chaos Warp, then flips through the rest of his deck revealing that he has no more instants. He has an "oops" moment.
Anthony: Casts Fabricate. With the Possibility Storm trigger on the stack, he activates Slate of Ancestry to pitch his hand. He says that he's looking for a particular sorcery — and he gets it: Scrap Mastery (basically Living Death for artifacts). His board is spicy: Inkwell Leviathan, Soul of New Phyrexia, Pentavus, Soul Conduit, Wurmcoil Engine, Trading Post, Memnarch, Triskelion, Kuldotha Forgemaster. Shea gets back Phyrexian Metamorph (which can't copy anything that came in at the same time, so it copies Utvara Hellkite), Burnished Hart, and Spear of Heliod. Kyle gets Tawnos's Coffin. I get squat. Drops Island. At EOT, I activate Yavimaya Elder and Necrotic Sliver, taking out Soul of New Phyrexia. I know he has recursion, but we'll still have to deal with it in the short term.
Me: Cast Necrotic Sliver from the graveyard. Swamp. Teysa turns into Terastodon. I target Soul Conduit, wondering if he'll remember Soul of New Phyrexia (and even if he does, it gets rid of it for good). He remembers and decided to use it. Attack Kyle (5). EOT, Wall of Reverence takes me to (55). Thanks Terastodon!
TURN FOURTEEN
Shea: Makes Aetherling unblockable. Turns all of his creatures into 6/6s. Anthony responds by shooting Mirror Entity. Shea sends Aetherling at Kyle for lethal damage and battles Anthony with Dragons, getting more of his own from the Hellkite. Anthony to (26). He then plays Bojuka Bog, targeting Anthony. I respond by blowing up Soul Conduit with Necrotic Sliver. Anthony lets that resolve, then sacrifices Triskelion to put Soul Conduit back in his hand. His graveyard is neutered, but he can still steal my larger life total.
Anthony: Casts his commander. Casts Gilded Lotus, which triggers both Mishra and Possibility Storm. He lets Possibility Storm resolve first, getting Elixir of Immortality. He then searches for Gilded Lotus! Neat trick. Mizzium Transreliquat (which he gets back with Mishra) turns into Lightning Greaves. Attacks Shea with Inkwell Leviathan. Shea responds with Urborg Justice, which turns into Azorius Charm. Not what he was looking for, so he draws a card and goes to (9). Post-combat, Anthony activates Forgemaster, sacrificing Wurmcoil Engine, Elixir of Immortality, and Pentavus to search up Mindslaver. He has enough to activate it and targets me (certainly the right choice, since Shea is on death's doorstep). Shea casts another instant, which turns into Esper Charm, blowing up Possibility Storm.
Me: Anthony takes my turn, and I'm pretty sure the game is over. He drops Murmuring Bosk then battles Shea with the entire team. He returns Necrotic Sliver with Sun Titan's trigger. Morphling blocks Yavimaya Elder, Aetherling blocks Karador, a pile of 6/6 dragons go in front of the rest. I lose all my creatures. He casts Tooth and Nail, not entwined, putting Kokusho, the Evening Star and Netherborn Phalanx onto the battlefield, dropping Shea to (4). He destroys Kokusho with Necrotic Sliver, killing Shea, putting me to (65) and himself to (17). I see my doom cresting the horizon.
TURN FIFTEEN
Anthony: Soul Conduit, then activates it, switching our life totals. Mizzium Transreliquat turns into Scuttling Doom Engine. He equips Lightning Greaves to it and battles me with the team (6). He sacrifices Scuttling Doom Engine, killing me with exactsies. A fitting end to an exemplary game.
I know many of you don't like Mindslaver. I'm of the position that one Mindslaver is fine, it's infinitely-recurring Mindslaver which is a problem. As a one-shot card to set up a kill, like how Anthony used it there, it's an appropriately-good card without being broken. Obviously, I would have preferred to take my own turn – I also would have preferred not getting battled in the face — but that's the game. I have no issues with the way Mindslaver got used there.
This week's Deck Without Comment is the list I play above (so arguably it's Deck With Loads of Comment):
Creatures (43)
Lands (37)
Spells (19) Check out our awesome Deck List Database for the last versions of all my decks:
ADUN'S TOOLBOX;
ANIMAR'S SWARM;
AURELIA GOES TO WAR;
CHILDREN of a LESSER GOD;
DEMONS OF KAALIA;
EREBOS and the HALLS OF THE DEAD;
GLISSA, GLISSA;
HELIOD, GOD OF ENCHANTMENTS;
DREAMING OF INTET;
FORGE OF PURPHOROS;
KARN, BEATDOWN GOLEM;
HALLOWEEN WITH KARADOR;
KARRTHUS, WHO RAINS FIRE FROM THE SKY;
KRESH INTO THE RED ZONE;
LAVINIA BLINKS;
LAZAV, SHAPESHIFTING MASTERMIND;
ZOMBIES OF TRESSERHORN;
MELEK'S MOLTEN MIND GRIND;
MERIEKE'S ESPER CONTROL;
THE MILL-MEOPLASM;
MIMEOPLASM DO-OVER;
NATH of the VALUE LEAF;
NYLEA OF THE WOODLAND REALM;
OBZEDAT, GHOST KILLER;
PURPLE HIPPOS and MARO SORCERERS;
ZEGANA and a DICE BAG;
RITH'S TOKENS;
YOU DID THIS TO YOURSELF;
RURIC THAR AND HIS BEASTLY FIGHT CLUB;
THASSA, GOD OF MERFOLK;
THE ALTAR of THRAXIMUNDAR;
TROSTANI and HER ANGELS;
THE THREAT OF YASOVA;
RUHAN DO-OVER;
KARADOR DO-OVER;
KARRTHUS DO-OVER
If you'd like to follow the adventures of my Monday Night RPG group (in a campaign that's been alive since 1987 and is just now getting started with a new saga called "The Lost Cities of Nevinor"), ask for an invitation to the Facebook group "Sheldon Menery's Monday Night Gamers."