The current Standard format leading up to #PTXLN has
already been picked over with a fine-toothed comb. Since the World
Championship was the first premier tournament using Ixalan,
ushering in the first Pro Tour featuring an "old" format, we've already
seen a lot of what the current Standard has to offer. At the top of the
list remains Temur Energy, with a few archetypes trailing right behind. But
what else does Standard have to offer?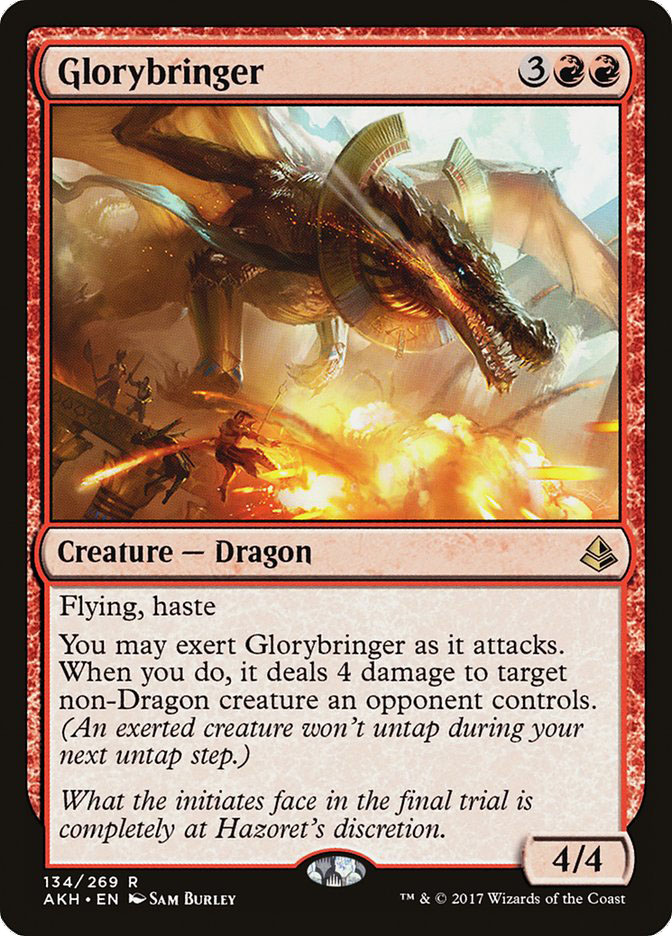 While some people are saying that Temur Energy is just the best deck, and
nothing else really matches up, I don't believe that's actually the case.
Sure, it is a powerful, consistent deck that contains many of the best
cards in the format, but there is still a lot left to be explored. The
World Championship featured a handful of players trying to break the
format. The takeaway was three major archetypes: Temur Energy, U/B/X
Control, and Ramunap Red. The following weeks (and National Championship)
had various token strategies cropping up as well, but what will we see when
a few hundred of the game's top players converge on the format?
My guess? We'll get a lot of weird stuff.
Leading up to the event, I've already seen a few decks that caught my eye
(some of which we'll be playing on the VS Series next week). Today we're
going to look over some of the more interesting additions to Standard, and
I'll do my best to grade them based on a number of criteria.
The criteria is as follows:
1) Power level of individual cards
2) Power level of synergy between your spells
3) Efficiency in execution of gameplan
4) How does it match up against the Top 4 Archetypes?
5) Did you break it?
My guess is that, among these decks, only one or two will have a breakout
performance at the Pro Tour, but I wouldn't be surprised to see a number of
these variations have quite a bit of success for the next level of the
format. After all, this Standard format is still in its infancy.
Since the SCG Tour has been primarily focused on Modern as of late, on top
of Magic Online's new ideology of restricting data, we don't have a lot of
results to pull from. Even with such a black hole of raw data to collect
from, there are still quite a few decks I'm excited to take a second look
at.
First up:
Right out of the gates, we have my pick for best "unknown" deck in the
format. For those of you who've been following Logan Nettles (aka
Jaberwocki), he's Reid Duke's brother, and quite the Magic player. He puts
up consistent results on Magic Online, and is known for being one of the key players in getting various Jund cards banned in
Modern. This version of Energy continues to push the boundaries of what the
mechanic can do.
Of course, this version looks more like a hybrid of Temur Energy and G/B
Energy than anything else, but the heartbeat is so much different.
Gonti, Lord of Luxury hits front and center over Bristling Hydra, showing
us that Logan is much more interested in grinding out his opponent than
beating down. The lack of Longtusk Cub further proves this theory. We are
also lacking Glorybringer, instead focusing on more copies of the long-game
closer: The Scarab God.
The strength of Attune with Aether and the Kaladesh lands comes
out in full force as Logan makes good use out of both Harnessed Lightning
and Whirler Virtuoso in a mostly-Sultai shell.
The biggest pickup here is Glint-Sleeve Siphoner. Like Gonti, Lord of
Luxury, Glint-Sleeve Siphoner helps us win the long game by gaining some
card advantage. The cheap threat puts a lot of pressure on control to
answer it in the early turns, but the swath of cheap removal makes sure you
can get good use out of any extra cards drawn while also protecting your
life total. Fatal Push and Harnessed Lightning are two of the best removal
spells in the format, and putting the two together in such a clean shell is
almost mesmerizing. But how does it stack up on the ranking criteria?
1) Power level of individual cards
B+
The Scarab God is a big deal here, single-handedly pushing the power level
in this section. Most of the other cards in the deck are synergy driven,
but The Scarab God continues to be one of the best finishers in Standard.
2) Power level of synergy between your spells
A-
This version of Energy isn't as synergy-driven as Temur, but the floor for
most energy-based decks has to hover somewhere around a B as long as you
have a few energy sinks.
3) Efficiency in execution of gameplan
B-
I think this deck might be a bit clunky and might have trouble closing
games where you're ahead, but burying your opponent in card advantage with
Gonti, Lord of Luxury, Glint-Sleeve Siphoner, and The Scarab God gives you
some amount of inevitability. I also expect this deck will have mana issues
on occasion thanks to Whirler Virtuoso.
4) How does it match up against the Top 4 Archetypes?
A-
-Cheap removal and Whirler Virtuoso against Ramunap Red.
–Gonti, Lord of Luxury and more The Scarab God against Temur.
-Busted sideboard to shore up weaknesses against U/B Control and token
variations.
5) Did you break it?
Another midrange deck, but one that looks promising. Probably didn't "break
it" but the deck looks very good to me.
Final Grade: A-
I'm not sure how to describe this deck other than a Refurbish "combo" deck.
Other versions of this deck, featuring Gate to the Afterlife, can play a
normal game of Magic outside of casting their marquee cards. While their
creatures are a bit weaker on average, they can still pressure control
decks in the early turns. And, if they ever get their marquee card onto the
battlefield, the game ends almost on the spot.
While this deck is certainly cool, I'm not sure if it has the chops to take
home the gold this weekend, but we'll see.
1) Power level of individual cards
C+
God-Pharaoh's Gift is the only thing keeping this afloat. This deck is
entirely driven by synergy.
2) Power level of synergy between your spells
A+
If your deck works and your plan comes together, a lot of opponents are
going to have trouble beating you. With that said, decks like this have a
natural fail rate. Opt and Strategic Planning help find Refurbish, but
there's still a chance that you flounder and die while Ramunap Red pounces
on you. Against the slower decks in the format, you should be good to go.
My gut says we want more copies of Fumigate to buy ourselves enough time to
get there, but it might be consistent enough without it.
3) Efficiency in execution of gameplan
A-
I expect with all the card filtering, you will find your combo in a
reasonable amount of time. My fear is that, after sideboard, a single
Negate will put an end to your dreams. This version of God-Pharaoh's Gift
is a little more reliant on resolving one spell (Refurbish), whereas other
versions use Gate to the Afterlife and Trophy Mage to make sure you draw
your "combo" more often.
I do love that the sideboard gives you a bit of range. You can become a
little more controlling with Fumigate, or put the needle to control with
Negate. Either way, I like the look of this deck, even if it is a little
more fragile than I would like.
4) How does it match up against the Top 4 Archetypes?
-Probably a little weak to Temur Energy as long as they have Abrade, with
so few copies of Fumigate in the maindeck
-Possibly weak to Ramunap Red if they have Abrade, and their clock could be
a turn too fast.
-Possibly weak to U/B Control because your deck hinges on getting
God-Pharaoh's Gift onto the battlefield, but spells like Champion of Wits
will shine in the late-game.
-Strong against token decks because you're just a bit faster, and your
Angels fly over most of their potential blockers.
5) Did you break it?
Probably not, but this deck looks sweet. I've always been a huge fan of
Refurbish, and I'm glad to see it still getting some love. When this deck
comes together and casts Refurbish on the fourth turn, you're probably
going to win the game. With so much card filtering, I assume that will
happen a good portion of the time, but be significantly harder after
sideboard.
Final Grade: B-
We haven't really seen a ramp deck in the new Standard format, but I'm
excited to see a ramp deck win without casting Ulamog, the Ceaseless
Hunger. It's been a while! But how good is Sandwurm Convergence? This deck
seems to make the case that it is quite good.

Unsure if quite good competitively but absolutely awesome either way.

My main concern with this build is that you don't have a lot of payoffs.
But that's one beauty behind Hour of Promise as a ramp card: It can double
as a means of offense or defense while pushing you toward your bigger
spells.
When first looking at this format, I thought ramp might be pretty sweet,
but a quick search of Gatherer revealed very little payoff cards to ramp
into. I'm glad that JasperCMU has found the bare minimum, and I'm excited
to give this deck a try very soon.
1) Power level of individual cards
B-
With so many ramp elements, the overall power level of this deck is quite
low. It only has a handful of cards worth casting once it hits a critical
mass of mana, so it could be quite vulnerable to cards like Negate.
2) Power level of synergy between your spells
B+
Once you gain a significant mana advantage through your ramp effects, any
big spell should put you significantly far ahead. I'm not the biggest fan
of Approach of the Second Sun, but it is a win condition that some decks
just can't interact with. I do love Walking Ballista and Hour of Promise as
alternate win conditions though.
3) Efficiency in execution of gameplan
B+
Ramp is, if anything, a consistent deck. You play so many redundant cards
that your deck does nearly the same thing every game. Whether or not that
plan is good enough to win the game is an entirely different story.
4) How does it match up against the Top 4 Archetypes?
–Fumigate against Temur and Ramunap Red
-Weak to control without Eldrazi that trigger through countermagic
-Unclear how well it matches up against token strategies, but I'm assuming
it's strong
B
5) Did you break it?
It is possible that ramp is one of the best choices for the coming weekend,
but I have a hard time believing that any deck that fails to pass the
Negate test is going to get the job done. Walking Ballista isn't really a
threat against Temur Energy, but a resolved Sandwurm Convergence is going
to be game over against most opponents. Like all ramp decks, the trick is
buying enough time for your big spells to come online.
Final Grade: B
An aggressive deck that isn't Ramunap Red? Color me intrigued, but you're
going to have to prove to me that Night Market Lookout is a playable Magic
card. It seems like this one has been

kicking around for weeks

, but it can't get the momentum to break through.
1) Power level of individual cards
C+
Night Market Lookout? Bone Picker? I'm certainly intrigued, but I need a
little more to go on here. Aggressive decks are traditionally pretty low on
the individual power level scale, but this one seems surprisingly low. The
red splash is primarily for Hazoret the Fervent, which boosts the score
just a tad.
2) Power level of synergy between your spells
B+
Here, we're absolutely shirking power level for speed and a bit of synergy.
Night Market Lookout with Aethersphere Harvester? Check. Bone Picker with
cheap removal to clear blockers? Check.
3) Efficiency in execution of gameplan
A+
This deck does the same thing every game, and does it quite well. Play some
cheap threats, kill some blockers, and get in damage before your opponent
can execute a plan of their own. Unfortunately, I don't think this deck is
as consistent or powerful as Ramunap Red, but I'd be very happy to
be wrong.
4) How does it match up against the Top 4 Archetypes?
-Fast clock and resilient threats against control
-Cheap removal to help gain advantage against Ramunap Red
-Weak to Whirler Virtuoso and token strategies in general
5) Did you break it?
Doubtful.
Final Grade: C+
Working for the Weekend
After looking over these sweet new decks, I'm actually pretty stoked to
tune into Pro Tour coverage this weekend. As long as they showcase some
cool decks instead of the big four, it should make for an exciting weekend.
I know that this Standard format has more to offer than what we've been led
to believe. It has taken a little while, but we're already starting to see
some sweet brews coming out of bigger tournaments on Magic Online.
While I'm not betting on an out-of-nowhere deck to win the Pro Tour–other
than Jaberwocki's Gonti mess–I do think they give us an idea of exactly
what Standard could look like in the very near future. Different takes on
aggressive strategies, re-invigorating old archetypes, and new variations
on the top strategies is exactly what I want to see. Well, that, and the best players in the world showcasing exactly what their
decks can do.
So what's next for me? To put it simply: lots. I'm also getting back into
streaming, so make sure to follow me on Twitch! The future looks
bright, and I'm very glad to be sharing it with all of you!