Casting costs are relatively important in Type One, for more purposes than just evaluating how much mana you need to put in your deck (especially since cheating on casting costs is the primary goal of many if not most Type One strategies). Its actual import reveals itself through the usefulness of other cards: Powder Keg, Smother, Engineered Explosives, Pernicious Deed, as well as the classically sidelined counterspells, Prohibit and Spell Blast. Other cards ranging from Overload and Plaguebearer to Gorilla Shaman and Chalice of the Void also care very much about this aspect of a card.
Most of these cards are removal, and Disrupting Shoal adds itself to the group of counterspells that would be so delicious if only cards had a consistent enough cost spread. Those players familiar with Workshop prison decks will also know how much difference one mana makes to a player's ability to escape a lock in a sticky moment.
In the middle of my draft* for this article, I realized that arraying cards by mana cost and then type also made it convenient to consider color, so I reached for other types of conditional spells. The Elemental Blast spells especially came to mind, so I used those as the main lens, but, well, you'll see in a moment.
* : No booster packs involved; if you try really hard you might remember some other definitions of "draft", one of which should fit here.
Chalice of the Void

2005 February Casting Costs

(Out of 4827, X-spells excluded)

0: 604 – 12.5%

1: 1297 – 26.9%

2: 987 – 20.5%

3: 992 – 20.6%

4: 282 – 5.9%

5: 384 – 7.9%

6: 175 – 3.6%

7: 42 – 0.9%

8: 48 – 1.0%

11: 16 – 0.3%
X

113 Chalice of the Void

38 Engineered Explosives

25 Skeletal Scrying

18 Decree of Justice

11 Mind Twist

2 Stroke of Genius
The average non-X-spell casting cost is 2.32 mana. The single most nuclear option is X=1, and that gets even better when you notice how few artifacts it blocks. In the shadow of Trinisphere and Crucible of Worlds, Chalice was noticed less and less over 2004, but it quietly held its most-used artifact spot and now that Trinisphere has fallen, I expect it will ascend to staple status in Prison decks. (Rudy van Soest of Dutchieland has already said of a suggested Stax list, "You need to run Chalice maindeck. Until you do, I cannot comment on anything else.") This gets even better if you go the bold, Kevin Cron-approved path of excluding Goblin Welder from your build. (Noting that Cron has called his build "highly metagamed".)
Since Chalice doesn't usually matter above X=2, you're playing a spell that doesn't affect essentially 40% of all spells. Fortunately, a large percentage of the spells above that range are (a) Force of Will, (b) cards that are only rarely hardcast anyway (e.g., Akroma), or (c) cards that are difficult or useless to cast without spells in the range that you do have control over (e.g., Tendrils of Agony).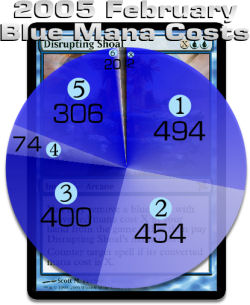 Disrupting Shoal

Blue Cards Only

(Out of 1750, 34.8% of total)

1: 494 – 28.2%

2: 454 – 25.9%

3: 400 – 22.9%

4: 74 – 4.2%

5: 306 – 17.5%

6: 20 – 1.1%

X+3: 2 – 0.1%
Considering Disrupting Shoal, the most useful evaluation is to see how it would perform with the set of Blue cards that everyone was playing anyway. If it forces you to play worse Blue cards so that you can assure the casting costs are right, then there's probably a bigger problem with the format (i.e., over-focus on turn one). Side-by-side, Blue has a superabundance of five-mana cards, and is fairly even with the most important one-to-three range. (Note that every color will have a slightly higher percent pattern than the overall because no color has zero-mana except artifacts.)
Given that, it's a matter of how likely it is that you'll have the right casting cost at the right time, that time clearly being any opposing main phase during which you lack double-Blue mana. It's also important that you consider it easier to expend those two cards immediately rather than deal with what's played in some other way (in other words, it's a rare day when anyone will pitch Ancestral Recall to Force of Will).
Disrupting Shoal's big drawback is that as the game goes on, it continues to be generally worse than Force of Will, because FoW has a solid cost of 3UU, while with Shoal you have to guess how much mana to leave open, and if you guess wrong, you might open a key window for the opponent. This may also be skill-testing, but since the opponent could have anything in hand, it's hard to feel like you're in control. Continuing to hold back the cards to pitch for it becomes worse as well. To me, this means that playing Shoal is a big effort for a diminishing payoff, and you should only do it if you need to shore up the first turn radically.
Engineered Explosives, Annul

2005 February Card Type Breakdown

(Out of 5035)

38.5% Instant: 1936

28.8% Artifact: 1450

9.8% Creature: 495

9.7% Sorcery: 486

7.8% Enchantment: 392

5.5% Art. Creature: 276
The Explosives are able to affect about 51.9% of the nonland cards. The mana curve on those cards is a little different than the whole card pool, though.
2005 Feb. Engineered Explosives Targets By Casting Cost

(Out of 2465)

0: 604 – 24.5%

1: 377 – 15.3%

2: 427 – 17.3%

3: 513 – 20.8%

4: 184 – 7.5%

5: 84 – 3.4%

6: 170 – 6.9%

7: 42 – 1.7%

8: 48 – 2.0%

11: 16 – 0.7%
For most decks, you don't want to rely on Explosives above X=3, and even three can be hard in the early game. That puts 77.9% of permanents within reach, but if you exclude the zero-cost group as largely irrelevant, it's more like two-thirds. This is enough to be convincingly better than Powder Keg, but the activation cost does make it less likely to be effective against prison decks. In fact, any artifact-based deck is likely to make Explosives ineffective or, more often, act as spot removal.
Annul is much more limited. The reason is that half of the artifacts are mana sources, rarely something you'd want to counter, and as you get higher, other counterspells are better – a single additional mana nets you the power of Mana Leak or even Mana Drain itself. This is less ambiguous than even Prohibit to my mind, because even in the best interpretation, Annul fights against 36.6% of spells, while un-Kickered Prohibit is almost twice that broad, and has at least arguable advantage over Mana Leak if the opponent has abundant mana later in the game. Heck, Flash Counter is more broadly effective than Annul. I suggest skipping it.
Gorilla Shaman

2005 Feb. Non-Creature Artifacts By Casting Cost

(Out of 1450, 28.8% of total)

0: 600 – 41.4%

1: 147 – 10.1%

2: 114 – 7.9%

3: 265 – 18.3%

4: 105 – 7.2%

5: 45 – 3.1%

6: 22 – 1.5%

8: 1 – 0.0%

X: 151 – 10.4%
I just wanted to briefly highlight this classic card's actual ability to turn things around. Since Xs are as good as zeroes, half of all noncreature artifacts can be wiped with ease. Since these are almost completely mana artifacts, there's not much new to say about the monkey; any veteran knows it's a mana denial card.
Blue Elemental Blast / Red Elemental Blast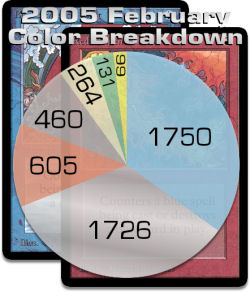 2005 February Color Breakdown

(Out of 5035)

34.8% Blue: 1750

34.3% Artifact: 1726

12.0% Red: 605

9.1% Black: 460

5.2% White: 264

2.6% Green: 131

2.0% Gold: 99
BEB is well-recognized for its anti-Welder role, and considering that Welder is a sixth of all Red cards (combined with Rack and Ruin it makes up over a third of that entire color), it is near-exclusively good for Welders. Since colors have much better solutions to the Welder (Icatian Javelineers!), BEB is most useful for a Mono-Blue deck that doesn't have many other good options. Since the opportunity cost of playing another color is so low, though, this is rarely a good overall plan.
REB is much better. You'll remember I said to skip Annul when it fought against a similar portion of spells. The question with REB is twofold:



(1) Is the Blue subset a lot better to counter than most artifacts?

(2) How much benefit is derived from the ability to destroy permanents with REB?
The first question gets a definite yes – resolving a Smokestack versus resolving a Gifts Ungiven is worlds apart in terms of decisive game effect. With Trinisphere gone, this will only become more clear; old-school artifact prison components are often much more efficiently answered by mass removal like Rack and Ruin and Nevinyrral's Disk than by a narrowly tailored counterspell. Blue spells are very often the ones you use general counterspells on anyway, so a narrowly tailored solution is just fine.
The second point, about the added benefit of permanent removal, asks how many Blue cards are permanents. 20.8% of nonartifact creatures (103/495) are Blue as well as 40.8% of enchantments (160/392), but obviously no artifacts or artifact creatures. This is just 15% of all Blue spells, and a good chunk of that is cards like Standstill and Morphling which it makes no sense to consider as targetable. This part of REB is rarely important; it is usually a counterspell, and that function is usually enough to justify it.
The last time that I analyzed casting costs, some interesting questions arose on TheManaDrain concerning the usefulness of general data without context. In the intervening year, I've thought of two reasons why you should care about generalized information. First, while all of this information about any given deck can be ascertained by thorough playtesting, the reason you're reading articles instead of playing right this moment is that seeing generalized information and synopses of what is typical in recent events provides you with intellectual shortcuts – heuristics – when you see something in a real game.
Far more potentially important though, is that the proven best way to win Type One tournaments is to surprise everyone with a new deck. Given the size of the cardpool, it's even harder for teams and especially individuals to discover every idea and test it. Even a deck that everyone knows might exist, like the recent Doomsday and Oath of Druids decks, is far from a sure thing, and if you see it in the last round of the Swiss, it probably isn't the same as the build your team dismissed as crap. It's much easier to make mistakes against these unanticipated decks for the same reason it's easier to make mistakes against decks that you haven't playtested against even when you know the complete decklist. The good news, though, is that the Vintage playables pool is so much better than almost all the rest of the cards that any new deck will be 80-90% familiar.
And that means it will follow a very similar setup to what you see here.
Philip Stanton

prstanto at gmail.com
Appendix: Casting Cost Sort

0: 604

93 Tormod's Crypt

73 Black Lotus

71 Mox Sapphire

69 Mox Ruby

68 Mox Jet

66 Mox Pearl

64 Mox Emerald

56 Mana Crypt

26 Lotus Petal

6 Chrome Mox

4 Ornithopter

3 Mox Diamond

2 Lion's Eye Diamond

2 Welding Jar

1 Zuran Orb
1: 159

67 Sol Ring

36 Mana Vault

15 Claws of Gix

10 Skullclamp

7 AEther Spellbomb

4 Myr Servitor

4 Phyrexian Dreadnought

4 Scrabbling Claws

4 Arcbound Worker

3 Pyrite Spellbomb

3 Sensei's Divining Top

1 Black Vise

1 Phyrexian Furnace
U: 494

203 Brainstorm

65 Ancestral Recall

53 Blue Elemental Blast

53 Stifle

37 Mystical Tutor

24 Chain of Vapor

19 Annul

19 Curiosity

13 Hydroblast

3 Careful Study

3 Mental Note

1 Extract

1 Seal of Removal
B: 215

90 Duress

55 Dark Ritual

36 Vampiric Tutor

12 Cabal Therapy

8 Coffin Purge

4 Disciple of the Vault

4 Ebony Charm

4 Entomb

2 Demonic Consultation
R: 307

107 Goblin Welder

97 Red Elemental Blast

21 Gorilla Shaman

19 Pyroblast

18 Grim Lavamancer

12 Lava Dart

8 Lightning Bolt

6 Overload

4 Firestorm

4 Goblin Lackey

4 Jackal Pup

4 Mogg Fanatic

3 Skirk Prospector
G: 27

9 Xantid Swarm

4 Birds of Paradise

4 Oxidize

3 Crop Rotation

3 Nimble Mongoose

2 Quirion Ranger

1 Root Maze

1 Sylvan Safekeeper
W: 95

65 Swords to Plowshares

11 Orim's Chant

6 Enlightened Tutor

4 Savannah Lions

4 Weathered Wayfarer

3 Land Tax

2 Isamaru, Hound of Konda
2: 118

37 Null Rod

27 Sphere of Resistance

25 Defense Grid

7 Spawning Pit

4 Arcbound Ravager

4 Illusionary Mask

3 Cranial Plating

3 Helm of Awakening

3 Powder Keg

2 Grim Monolith

2 Lightning Greaves

1 Isochron Scepter
1U/UU: 454

131 Mana Drain

60 Accumulated Knowledge

55 Time Walk

44 Standstill

22 Daze

21 Hurkyl's Recall

21 Mana Leak

19 Cloud of Faries

16 Echoing Truth

14 Spiketail Hatchling

9 Brain Freeze

7 Chill

7 Impulse

6 Gilded Drake

5 Voidmage Prodigy

4 Artificer's Intuition

3 Compulsion

2 Merchant Scroll

2 Teferi's Response

2 Transmute Artifact

1 Counterspell

1 Flash Counter

1 Voidmage Apprentice

1 Waterfront Bouncer
1B/BB: 83

48 Demonic Tutor

13 Animate Dead

9 Diabolic Edict

7 Dance of the Dead

3 Chains of Mephistopheles

2 Night's Whisper

1 Tainted Pact
1R: 84

43 Pyrostatic Pillar

9 Pyroclasm

6 Shattering Pulse

4 Fling

4 Goblin Piledriver

4 Goblin Recruiter

4 Goblin Ringleader

4 Shrapnel Blast

2 Burning Wish

1 Dwarven Blastminer

1 Goblin Bombardment

1 Primitive Justice

1 Recoup
1G: 74

36 Oath of Druids

13 Ground Seal

8 Gaea's Blessing

8 Naturalize

4 Survival of the Fittest

3 Werebear

1 Living Wish

1 Regrowth
1W/WW: 88

21 Seal of Cleansing

19 Disenchant

17 Balance

6 Ray of Revelation

6 Serenity

4 Sacred Ground

4 Samurai of the Pale Curtain

4 Soltari Priest

4 True Believer

2 Silver Knight

1 Circle of Protection: Red
Gold: 86

54 Fire/Ice

23 Meddling Mage

5 Lim-Dul's Vault

4 Artifact Mutation



3: 293

88 Crucible of Worlds

86 Trinisphere

56 Tangle Wire

28 Metalworker

16 Damping Matrix

6 Ensnaring Bridge

5 Sword of Fire and Ice

4 Staff of Domination

3 Serum Powder

1 Vedalken Shackles
2U: 400

70 Thirst for Knowledge

59 Cunning Wish

53 Intuition

49 Energy Flux

39 Tinker

30 Rebuild

22 Rushing River

22 Timetwister

21 Arcane Laboratory

7 Windfall

5 Ambassador Laquatus

4 Old Man of the Sea

4 Trinket Mage

3 Meditate

3 Seasinger

3 Volrath's Shapeshifter

2 Back to Basics

2 Barrin, Master Wizard

2 Frantic Search
2B/BBB: 72

34 Yawgmoth's Will

14 Necromancy

13 Necropotence

5 Engineered Plague

4 Death Wish

2 Buried Alive
2R: 179

105 Rack and Ruin

25 Squee, Goblin Nabob

15 Wheel of Fortune

9 Blood Moon

8 Viashino Heretic

5 Gempalm Incinerator

4 Goblin Warchief

4 Pillage

3 Goblin Matron

1 Goblin Sharpshooter
2G: 21

11 Elvish Spirit Guide

4 Food Chain

3 Choke

1 Caller of the Claw

1 Eternal Witness

1 Uktabi Orangutan
2W/1WW: 16

3 Abolish

3 Dust to Dust

3 Empyrial Armor

2 Aura of Silence

2 Orim's Thunder

1 Aura Fracture

1 Devout Witness

1 Hanna's Custody
Gold: 11

8 Psychatog

3 Pernicious Deed
4: 147

75 Smokestack

17 Juggernaut

15 Nevinyrral's Disk

12 Jester's Cap

8 Synod Centurion

7 Su-Chi

4 Frogmite

3 Arcbound Crusher

3 Masticore

3 Uba Mask
3U/2UU: 73

28 Fact or Fiction

19 Gifts Ungiven

17 Deep Analysis

5 Control Magic

2 Plagiarize

1 Diminishing Returns

1 Illusions of Grandeur
3B/2BB: 34

23 Tendrils of Agony

5 Night of Souls' Betrayal

5 Snuff Out

1 Cranial Extraction



3R/1RRR: 8

4 Blistering Firecat

4 Flametongue Kavu



3W/2WW: 20

11 Academy Rector

7 Auriok Salvagers

2 Wrath of God
5: 71

30 Memory Jar

21 Karn, Silver Golem

15 Gilded Lotus

5 Razormane Masticore
4U/3UU/2UUU: 305

244 Force of Will

48 Misdirection

4 Thoughtcast

3 Future Sight

3 Gush

3 Morphling

1 Submerge

1 Treachery
3RR: 4

2 Kumano, Master Yamabushi

2 Siege-Gang Commander



3GG: 2

2 Woodripper
6: 106

52 Triskelion

32 Duplicant

22 Mindslaver



5U/4UU: 20

13 Mind's Desire

5 Time Spiral

2 Somber Hoverguard
4BB: 13

13 Yawgmoth's Bargain



3RRR: 19

19 Worldgorger Dragon



4WW: 17

12 Exalted Angel

4 Pristine Angel

1 Akroma's Vengeance
7: 33

21 Platinum Angel

6 Memnarch

6 Pentavus
3BBBB: 1

1 Phage, the Untouchable
5RR/4RRR: 4

2 Form of the Dragon

2 Shivan Hellkite
5WW: 2

2 Eternal Dragon
5GW: 2

2 Phantom Nishoba
8: 27

26 Sundering Titan

1 Possessed Portal
5BBB: 6

5 Spirit of the Night

1 Scion of Darkness
5GGG: 7

7 Verdant Force
5WWW: 8

8 Akroma, Angel of Wrath
11: 16

16 Darksteel Colossus
X

113 Chalice of the Void

38 Engineered Explosives

25 Skeletal Scrying

18 Decree of Justice

11 Mind Twist

2 Stroke of Genius
Creature: 495

1: 194

2: 99

3: 90

4: 26

5: 9

6: 47

7: 9

8: 21
4 Disciple of the Vault

107 Goblin Welder

21 Gorilla Shaman

18 Grim Lavamancer

4 Goblin Lackey

4 Jackal Pup

4 Mogg Fanatic

3 Skirk Prospector

9 Xantid Swarm

4 Birds of Paradise

3 Nimble Mongoose

2 Quirion Ranger

1 Sylvan Safekeeper

4 Savannah Lions

4 Weathered Wayfarer

2 Isamaru, Hound of Konda

19 Cloud of Faeries

14 Spiketail Hatchling

6 Gilded Drake

5 Voidmage Prodigy

1 Voidmage Apprentice

1 Waterfront Bouncer

4 Goblin Piledriver

4 Goblin Recruiter

4 Goblin Ringleader

1 Dwarven Blastminer

3 Werebear

4 Samurai of the Pale Curtain

4 Soltari Priest

4 True Believer

2 Silver Knight

23 Meddling Mage

5 Ambassador Laquatus

4 Old Man of the Sea

4 Trinket Mage

3 Seasinger

3 Volrath's Shapeshifter

2 Barrin, Master Wizard

25 Squee, Goblin Nabob

8 Viashino Heretic

5 Gempalm Incinerator

4 Goblin Warchief

3 Goblin Matron

1 Goblin Sharpshooter

11 Elvish Spirit Guide

1 Caller of the Claw

1 Eternal Witness

1 Uktabi Orangutan

1 Devout Witness

8 Psychatog

4 Blistering Firecat

4 Flametongue Kavu

11 Academy Rector

7 Auriok Salvagers

3 Morphling

2 Kumano, Master Yamabushi

2 Siege-Gang Commander

2 Woodripper

2 Somber Hoverguard

19 Worldgorger Dragon

12 Exalted Angel

4 Pristine Angel

1 Phage, the Untouchable

2 Form of the Dragon

2 Shivan Hellkite

2 Eternal Dragon

2 Phantom Nishoba

5 Spirit of the Night

1 Scion of Darkness

7 Verdant Force

8 Akroma, Angel of Wrath
Art. Creature: 276

0: 4

1: 12

2: 4

3: 28

4: 42

5: 26

6: 88

7: 33

8: 26

11: 16
4 Ornithopter

4 Myr Servitor

4 Phyrexian Dreadnought

4 Arcbound Worker

4 Arcbound Ravager

28 Metalworker

17 Juggernaut

8 Synod Centurion

7 Su-Chi

4 Frogmite

3 Arcbound Crusher

3 Masticore

21 Karn, Silver Golem

5 Razormane Masticore

52 Triskelion

32 Duplicant

21 Platinum Angel

6 Memnarch

6 Pentavus

26 Sundering Titan

16 Darksteel Colossus
Artifact: 1450

0: 600

1: 147

2: 114

3: 265

4: 105

5: 45

6: 22

8: 1

X: 151



93 Tormod's Crypt

73 Black Lotus

71 Mox Sapphire

69 Mox Ruby

68 Mox Jet

66 Mox Pearl

64 Mox Emerald

56 Mana Crypt

26 Lotus Petal

6 Chrome Mox

3 Mox Diamond

2 Lion's Eye Diamond

2 Welding Jar

1 Zuran Orb

67 Sol Ring

36 Mana Vault

15 Claws of Gix

10 Skullclamp

7 AEther Spellbomb

4 Scrabbling Claws

3 Pyrite Spellbomb

3 Sensei's Divining Top

1 Black Vise

1 Phyrexian Furnace

37 Null Rod

27 Sphere of Resistance

25 Defense Grid

7 Spawning Pit

4 Illusionary Mask

3 Cranial Plating

3 Helm of Awakening

3 Powder Keg

2 Grim Monolith

2 Lightning Greaves

1 Isochron Scepter

88 Crucible of Worlds

86 Trinisphere

56 Tangle Wire

16 Damping Matrix

6 Ensnaring Bridge

5 Sword of Fire and Ice

4 Staff of Domination

3 Serum Powder

1 Vedalken Shackles

75 Smokestack

15 Nevinyrral's Disk

12 Jester's Cap

3 Uba Mask

30 Memory Jar

15 Gilded Lotus

22 Mindslaver

1 Possessed Portal
X

113 Chalice of the Void

38 Engineered Explosives
Enchantment: 392

1: 24

2: 210

3: 130

4: 11

5: 4

6: 13
19 Curiosity

1 Seal of Removal

1 Root Maze

3 Land Tax

44 Standstill

7 Chill

4 Artificer's Intuition

3 Compulsion

13 Animate Dead

7 Dance of the Dead

3 Chains of Mephistopheles

43 Pyrostatic Pillar

1 Goblin Bombardment

36 Oath of Druids

13 Ground Seal

4 Survival of the Fittest

21 Seal of Cleansing

6 Serenity

4 Sacred Ground

1 Circle of Protection: Red

49 Energy Flux

21 Arcane Laboratory

2 Back to Basics

14 Necromancy

13 Necropotence

5 Engineered Plague

9 Blood Moon

4 Food Chain

3 Choke

3 Empyrial Armor

2 Aura of Silence

1 Aura Fracture

1 Hanna's Custody

3 Pernicious Deed

5 Control Magic

1 Illusions of Grandeur

5 Night of Souls' Betrayal

3 Future Sight

1 Treachery

13 Yawgmoth's Bargain
Sorcery: 486

1: 111

2: 149

3: 130

4: 44

5: 4

6: 19

X: 29
3 Careful Study

90 Duress

12 Cabal Therapy

6 Overload

55 Time Walk

2 Merchant Scroll

2 Transmute Artifact

48 Demonic Tutor

2 Night's Whisper

9 Pyroclasm

2 Burning Wish

1 Primitive Justice

1 Recoup

8 Gaea's Blessing

1 Living Wish

1 Regrowth

17 Balance

39 Tinker

22 Timetwister

7 Windfall

34 Yawgmoth's Will

4 Death Wish

2 Buried Alive

15 Wheel of Fortune

4 Pillage

3 Dust to Dust

17 Deep Analysis

1 Diminishing Returns

23 Tendrils of Agony

1 Cranial Extraction

2 Wrath of God

4 Thoughtcast

13 Mind's Desire

5 Time Spiral

1 Akroma's Vengeance
X

18 Decree of Justice

11 Mind Twist
Instant: 1936

1: 809

2: 401

3: 349

4: 55

5: 295

X: 27
203 Brainstorm

65 Ancestral Recall

53 Blue Elemental Blast

53 Stifle

37 Mystical Tutor

24 Chain of Vapor

19 Annul

13 Hydroblast

3 Mental Note

1 Extract

55 Dark Ritual

36 Vampiric Tutor

8 Coffin Purge

4 Ebony Charm

4 Entomb

2 Demonic Consultation

97 Red Elemental Blast

19 Pyroblast

12 Lava Dart

8 Lightning Bolt

4 Firestorm

4 Oxidize

3 Crop Rotation

65 Swords to Plowshares

11 Orim's Chant

6 Enlightened Tutor

131 Mana Drain

60 Accumulated Knowledge

22 Daze

21 Hurkyl's Recall

21 Mana Leak

16 Echoing Truth

9 Brain Freeze

7 Impulse

2 Teferi's Response

1 Counterspell

1 Flash Counter

9 Diabolic Edict

1 Tainted Pact

6 Shattering Pulse

4 Fling

4 Shrapnel Blast

8 Naturalize

19 Disenchant

6 Ray of Revelation

54 Fire/Ice

5 Lim-Dul's Vault

4 Artifact Mutation

70 Thirst for Knowledge

59 Cunning Wish

53 Intuition

30 Rebuild

22 Rushing River

3 Meditate

2 Frantic Search

105 Rack and Ruin

3 Abolish

2 Orim's Thunder

28 Fact or Fiction

19 Gifts Ungiven

2 Plagiarize

1 Submerge

5 Snuff Out

244 Force of Will

48 Misdirection

3 Gush
X

25 Skeletal Scrying

2 Stroke of Genius
Land: 1584

176 Wasteland

163 Polluted Delta

149 Island

143 Volcanic Island

116 Flooded Strand

107 Underground Sea

100 Mishra's Workshop

55 Strip Mine

51 Tundra

44 Tolarian Academy

43 Ancient Tomb

40 Mishra's Factory

35 Mountain

32 Forbidden Orchard

31 Swamp

26 City of Brass

26 Gemstone Mine

24 Bazaar of Baghdad

23 Bloodstained Mire

22 Library of Alexandria

20 Tropical Island

18 Maze of Ith

18 Plains

15 City of Traitors

13 Faerie Conclave

11 Wooded Foothills

10 Darksteel Citadel

8 Badlands

8 Rishadan Port

7 Bayou

7 Glimmervoid

6 Shivan Reef

5 Seat of the Synod

4 Great Furnace

4 Savannah

4 Taiga

4 Underground River

4 Vault of Whispers

4 Windswept Heath

3 Phyrexian Tower

3 Scrubland[/author]"][author name="Scrubland"]Scrubland[/author]

2 Forest

1 Boseiju, Who Shelters All

1 Plateau