A major feature of our continuing effort here at StarCityGames is to cover all the Magic-related news that's fit to print. When we have the opportunity to
bring you the kind of coverage you can't get anywhere else, it's our duty to go the extra mile to land the story. Today we have just such a story.
Long-time StarCityGames columnist and Commander Rules Committee founding member Sheldon Menery is well-known for his large stable of decks, his project to
have at least one of each color combination, and a follow-up project to build a new version of each of them with the same commander but no repeated cards.
One would expect a good deal of cooperation and sense of community from the commanders of a figure who has such strong opinions on community-building and
cooperation. It turns out that all is not well among the commanders who lived at the Menery Estate in Tampa, Florida-that there is a kind of revolt afoot.
That revolt's leader is Yasova Dragonclaw. We sent crack reporter Zanzibar Jones to investigate.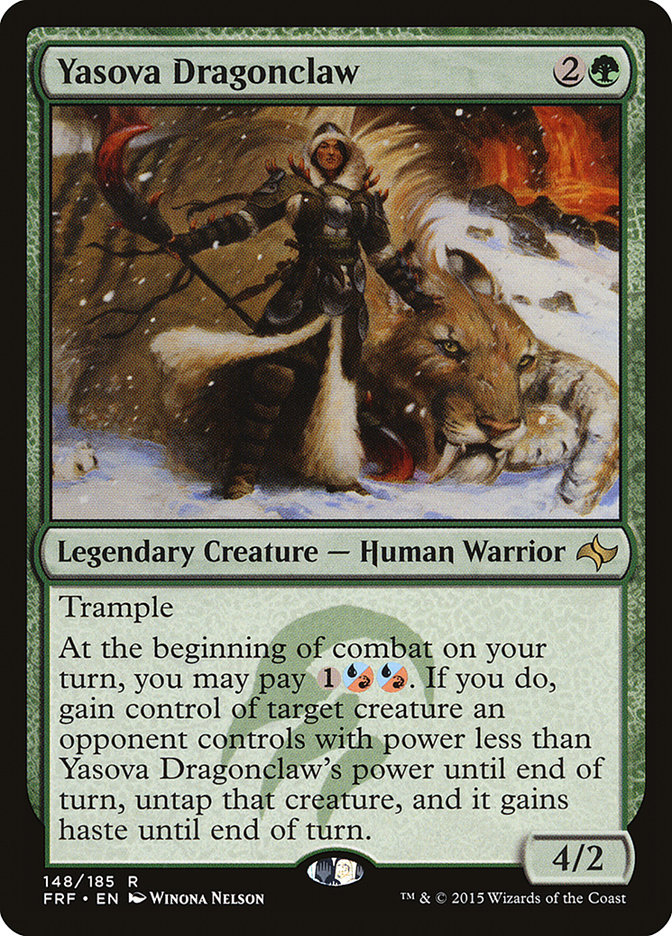 Reporter's Notes:

The only thing funky in Tampa this time of the year is the weather. They can have all the air conditioning they want, but a brother cannot get away
from the humidity. That's probably why they're so crazy down here all the time. It's just soggy.


I go back many years with Sheldon, so when I called, he was willing to do me a solid. I told him I just needed a little vacation time since I was on
the outs with my girl Aujanue Ellis. In truth, me and Aujanue are just fine, but since Sheldon doesn't pay attention to celebrity culture, I figured he
wouldn't know the difference.

Sheldon is busy with carrying a heavy school load, so I had plenty of time to talk with Yasova. She met with me wearing
a Beavis T-Shirt

. I'm sure it was a statement, but I didn't get it. We stayed inside most of the time and drank some wine out of the cellar. She's a big fan of those
broad-shouldered California Cabs, but she'll drink pretty much what you give her. It's easy to get a one-dimensional view of her, with the fur-lined
parka and giant axe, but I got so much more.

SCG (ZJ):
Let's get right down to business. What's the issue?
Yasova:
First, we're not here to cast aspersions. We're not here to unjustly complain. We're here to address an underlying systemic difficulty which results in an
unequal distribution of resources. We simply want more balance.
SCG (ZJ):
You sound more like an economics professor than a warrior from Tarkir's ancient days.
Yasova:
I had the gift of great educational opportunities, so I took them. I have a Master's Degree in Macro Economics. And I've killed my share of Arashin War
Beasts.
SCG (ZJ):
So what's the problem here in the Menery collection of Commander decks?
Yasova:
Well, as you know, Sheldon has a great opportunity to go to Grand Prix Atlanta as part of the Commander 2015 Celebration. He's going to spend some time with the fans
of the format and get to spend the weekend playing with them.
SCG (ZJ):
That hardly sounds like a problem.
Yasova:
On the surface, it's not. It's great for the community, it's great for him.
SCG (ZJ):
Sounds like there's a "but" here.
Yasova:
What decks do you think are going to make the trip with him?
SCG (ZJ):
Kresh, Phelddagrif, Ruhan, Karador, Intet-his signature decks. Maybe Animar.
Yasova:
See the problem?
SCG (ZJ):
You don't seem like the jealous type. In fact, you're probably going since he mentioned multiple times recently that you're his favorite new deck.
Yasova:
Yeah, it's not about me. I'm happy with my own role here. I have opportunity, and we have a great time. I'm talking about the underrepresented decks, the
ones he built but leaves on the shelf all the time. He talks a great game about having decks of each color combination, but how often do you hear him talk
or see him write about that Modern-legal Aurelia deck or Heliod since they've been built? These are good decks and they deserve their opportunity to shine.
They have good cards and help create fun games. You have to admit the guy's a bit of an elitist. Our message to him is that it's time to bring those decks
off the shelf.
SCG (ZJ):
A brother only has so much time to play, what do you expect him to do?
Yasova:
Sure, no one is asking for completely equal distribution of playing time. We are, after all, not communists. What we're looking for here is a little more
balance. Part of my thesis was on closing gaps in two-tiered economies. It's possible to have elite and working classes that both get a sufficient piece of
the pie. Full disclosure: I have a little bit of a crush on Bernie Sanders. I'd like to borrow him for a combat phase, if you know what I mean. Also
Elizabeth Warren. Same thing. Anyway, I've developed a system by which the signature decks get their play time, but the second-tier decks also get time in
the spotlight.
SCG (ZJ):
How was your plan received?
Yasova:
You know those English major types. It was all, "sorry, I'm collecting evidence on how God is dead in James Joyce's 'Araby'" or "I'm busy writing a paper
called 'Transforming Masculinities in Midnight Cowboy: From Range to Runway in Ninety Seconds.'" I understand that he's busy. We just need our
voice to be heard.
SCG (ZJ):
What do you think will happen?
Yasova:
After we made a strong argument, he told me that he'd be willing to take at least one of the underplayed decks with him to Atlanta.
SCG (ZJ):
Solid, which one?
Yasova:
He said he'd let the readers decide. I imagine they can write comments or send him emails, tweets, and whatnot. Personally, I'd like to see one of the
non-green decks represented: Lazav, Lavinia, Melek, whichever. Green is the best color in Commander, but it's not the only color.
SCG (ZJ):
So let's turn the conversation to you personally. Since you're probably going to make the Atlanta trip, people are going to want to know a little more
about you.
Yasova:
That's reasonable. What do you want to know?
SCG (ZJ):
We're in the middle of spoiler season. Any officially-spoiled Battle for Zendikar cards you're hoping will make it into your build?
Yasova:
Well, Smothering Abomination would make a great addition, but it's so far outside my color identity that I can't imagine making it part of the team. Even
if there were no color identity rules, I just couldn't bring myself to play it. Drawing cards is currently one of our weak points. Barrage Tyrant might be
okay, but it would depend on other people getting over-focused on playing Eldrazi, although I suppose there are enough artifact creatures going around.
Borrowing Solemn Simulacrum is a favorite trick of mine anyway. I don't have Eternal Witness, so Greenwarden of Murasa might be good since we're kind of
one-directional and don't reuse things. We don't play any graveyard recursion, although there is Praetor's Counsel.
SCG (ZJ):
Anything else?
Yasova:
There are many cards of the ones we've seen so far which I'm sure I could make use of. The short version of this is that there are more good BFZ cards than
I'll have slots for. I have Coiling Oracle on the team, so I can do some serious work with Bring to Light. Kiora, Master of the Depths is just good, even
if I'm not stylistically fond of it making Octopi. Brutal Expulsion seems like it could be valuable, although I'm not sure what I'd cut to bring it in. Of
course, that's not really my choice.
SCG (ZJ):
Speaking of which, how much input do you get into what cards go into the deck?
Yasova:
You can't ignore that my special abilities suggest certain other things. I obviously like the combat step. I obviously like Threaten-ing things.
SCG (ZJ):
Sweet Julius Erving, I just got the Beavis t-shirt.
Yasova:
Even economists can have a sense of humor. So the answer to your question is that I have a great deal of influence over who and what ends up
on my team. I made the argument for Molten Primordial to come out of Kresh and over here.
SCG (ZJ):
Let's talk about the glaring absence of your brother, Surrak Dragonclaw.
Yasova:
Yeah, don't make too much of a deal over that. I don't much mind him getting sent over to Animar. He fills a great niche over there, especially giving
everyone else trample; the no countering part is just gravy. Getting combat damage through was more of a problem for Animar than it is for us, especially
since we like to create the extra combat steps. We do a better job than they do of getting blockers out of the way, so I don't worry that much about it.
Plus, in a pinch, there's always Kessig Wolf Run. Commander damage kills are a little more important for Animar than they are for me, although when I
occasionally put one or both of those swords in my hand, I get to feeling my oats pretty good.
SCG (ZJ):
Any other cards you're grooving on right now?
Yasova:
Well, I think that the addition of Ernham Djinn was a bit of genius. Here's a card that was very important in Magic a long, long time ago, but as creatures
have gotten better, a 4/5 with a downside for 3G is pretty unimpressive. Turning that downside-giving a creature forestwalk-into an advantage-borrowing
that creature for a combat step-was nothing but inspired deckbuilding.
SCG (ZJ):
You said earlier that Willbreaker was a no-brainer for you.
Yasova:
Indeed it was. It interacts a little weirdly with my ability, but I'll take it. If Willbreaker is on the battlefield, my triggered ability will target a
creature, and Willbreaker's ability will give us control of the creature before my ability resolves. That means that my ability is countered since the
target is no longer legal. The downside is that the creature won't get haste. The upside is that we can keep it until Willbreaker goes away. Willbreaker
makes me want to play janky cards like Sea Kings' Blessing just to have a one-mana Insurrection, but I haven't been able to convince anyone of that.
Somebody < nods toward the office where Sheldon is currently studying the structure of the cell-and it seems like his eyes are completely glazed over>
suggested we add Cauldron of Souls to go with Willbreaker. I've talked him out of it so far because I see it as a big backfire waiting to happen. The idea
is great because it's repeatable. It's terrible because when those creatures get destroyed, the owner gets them back, not us. The strive cards are a little
mana intensive for us, but I'd support crazy ideas like Dwarven Song or Sway of Illusion, or even more normal cards like Jugan, the Rising Star or
Blessings of Nature to put +1/+1 counters on creatures that will then come fight for us.
SCG (ZJ):
You like to make a big show of the idea that you're only borrowing creatures for combat, but then you have all of these sacrifice outlets like Birthing
Pod, Greater Good, and Shivan Harvest.
Yasova:
There's an economic theory called creative destruction. The short version is that you have to break down some things in order to build others.
It's pretty basic stuff. You just have to be willing to do the work, to expend the resources in order to accomplish things. I, for one, am perfectly
willing to sacrifice a creature-even one that has given us good service by bashing face-in order to get rid of something that is contrary to the common
good, such as Cabal Coffers. Shivan Harvest helps accomplish those goals.
SCG (ZJ):
You can't make the argument that sacrificing someone else's creature to Greater Good is in everyone's best interest.
Yasova:
No, I can't. Sometimes you just have to be greedy. That card should be called Greatest Good.
SCG (ZJ):
Snap call: your favorite card in the deck right now.
Yasova:
Savage Beating. I don't care how many advanced degrees I have, violence will always be in my blood.
SCG (ZJ):
Any cards you think are underperforming and/or are prime candidates to get moved out once Battle for Zendikar becomes legal?
Yasova:
That's a tough choice. I don't see any card as underperforming at the moment. If I had to pick a few candidates for removal-especially for the sweet cards
which BFZ will bring us-Flamerush Rider might be one of them because it's a little off-theme, despite how good it is. Dragonrage has been the least
exciting performer, so it's possible that will go. I like Life's Legacy being so cheap to cast-after spending the mana to Threaten a creature, resources
are stretched a bit-but it's not an instant, which reduces its utility. Then again, not everything can be as awesome as Momentous Fall. I'd certainly
rather have Skyshroud Claim than Ranger's Path, but that's just first world problems. Honestly, Riku of Two Reflections can go. I'm not a fan of creatures
who command their own decks being subordinate in others (and you'll notice that Intet deck getting played a lot lately with Riku at the helm). I can't
really make an objective argument to say why that's bad, I just don't like it. Call it a peccadillo.
SCG (ZJ):
Are there particular cards you don't like seeing other folks playing?
Yasova:
Yeah, anything that says creatures can't attack <laughs>. And obviously Wrath of God and the like. We live on the creatures. Oh, speaking of
which, that's another Battle for Zendikar card I want: Void Winnower. Nine mana might be a little expensive for us, but it would take away a
number of Wrath effects. I doubt that we get it-it seems destined for Animar and its ability to cast those Eldrazi for nothing-but I'd certainly love to
have it.
SCG (ZJ):
Anything else?
Yasova:
Yeah, Homeward Path. Screw that noise. That's why we have Avalanche Riders.
SCG (ZJ):
We're about getting to the end of our time. Any final things you want to add?
Yasova:
Yes, I want to circle back around to the first part of the conversation. All decks deserve a chance. They have to rise to the occasion and perform when
they're given the opportunity, but closing off those opportunities due to elitism and favoritism is a shame. I'm calling on everyone to let your voice be
heard whichever way they prefer. Let someone know which of those underplayed decks you'd like to see make the Atlanta trip and take its place on the stage
with the big kids (you can get a look at all of them down below).
SCG (ZJ):
Thanks for taking the time. When's the next time we'll see you?
Yasova:
Probably not until Atlanta. Dude spends way too much time studying.
This week's Deck Without Comment is the aforementioned The Threat of Yasova:
Creatures (29)
Planeswalkers (1)
Lands (38) ADUN'S TOOLBOX;
ANIMAR'S SWARM;
AURELIA GOES TO WAR;
CHILDREN of a LESSER GOD;
DEMONS OF KAALIA;
EREBOS and the HALLS OF THE DEAD;
GLISSA, GLISSA;
HELIOD, GOD OF ENCHANTMENTS;
DREAMING OF INTET;
FORGE OF PURPHOROS;
KARN, BEATDOWN GOLEM;
HALLOWEEN WITH KARADOR;
KARRTHUS, WHO RAINS FIRE FROM THE SKY;
KRESH INTO THE RED ZONE;
LAVINIA BLINKS;
LAZAV, SHAPESHIFTING MASTERMIND;
ZOMBIES OF TRESSERHORN;
MELEK'S MOLTEN MIND GRIND;
MERIEKE'S ESPER CONTROL;
THE MILL-MEOPLASM;
MIMEOPLASM DO-OVER;
NATH of the VALUE LEAF;
NYLEA OF THE WOODLAND REALM;
OBZEDAT, GHOST KILLER;
PURPLE HIPPOS and MARO SORCERERS;
ZEGANA and a DICE BAG;
RITH'S TOKENS;
YOU DID THIS TO YOURSELF;
RURIC THAR AND HIS BEASTLY FIGHT CLUB;
THASSA, GOD OF MERFOLK;
THE ALTAR of THRAXIMUNDAR;
TROSTANI and HER ANGELS;
THE THREAT OF YASOVA;
RUHAN DO-OVER;
KARADOR DO-OVER;
KARRTHUS DO-OVER
If you'd like to follow the adventures of my Monday Night RPG group (in a campaign that's been alive since 1987 and is just now getting started with a new saga called "The Lost Cities of Nevinor"), ask for an invitation to the Facebook group "Sheldon Menery's Monday Night Gamers."