Dragons of Tarkir brings a host of changes to my suite of Commander decks (a massive 44 cards in all!). As with every set going forward, it's ever more
difficult to find room. With this update, it's doubly difficult considering the sheer number of cards I want to put in. It's not enough to just find
suboptimal cards and take them out (although you'll note I find some cards which are underperforming or not performing as expected), it's finding tiny
slices of difference in order to justify not just putting in something new and cool, but removing something just as cool but a little older. It's hard work
and probably why I have so many decks. Let's dive right in:
Adun's Toolbox
In:
Out:
While it would seem most LOLZ-y to put Descent of the Dragons into Karrthus, there's enough going on there already that finding room would be most
difficult. My intention is to use it mostly on my own smaller, utility creatures in order to get them into the graveyard. Harbinger of the Hunt's abilities
might be a little pricey, but I love its flexibility. The possibilities with Swift Warkite thoroughly intrigue me. Obviously, anything with cool
enters-the-battlefield effects is saucy. From ramp creatures like Wood Elves to targeted destruction like Big Game Hunter, there's plenty of value to be
had. Profane Command went out due to just having played it enough and wanting to go a different direction. Experience told me that partially committing to
dredge wasn't all that great, so Golgari Brownscale could go. The Sensei's Divining Top wasn't even foil, so who wants that in their deck?
Animar's Swarm
In: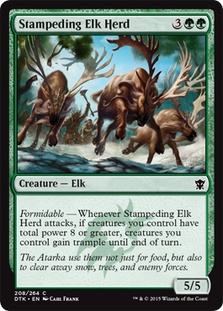 Out: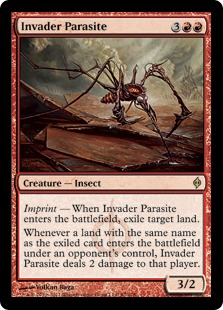 One of the constant problems I've had with the Animar deck is pushing through damage. That's why Sun Quan, Lord of Wu made it into the mix. Stampeding Elk
Herd is another move in that direction. Invader Parasite was clever, but I always intended it to take out troubling non-basics instead of damage people for
playing basic lands. I can do that with Acidic Slime (and copies of it with the copious number of Clones here).
Aurelia Goes to War
In: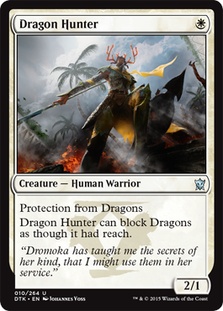 Out: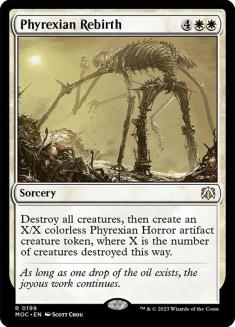 I realized that I don't play this deck enough when I found that I still hadn't physically made the last three updates to it. Dragon Hunter fits the curve
and Phyrexian Rebirth is destined for a later Do-Over Project deck.
Children of a Greater God
No changes.
Erebos and the Halls of the Dead
No changes.
Glissa, Glissa
No changes.
Heliod, God of Enchantments
No changes.
Dreaming of Intet
In:
Out:
Clone Legion is the kind of bombast that this deck loves-so far over the top. The small number of legendary creatures in the deck means that I can
frequently target myself without worrying about the legend rule. Volcanic Vision is an expensive Regrowth that can board wipe everyone else's army. It's
worth the extra cost. Is Volcanic Vision for Clone Legion a combo or a nonbo? Kruphix went out so that I could put it into the Child of Alara deck. Reweave
went out because I needed to give the conspiracy theorists something to work with-you know, the ones who say the banned list is all about making the decks
I play better.
Kaalia and Her Demons
In: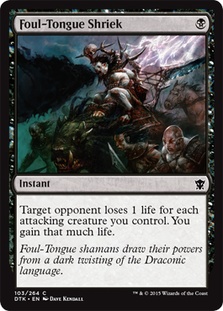 Out: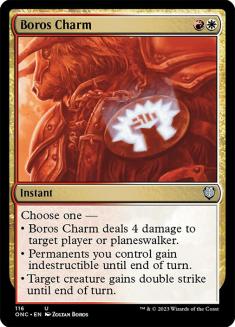 I got super-excited about Foul-Tongue Shriek, because the whole time I missed the "you control" part. I wanted it to be part of the "attacking me will hurt you" suite along with Batwing Brume and Mirror Strike. Even having a different effect than I thought it would, it's still worthwhile since Kaalia can create nice little swarms of attackers courtesy of cards like Darien, King of Kjeldor and Endrek Sahr, Master Breeder. Boros Charm came down to "had to take out something."
Karn, Beatdown Golem
No changes.
Halloween With Karador
In:
Out:
You have to avoid falling back on "that card would go great in Karador," because there are a jillion cards which fit that description. You really have to
focus on the card going great in your particular build. That in mind, Gravepurge fills just the niche I'm looking for-a little graveyard protection.
Withered Wretch will continue to be problematic, but mass graveyard removal stuff like Bojuka Bog will now contend with my ability to put the cards in a
safe place-not to mention the cantrip. If something is in my graveyard and I absolutely need to cast it but I don't have Karador, here's my out. Sidisi,
Undead Vizier is a move off of my stance of trying to go tutorless, but the sacrifice outlet possibilities are too exciting to pass up. I'll likely end up
playing it more like a Birthing Pod than anything else, and I'm certainly not playing any game-ending combos. Requiem Angel will go with Teysa, Orzhov
Scion to provide some creature control. Victimize was surprisingly a card that I didn't get a great deal of mileage out of with this deck; I'm still not
quite sure why. Vish Kal continues his in-and-out pattern in the deck, mostly being a victim of simply space. I feel like there's enough non-creature
control that I could take out either Terastadon or Woodfall Primus. I chose to keep Woodfall Primus because with a sacrifice outlet, it gives me something
as an instant, where Terastadon is more constrained.
Karador Do-Over
In:
Out:
The deck is about the +1/+1 counters, so Anafenza was obvious. Ditto for the Scalelord. I feel bad for Doomgape. It's a card I keep wanting to play and
then take out of decks. Maybe I'll try to squeeze it back into Adun Oakenshield. Requiem Angel was an easy cut since I wanted it in the other Karador.
Karrthus, Who Rains Fire From the Sky
In: Dragon Tempest, Dragonlord Atarka, Dragonlord Kolaghan, Savage Ventmaw, Haven of the Spirit Dragon
Out:
Strangely enough, this isn't the deck that got the most changes from DTK (that would be Merieke). Dragon Tempest helps rain more fire from the sky. It also
gives me the possibility of delaying casting Karrthus simply to give other dragons haste. Flying, trample, 8/8 for seven mana is all I need to know about
Dragonlord Atarka. The rest is just gravy (more like lava, I suppose). Dragonlord Kolaghan provides a little redundancy on the haste front. The final
ability is unlikely in the format, although still possible if an opponent is using something like Memory Plunder or Mindleech Mass to cast something of
yours that's already in their graveyard. With one of those haste things on the battlefield, Savage Ventmaw can be effectively free. I can battle and rain fire at the same time. This is a tribal deck; with few exceptions, I want them to all be dragons, making Haven of the Spirit Dragon into
another Command Tower. The cuts were just because I needed to make cuts. Dragon Throne of Tarkir ended up being not as cool as I thought. Hellkite Charger
went to the Yasova deck, so that one was easy.
Kresh Into the Red Zone
In: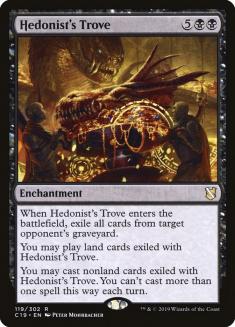 Out: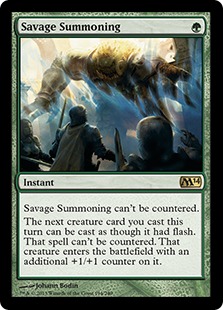 Back in September, I was supposed to take Savage Summoning out. For some reason, I never did and never put in the Grim Return. To make things easy, I'm
just going to remove the Savage Summoning for the thoroughly janky Hedonists' Trove. I don't actually expect it to be all that great, but it adds some
potentially crazy plays, which is what we want out of the format.
Lavinia Blinks
In:
Out:
Ojutai Exemplars is a card that offers quite some flexibility, so I'm interested to see how it will play out. I imagine that I'll mostly use the tapping
part. Venser was free from the Merieke deck, and it fits the Lavinia deck's theme, so in it comes. Grand Arbiter is out because I'd rather not be that guy.
Azorius Justicar is out because targeted detain has been less good than I hoped.
Lazav, Shapeshifting Mastermind
In: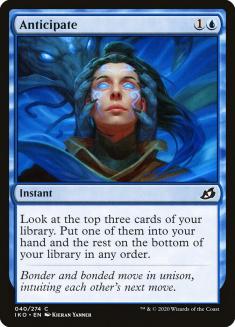 Out: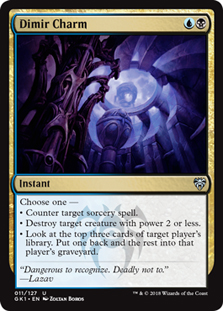 Hey, cheap card draw with Anticipate, plus it goes into the Isochron Scepter package. Dimir Charm was simply victim of being at the bottom of the list of
instants which I wanted to keep.
Zombies of Tresserhorn
In:
Out:
Other peoples' graveyards can hurt. This being an instant can wreck somebody's day when they've overloaded the yard and cast that big Living Death. Since
I'm also playing that and Patriarch's Bidding, I want to make sure that somebody's graveyard isn't better than mine. Risen Executioner is another zombie
lord; I can't imagine casting it from the yard too often, but you never know. I liked Learn from the Past to replace Agent of Erebos because the latter can
be copied and hurt me as well. Gnawing Zombie was just the least good zombie in the deck.
No changes.
Merieke's Esper Control
In:
Out:
Merieke is being reshaped into a dragon deck because of the cool dragons in Dragons of Tarkir. I jammed in everything reasonable from this set. Hidden
Dragonslayer is there because if you want to command dragons, you also have to know how to kill them. Sunscorch Regent will quietly become large and in
charge. My local environment isn't overrun with counterspells, but the option on Dragonlord's Prerogative is still nice. Drawing cards is always good
(okay, except for when Nekusar is around). Dragonlord Ojutai is more hand-sculpting, which is always nice in control-style decks. The dream play with
Dragonlord Silumgar is to steal a planeswalker which is on the verge of going ultimate. Pristine Skywise is this generation's Pristine Angel in Dragon
form. None of the cards cut were underperforming, they were simply part of the creative destruction of the deck.
The Mill-meoplasm
In: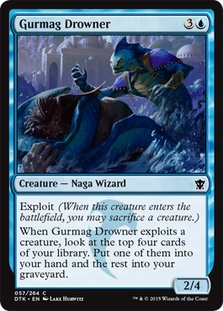 Out: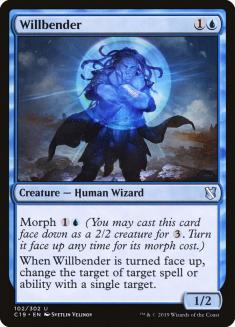 I've moved slightly away from self-mill in this deck, and I'd like to inch back in that direction; Gurmag Drowner is the first step. Willbender is running
around in enough other decks that it's not a great loss here.
Nath of the Value Leaf
In:
Out:
One of the ideas of this deck is cost-both dollar-wise and mana-wise. For the mana, I wanted nothing over five, so I'm not quite sure how Mikaeus ended up
there in the first place. Profane Command cheats the idea as well since it's an X spell. Collected Company will put many of the cards in the deck onto the
battlefield, so it's a nice fit. Surrak, the Hunt Caller will end up as a dollar rare, so it also fits the theme while being occasionally useful.
Obzedat, Ghost Killer
In:
Out:
Myth Realized goes very nicely in a deck that likes to kill creatures en masse. Damnable Pact fills a nice card draw slot in a deck that I'm not
actually too worried about my own life total since there's a reasonable amount of lifegain. Of course, there's always the killing someone else with it
option. Ambition's Cost was a straight-up swap out for Damnable Pact because the latter offers more flexibility. Stonecloaker is fine graveyard removal,
but there's enough other graveyard hate there to be fine.
Purphoros and his Anvil
In: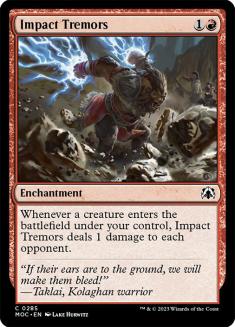 Out: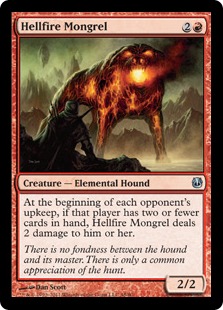 Impact Tremors is a more destructible mini-Purphoros, representing the God of the Forge striking his anvil and shaking the world. Hellfire Mongrel is just
a hound. Where's the poetry in that?
Purple Hippos and Maro Sorcerers
In:
Out:
The two cards that came into the deck are a result of just wanting to play them and this being the deck I could find space in. Profound Journey is an
interesting swap in for Cleansing Meditation, which I found only situationally relevant. Beck//Call at sorcery speed and eight total mana was frequently
awkward, and I don't play enough token-creators for the relatively inexpensive Beck to be worthwhile. Maybe I'll put it back in when I start playing Storm
Herd. Okay, maybe not.
Zegana and a Dice Bag
In:
Out:
Avatar of the Resolute can get arbitrarily large, but note that it's not an enters-the-battlefield trigger, so you can't do any shenanigans like adding
counters with the trigger on the stack. Inspiring Call is built for this particular deck. This will routinely save my bacon and let me fry it up. I'm not
100% sold on Sunbringer's Touch since it's a sorcery, but I'll give it a whirl. Wall of Blossoms was easy to cut because the deck draws enough cards
already. I kept mistaking Give//Take for an instant and it's not. The amount of card draw meant that I generally don't need the land search of Sylvan
Ranger.
Rakdos: Life is Short
No changes. Disassembled.
After playing this deck, I hated it. I took it apart, cannibalizing the cool foils for Kaalia. I'll rebuild it at some point-I'm willing to listen to any
interesting ideas.
Rith's Tokens
In: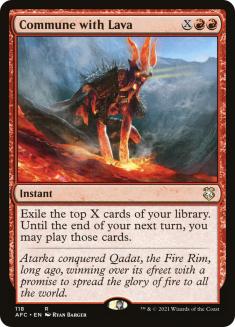 Out: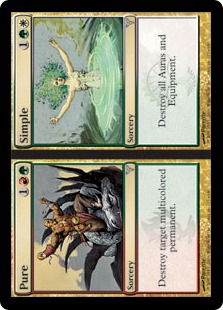 As I suspect it'll be in other Constructed formats, Commune with Lava seems like it's going to be an "end of turn, try to find the card I really need"
spell. We'll see how it works out. I didn't mean to start hating on split cards in this update, it just happened. In my local environment, almost no one
plays auras, so the Simple card wasn't all that great (although it occasionally wrecked the Voltron player).
You Did This to Yourself
No changes
Ruhan Do-Over
In: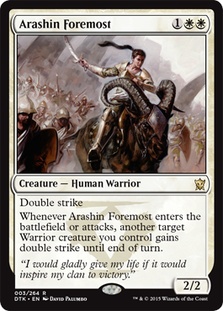 Out: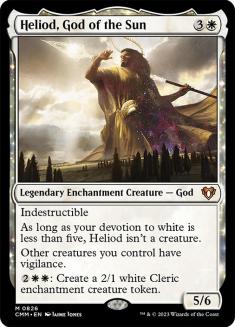 Double striking Ruhan? Sign me up! When I was verifying the deck, I was surprised to somehow find Heliod in it. He now runs his own deck, so he's out.
Ruric Thar and his Beastly Fight Club
No changes.
Thassa, God of Merfolk
No changes.
In:
Out:
Exploit is made for Thraximundar. Clearing the way of smaller creatures is a huge bonus. Ruthless Deathfang just multiplies the effect of what the deck
does, so I expect it to do very well. Spitebellows is an evoke creature that simply isn't as good as Profaner of the Dead. And I swear there's not extended
campaign against split cards.
Trostani and Her Angels
No changes.
I know that some Commander fans are less than enthused about Dragons of Tarkir, but I'm thoroughly excited to get my hands on these cards. Something about
the set just brings out the inner Timmy in me. It's all about big monsters and splashy effects. I absolutely couldn't want more.
Check out our cool deck list database for the latest versions of all my decks:
ADUN'S TOOLBOX
; ANIMAR'S SWARM;AURELIA GOES TO WAR;CHILDREN of a LESSER GOD;DEMONS OF KAALIA;EREBOS and the HALLS OF THE DEAD;GLISSA, GLISSA;HELIOD, GOD OF ENCHANTMENTS;DREAMING OF INTET;FORGE OF PURPHOROS;KARN, BEATDOWN GOLEM;HALLOWEEN WITH KARADOR;KARRTHUS, WHO RAINS FIRE FROM THE SKY;KRESH INTO THE RED ZONE;LAVINIA BLINKS;LAZAV, SHAPESHIFTING MASTERMIND;ZOMBIES OF TRESSERHORN;MELEK'S MOLTEN MIND GRIND;MERIEKE'S ESPER CONTROL;THE MILL-MEOPLASM;NATH of the VALUE LEAF;NYLEA OF THE WOODLAND REALM,OBZEDAT, GHOST KILLER;PURPLE HIPPOS and MARO SORCERERS;ZEGANA and a DICE BAG;RAKDOS: LIFE IS SHORT;RITH'S TOKENS;YOU DID THIS TO YOURSELF;RURIC THAR AND HIS BEASTLY FIGHT CLUB;THASSA, GOD OF MERFOLK;THE ALTAR of THRAXIMUNDAR; TROSTANI and HER ANGELS
If you'd like to follow the adventures of my Monday Night RPG group (in a campaign that's been alive since 1987 and is just now getting started with a new
saga called "The Lost Cities of Nevinor"), ask for an invitation to the Facebook group " Sheldon Menery's Monday Night Gamers."