Pack 1, Pick 1
The Pack:
The Pick:
I've heard a lot of buzz around the card Verity Circle, but I don't really get it. I've played with and against the card multiple times. Sometimes it takes over the game, but sometimes it does nothing. It requires a very specific kind of deck to be good, and even in that kind of deck, it doesn't always do what you need, thanks to the hefty mana requirement.
Imperious Oligarch and Savage Smash are solid gold cards, but they're below the bar of cards I'm happy to first pick. I would take Savage Smash over Imperious Oligarch and I guess I'm not unhappy to start a draft with Smash, but I like both Sky Tether and Sharktocrab over Smash.
Sky Tether is pretty bad in most versions of Orzhov, although occasionally you'll draft an Orzhov deck with a lot of fliers and it will be great. I view Sky Tether as an Azorius gold card. It's pretty much just Pacifism for one mana in Azorius and that's pretty great.
But Sky Tether doesn't compare to Sharktocrab. Sharktocrab is one of the best uncommons in the set. I'm happy to splash it in either Gruul or Azorius, and it's fantastic in Simic. There are multiple ways to move around and place counters such that you can trigger the tap clause multiple times, and that's quite hard to beat. I'm always happy to start my draft with Sharktocrab.
Pack 1, Pick 2
The Picks So Far: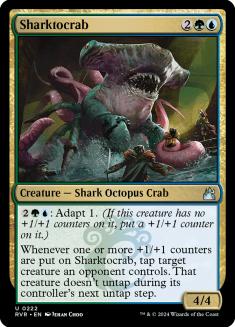 The Pack:
The Pick:
Applied Biomancy is powerful in Simic, but too narrow to take right now. I'm not guaranteed to be Simic and want to keep my options open. In that vein, Senate Griffin keeps the options as open as possible thanks to being a hybrid card, yet it doesn't compare on power level to Summary Judgment, Senate Guildmage, and Gateway Sneak. While Summary Judgment is a strong card I like to take early, it's just a normal removal spell and I would rather start with the uncommons.
The pick between Gateway Sneak and Senate Guildmage is difficult, and you can go either way. The Guildmage is the more powerful card, but Gateway Sneak goes better with Sharktocrab. Personally, I believe Senate Guildmage is in a similar tier to Sharktocrab, and Gateway Sneak is not part of the tier. Due to power-level discrepancy, I'm taking the Senate Guildmage.
Pack 1, Pick 3
The Picks So Far:
The Pack:
The Pick:
Flames of the Raze-Boar is overrated. The card is very powerful, but it's conditional and expensive. When everything comes together it is an absolute beating and wins games out of nowhere, but otherwise it's very mediocre.
A week ago, I would slam Azorius Knight-Arbiter over Sphinx's Insight if in Azorius, but now I'm not so sure. There are a lot of great five-drop creatures in this format and very little good card draw. So while the Knight is the better card, Sphinx's Insight plays an important role, especially if you can get the ever desired Dovin's Acuity deck to build your own Sphinx's Revelation. I still take the Knight here, but I wanted to point out that it's closer than you would think.
If I do end up Azorius, Spirit of the Spires is better than Azorius Knight-Arbiter. The extra toughness matters and four mana matters as well, so this pick is actually between Blade Juggler and Spirit of the Spires. And I think the pick is very close.
If this were Pack 1, Pick 1, I would take Blade Juggler. I think it's an inherently more powerful card than Spirit of the Spires. However, Blade Juggler will probably never get played with Senate Guildmage or Sharktocrab, and both of those cards are much better than the options in this pack. With that as a tiebreaker, I like taking Spirit of the Spires, but I can't fault you for taking Blade Juggler. In fact, the Juggler would have ended up being very good in my deck and better than Spirit of the Spires was.
This draft had a lot of close decisions and was fairly difficult to navigate. From this start, you wouldn't guess it, but I actually ended up Orzhov. I saw a late Blade Juggler, Final Payment, and Imperious Oligarch in Pack 2 and I jumped ship from the first couple of picks. You can view the full draft log here and below is the final product!