Guids of Ravnica's
guild leaders are all pretty saucy, and they all beg to have decks built
around them. This week I'm going to present you with sketches of five
decks, one for each of the guilds. Then, I'm going to ask you to tell me
which one you'd like to see me build. These will all be partial builds,
with an identified theme or direction. I won't go too deep listing the
cards underneath, like mana rocks or ramp spells; I'll fill in the smaller
details on the deck I actually assemble. You're certainly also welcome to
take an idea or ideas and run with it yourself. If you do, share with us
your final list.
Weirdly, three of them have two legendary creatures to pick from. It feels
like all five should have multiple choices, but I'm a fan of symmetry. I'm
told by our own Ari Lax there's a backstory reason for that. Apparently,
Nicol Bolas has assembled his team of planeswalker agents, and those agents
are taking over the guilds. I suppose we'll see more of this unfold in Ravnica Allegiance.
For those guilds that have two legendary creatures, I'm going to pick one
and run with it. The other will probably figure in the deck somewhere; you
don't want to leave out your guild buddies, after all.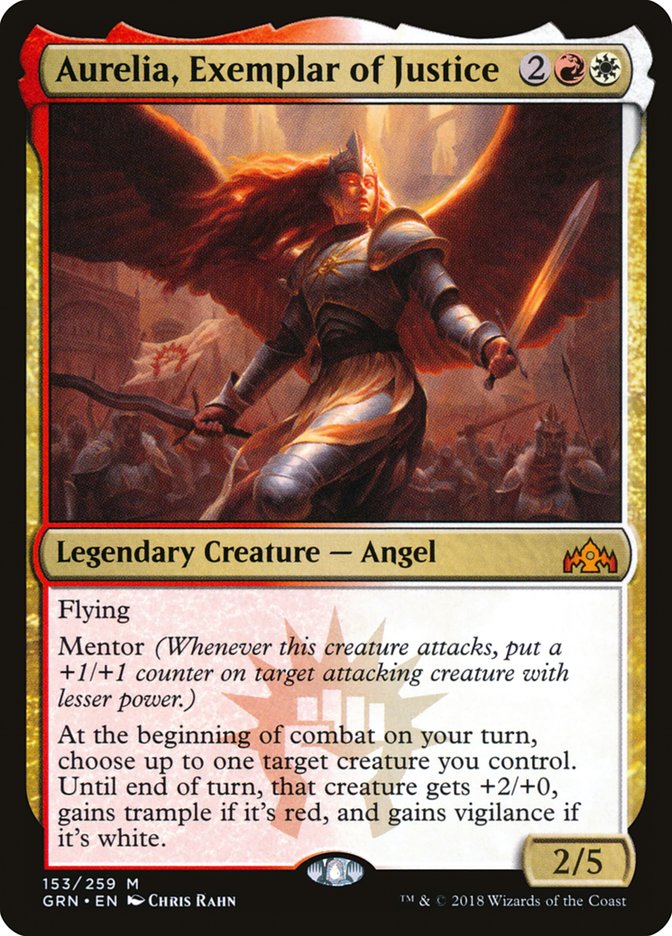 I'm not afraid to admit that I'm a fan of Angels, in all their battle glory
incarnations. This deck will feature multicolored Angels – you'll see that
there's more of them than you thought – plus cards that help out with
multicolored spells. Then we'll go where that leads.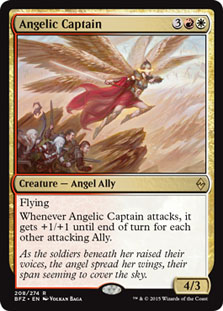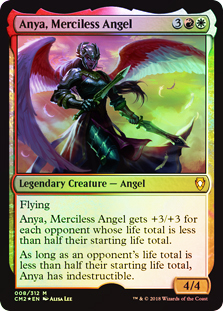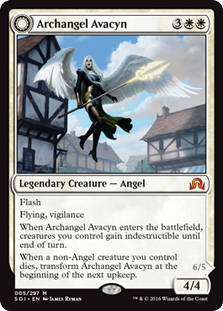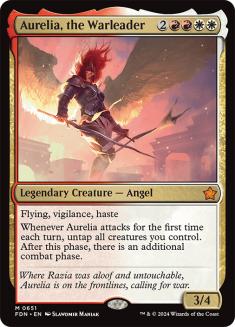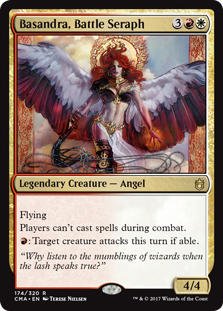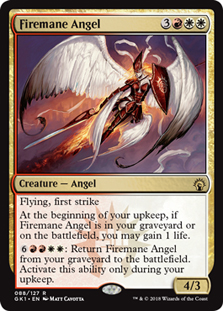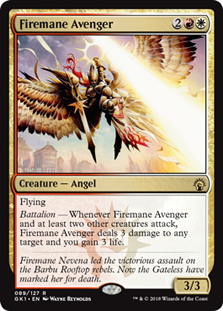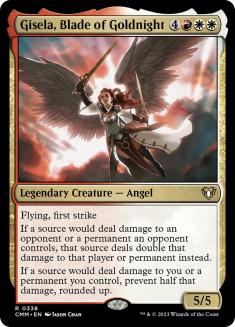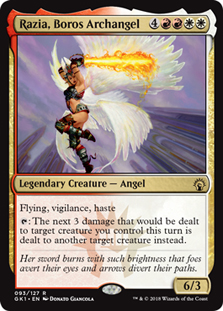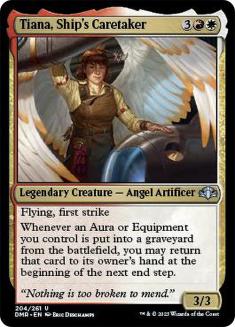 Tajic will protect us when Archangel Avacyn transforms or against a
multitude of other damage spells. It might lead us to a whole Mark of
Asylum angle. We can add our favorite equipment or auras for Tiana, which
may add Guildscorn Ward to the previous list. We all know that auras can be
tricky to play with because you get two-for-one'd when the creature dies,
but Tiana can help mitigate that. There are only two that are both white
and red. Scourge of the Nobilis and Squee's Embrace; both seem worth
playing if we want to head that direction. Some of the equipment that buff
up creatures, taking advantage of our commander's ability might be good for
laying some savage beats, so long as they don't also confer protection from
white or protection from red.

There are 120-odd choices, so the Angels we choose would be all about
flavor and taste. Whether we want to go aggressive with Bruna, the Fading
Light and Gisela, the Broken blade into Brisela, Voice of Nightmares or
more controlling with Angel of Serenity, Angel of the Dire Hour, or Angelic
Arbiter, we're pretty much left up to our moods. Heavenly Blademaster would
play into the Tiana subtheme. Obviously, we're playing Emeria Shepherd
since it's simply good. I'm hard pressed to build an Angel deck without
Blinding Angel, because it has saved me many, many times. Having Akroma,
Angel of Fury and Akroma, Angel of Wrath on the battlefield at the same
time is pretty thematic, but they're both expensive enough to think twice
about.
As far as other cards go, it feels like Angels are quite retributive, so a
few You Did This to Yourself spells, like Mirror Strike, Comeuppance, and
Reflect Damage make sense. Psychotic Fury got me thinking about double
strike. This gives us spells like Boros Charm, Onward//Victory, Phalanx
Formation, and everyone's favorite, Savage Beating.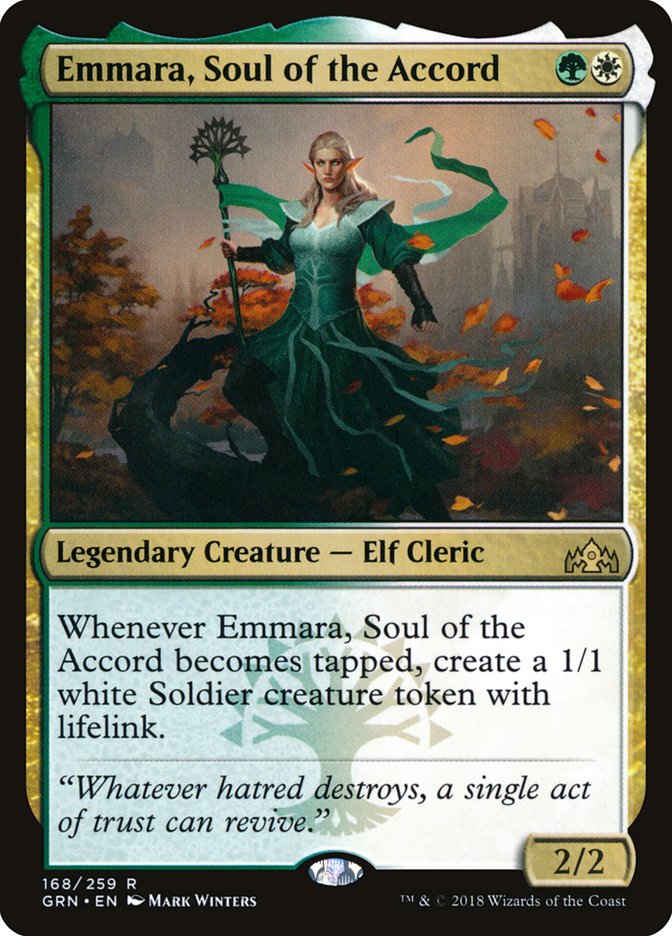 The first card which leaps to mind with Emmara is Glare of Subdual. The
action of tapping down an artifact or creature creates another thing to tap
down something with. Selesnya Control isn't a direction we often head in,
so clearly that's where we'll go. Trostani Discordant obviously becomes
part of the deck since she makes all our creatures larger while bringing
some along with her. We obviously play March of the Multitudes as well.
If we're headed the token-creation route, then we'll want Divine
Visitation, so that they're big Angels instead of little Soldiers. Even if
we're doing that, we'll want all three versions of our favorite white
planeswalker:
They all create tokens and do other cool things. The idea is to get the
emblem from Elspeth, Knight-Errant so that we won't have to worry about
getting our stuff blown up. Because we're playing some sort of control,
it's far more likely to happen.
As tapping down creatures is part of our raison d'être, we'll want
to consider things which will keep them that way. Marble Titan, Crackdown,
and Meekstone are all possibilities. Blinding Beam has some possibilities.
Pollen Lullaby, Tangle, and Spore Cloud are Fogs which might do the trick.
Oracle en-Vec might create some difficult choices for people. They'll know
we can tap down creatures and they don't want to lose them, so they're more
likely to just not attack. Steam Catapult, a card from Portal Second Age,
will always have plenty of targets. If you have the cash, Moat is a fine
idea, but we'll need to make sure we have some attackers that can fly, but
that's more protection for our planeswalkers than it is tapping down stuff.
We'll also need some bigger offensive weapons, especially flying ones. The
majority of them are white, and we could certainly go down the tribal Angel
path again. Even if we don't, a few Angels probably make the cut anyway.
Emeria Shepherd, Exquisite Archangel, Requiem Angel, and Sigarda, Host of
Herons are all possibilities. Blazing Archon shuts down attacks while
providing big beats.
Add Bear Umbra and/or Sword of Feast and Famine to untap our creatures so
that they can tap down more things. Join Shields from Guilds of Ravnica does the same while making our side
indestructible. Ahn-Crop Champion gives you the ability to do it every
other turn while getting in some damage as well. Seedborn Muse takes us
down a well-traveled road for very good reason.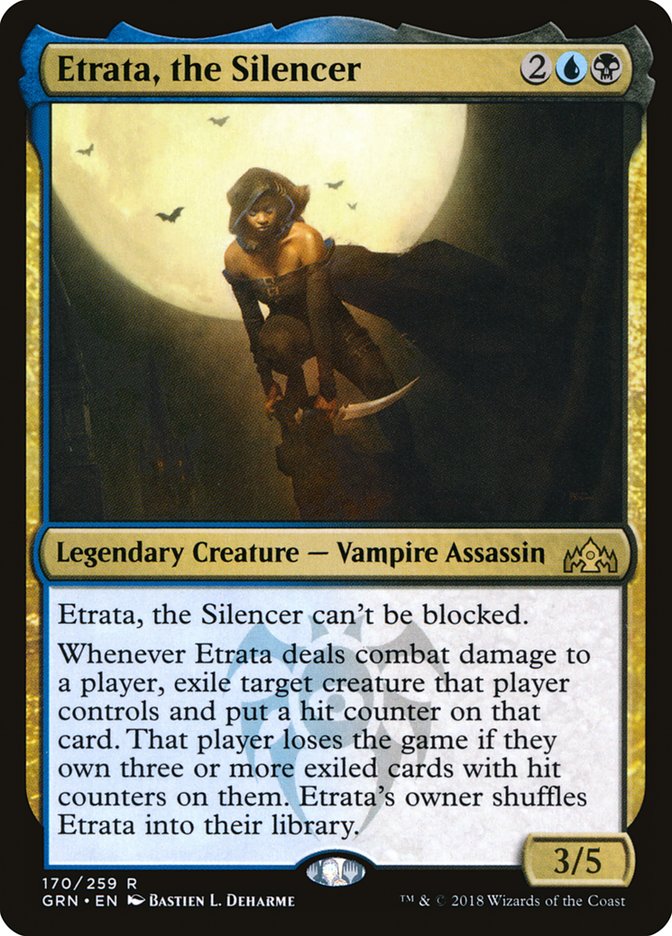 No insult to Lazav, the Multifarious, but Etrata is a pretty splashy card.
It can't be blocked, so we don't have to worry about that, which means we
just need to somehow protect it. We can go the equipment route of Hammer of
Nazahn or Darksteel Plate to make it indestructible, Lightning Greaves or
Swiftfoot boots to make it untargetable, or if we want to get really techy,
Ring of Xathrid. The Ring lets us regenerate it and will give it a +1/+1
counter on our upkeep since it's black. After that, it's just equipment to
taste, since Hammer of Nazahn will fetch something else, and if we're going
to play that one, we should probably take advantage of it.
As far as Etrata's triggered ability goes, we'll want to make sure that we
can target opponents' creatures, so Arcane Lighthouse is the first thing
which suggests itself. We might even consider things which keep other
creatures around (Dark Dabbling?) just so that they're available for
targeting. There are two Commander-specific cards that could pay dividends
here. One is Infernal Offering. You choose an opponent and each of you
sacrifice a creature; both players who do draw two cards. Then, you and an
opponent both return a creature card to the battlefield (note that this
ability isn't targeted). These can both be different opponents, so you can
target the player who is reluctant to have creatures out that you're going
to exile. The second card is Tempt with Immortality. It's a Tempting Offer
which will return a creature from your graveyard and then an additional one
for every opponent who does the same. The principle is the same; make
things available to be targeted.
The rest of the deck I would build involves keeping too many things from
attacking me, such as Propaganda or Crawlspace. No Mercy is a fine
enchantment, and if people want their creatures to go away so that you
can't hit them, that's even better. But it won't all be defensive. Using
the surveil mechanic, we can get some fat into our graveyard. I'd consider
House Guildmage, Mephitic Vapors, Price of Fame, Mission Briefing, and
Sinister Sabotage. We'd use Oversold Cemetery or Palace Siege to start
getting the smaller ones back and cast them, while we use reanimation
spells or Sheoldred, the Whispering One to bring back the big ones. I'd
include a few Clones as well-Stunt Double, Sakashima the Imposter,
Gigantoplasm, Quicksilver Gargantuan, Body Double to capture the value of
other players' creatures. If we want to go a different direction, we're in
the colors to leverage the Bone Dancer/Thassa, God of the Sea combo.
In the end, an Etratra deck is all about the commander, so the rest of the
cards are support for what you want to do. What would be really cool is
trying to set up killing each opponent a different way. Add something silly
like Snake Cult Initiation so that you can kill someone with poison
counters after having eliminated someone else with those equipment and
commander damage, then finish off the last person with Etratra's ability.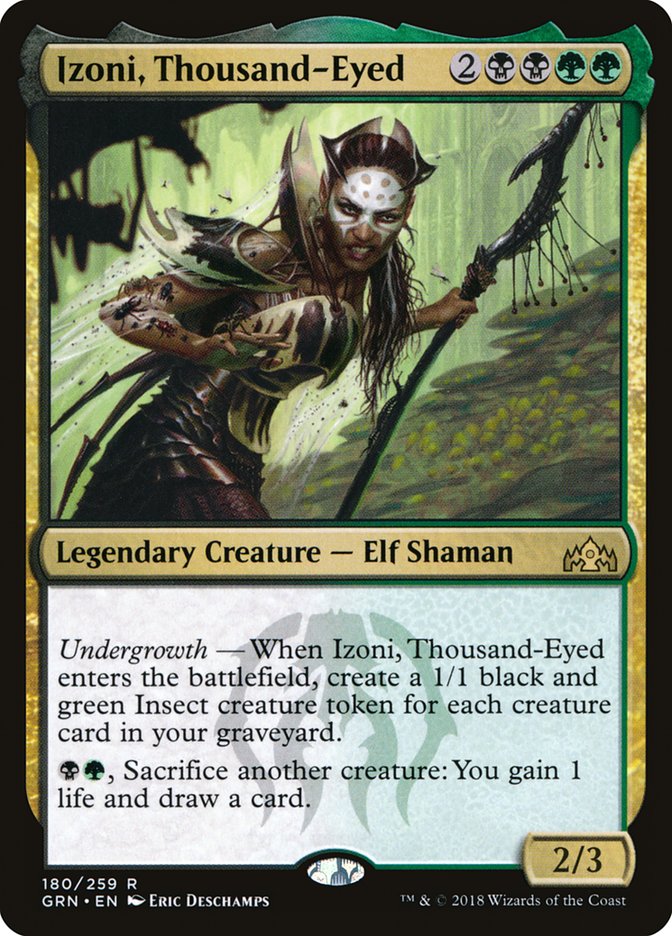 The time which has passed since we first saw Izoni hasn't dampened my
thirst for it in the least, especially since we're going Insect tribal. Ant
Queen, Carrion Beetles, Crash of Rhino Beetles (!), Decimator Beetle, Giant
Adephage, Gleancrawler, Grave-Shell Scarab, Hornet Queen, Living Hive, a
whole swarm of Nantukos, Nullmage Advocate, Saber Ants, Scute Mob, and
Vorapede are just the tip of the iceberg. Beacon of Creation and Symbiotic
Wurm will help us do good work.
Of course, we'll want to have some self-mill to take advantage of
undergrowth abilities on more than our commander, like Hatchery Spider
(keeping with our creepy-crawly theme), Kraul Foragers, and Undergrowth
Scavenger (which is a fine card in any commander game; it's normally going
to be huge). Mesmeric Orb should get us there really fast. We can also
sacrifice creatures to Altar of Dementia. And since we're in Golgari
colors, Deathbridge Chant works.
There are some fantastic other black and/or green creatures that use the
graveyard, like Golgari Grave-Troll, Jarad, Golgari Lich Lord, and Lord of
Extinction. Kessig Cagebreakers can be lethal very quickly. Vraska, Regal
Gorgon isn't going to get there that often, but getting that ultimate just
once will fell pretty good. We can use Champion of Stray Souls to sacrifice
some of those Insects in order to bring back the beef from the graveyard.
We can also go wide by making a bunch of Insects and using Overrun and its
cousins, Garruk Wildspeaker or Overwhelming Stampede. We might think to
buff them with Door of Destinies, Vanquisher's Banner, or the king of them
all, Coat of Arms. It won't take that many Insects to just overwhelm all
opposition.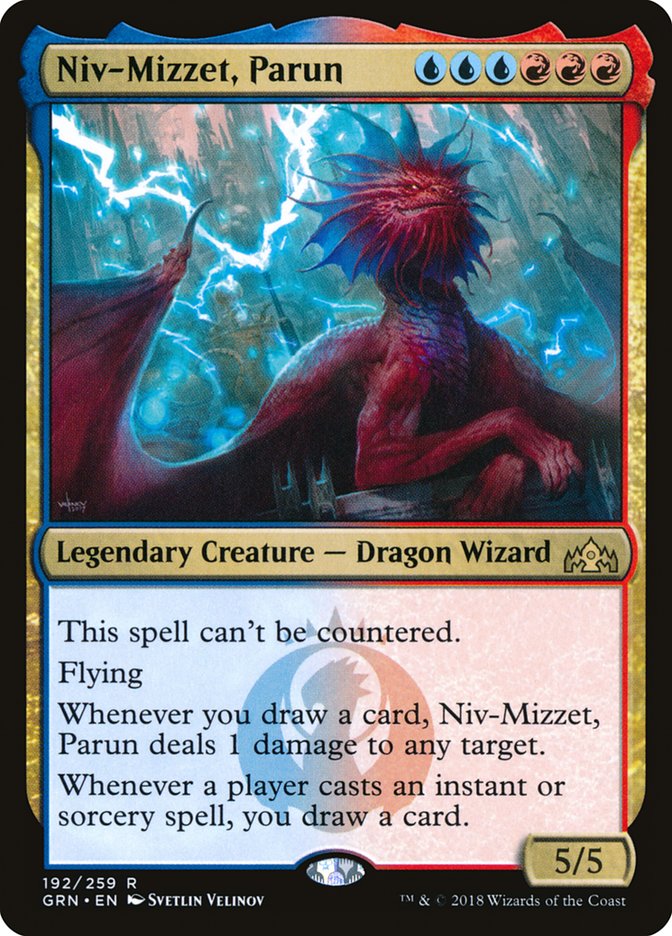 We save the toughest for last. There are some affordable Izzet commanders,
like Jhoira of the Ghitu, Jhoira, Weatherlight Captain, and Nin, the Pain
Artist (who we'll most assuredly be putting into this deck), but Niv-Mizzet
follows the hard-to-cast-repeatedly model that many Izzet commanders suffer
from. I'm not saying that for what it does it shouldn't be hard to cast,
but the three of each colored mana component makes things awkward.
We'll obviously want to take advantage of Niv-Mizzet, Parun's abilities,
the second of which works in tandem with the first. We might even consider
going mostly creatureless, getting our creatures onto the battlefield by
casting spells. Bribery and Rite of Replication are Commander staples, or
we could go the Clone Legion route. The Locust God will create 1/1s for
each card we draw. Crush of Tentacles provides nice battlefield control
with adding a huge creature to our side of the table. There are enough
Threaten spells to make a whole suite out of, which has the advantage of
being useful even if we don't have our commander on the battlefield. Mind's
Dilation would do double duty, sometimes giving us creatures, sometimes
giving us spells.
If we're going to have creatures, we'll make them do the spellcasting that
we want. Diluvian Primordial and Chancellor of the Spires come to mind, as
does Baral, Chief of Compliance. The other versions of Niv-Mizzet are a
must. Psychosis Crawler will help with both damage and beats. There are few
substitutes for Consecrated Sphinx when it comes to drawing cards.
Hypersonic Dragon would let us cast sorceries as though they had flash,
bringing lots of surprises to the battlefield. Magus of the Jar would
certainly get us drawing cards in big batches, dealing out loads of
damage-but putting cards into other players' hands is pretty dangerous. The
rest of the deck is then mana rocks and the other fuel which lets us cast
lots of those spells.
Summary
Each of the five ideas has its own value. I'm interested in hearing which
one you'd like for me to build, so reach out via social media and let me
know. I'll post Twitter and Facebook polls and we can tally up the results.
I'll then put together the winner and take it through its paces.
Question of the Week

This week's question comes from Boom Bap Connoisseur on Twitter.
They ask:

"Why is Prophet of Kruphix still banned when you have turn 1 6/6 with
flying and lifelink? I get probably someone in your test group loves
playing green and gets all the cool green stuff banned but can we get
some spicy unbans?"

Well, for one, banning one card has nothing to do with banning another. You
can check out our philosophy document for how we arrive at decisions. And
the person in my group that loves green is me. I'm more likely to support a
ban on something that I've abused myself than something that I've faced. As
far as spicy unbans go, we'll see. I haven't gotten any support on
Recurring Nightmare from the rest of the Commander Rules Committee-mostly
because it's a terrible idea.

Check out our comprehensive Deck List Database for lists of all my decks:
SIGNATURE DECKS





Purple Hippos and Maro Sorcerers

;

Kresh Into the Red Zone

;

Halloween with Karador

;

Dreaming of Intet

;

You Did This to Yourself

.
Mono-Color


Heliod, God of Enchantments

;

Thassa, God of Merfolk

;

Erebos and the Halls Of The Dead

;

Forge of Purphoros

;

Nylea of the Woodland Realm

;

Karn

Evil No. 9.
Guilds






Lavinia Blinks

;

Obzedat, Ghost Killer

;

Aurelia Goes to War

;

Trostani and Her Angels

;

Lazav, Shapeshifting Mastermind

;

Zegana and a Dice Bag

;

Rakdos Reimagined

;

Glissa, Glissa

;

Ruric Thar and His Beastly Fight Club

;

Gisa and Geralf Together Forever

.
Shards and Wedges









Adun's Toolbox

;

Angry, Angry Dinos

;

Animar's Swarm

;

Borrowing Stuff at Cutlass Point

;

Ikra and Kydele

;

Karrthus, Who Rains Fire From The Sky

;

Demons of Kaalia

;

Merieke's Esper Dragons

;

Nath of the Value Leaf

;

Queen Marchesa, Long May She Reign

;

Queen Marchesa's Knights

;

Rith's Tokens

;

The Mill-Meoplasm

;

The Altar of Thraximundar

;

The Threat of Yasova

;

Zombies of Tresserhorn

.
Four Color


Yidris: Money for Nothing, Cards for Free

;

Saskia Unyielding

;

Breya Reshaped

;

Yidris Rotisserie Draft Deck

.
Five-Color
Partners



Tana and Kydele

;

Kynaios and Tiro

;

Ikra and Kydele

.


Adun Oakenshield Do-Over

;

Animar Do-Over

;

Glissa Do-Over

;

Karador Do-Over

;

Karador Version 3

;

Karrthus Do-Over

;

Kresh Do-Over

;

Steam-Powered Merieke

Do-Over;

Lord of Tresserhorn Do-Over

;

Mimeoplasm Do-Over

;

Phelddagrif Do-Over

;

Rith Do-Over

;

Ruhan Do-Over

.
If you'd like to follow the adventures of my Monday Night RPG group (in a
campaign that's been alive since 1987) which is just beginning the saga The Lost Cities of Nevinor, ask for an invitation to the Facebook
group "Sheldon Menery's
Monday Night Gamers."