Hi friends,
Thanks to the overwhelming support from all tiers of the Magic: The Gathering community, 2013 has been an amazing year for StarCityGames.com Organized Play programs. Today I'm excited to be able to give you a glimpse into a few of the exciting things we have planned for 2014.
1. Continued Support of the Legacy Format
Earlier this year, we experimented with offering Opens using a number of different formats and configurations. The results of each experiment were disappointing by every metric, so for 2014 we plan on returning to the Open Series formats we know our players want to play and our SCGLive viewers want to watch: Standard every Saturday followed by Legacy every Sunday.
2. StarCityGames.Com Organized Play and Team Limited
Throughout 2013, having one of the two main events on an Open Series weekend be Team Limited was a blast but presented a number of issues that didn't quite fit with our overall vision for the Open Series. In 2014, we will continue to offer four Team Limited events over the course of the year exactly as we do now. However, those events will be run as standalone Classics (5Ks) and will not feature live coverage.
3. StarCityGames.Com In-Store Programs
The growth of StarCityGames.com In-Store Programs is something that I and my entire team have been particularly proud of. Going into its fourth year now, these store-based initiatives have enabled game stores throughout the world to offer their players unique tournaments, exclusive prizes, a chance to qualify for an upcoming StarCityGames.com Invitational at the local level, and more. Starting in 2014, organizers of these events will have access to even more exclusive prizes!
a) Introducing Limited Edition Pins!
This exclusive limited edition StarCityGames.com Creature Collection Penguin pin will only be available at select Open Trials and Invitational Qualifiers from January–March of 2014 and only while supplies last. Be sure to ask your local game store to order these for their Open Trials and Invitational Qualifiers being held during this time because once they're gone—they're gone!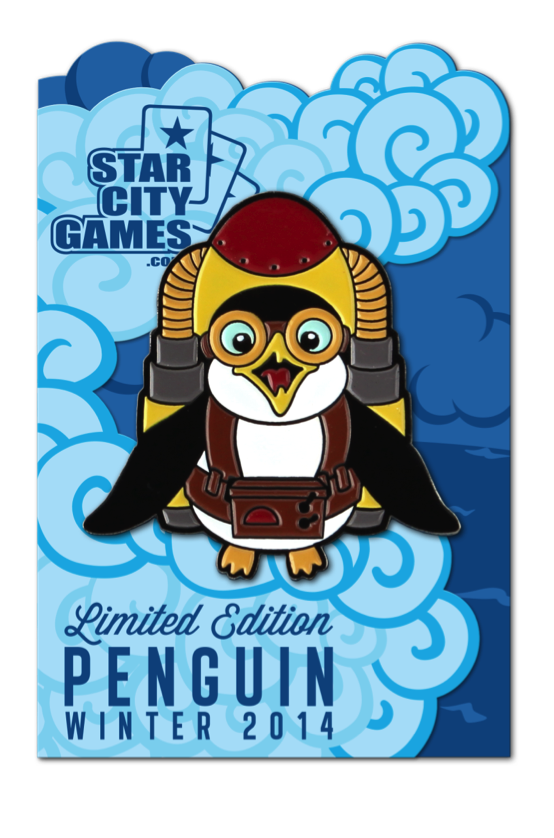 Click to enlarge
b) New Playmats!
A new season also means new playmats featuring the incredible artwork of fan favorite Kristen Plescow. Here is a peek at the first Invitational Qualifier playmat available in 2014, featuring a character we call Aia on her Pegasus continuing her quest for enlightenment!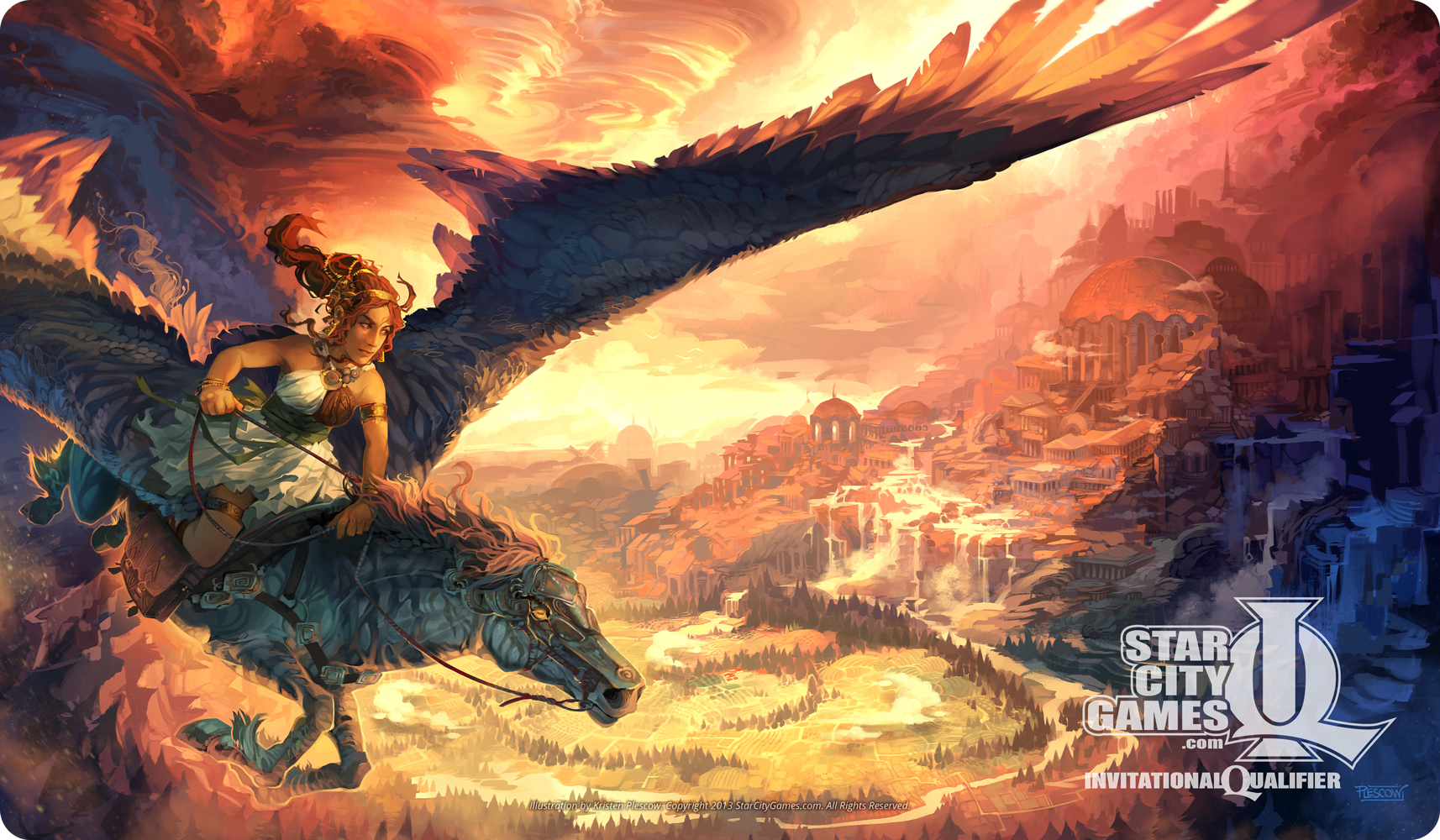 Click to enlarge
Our newest Open Trial playmat features the latest in a long line of dragons along with an elf family and one playful (and courageous) little boy!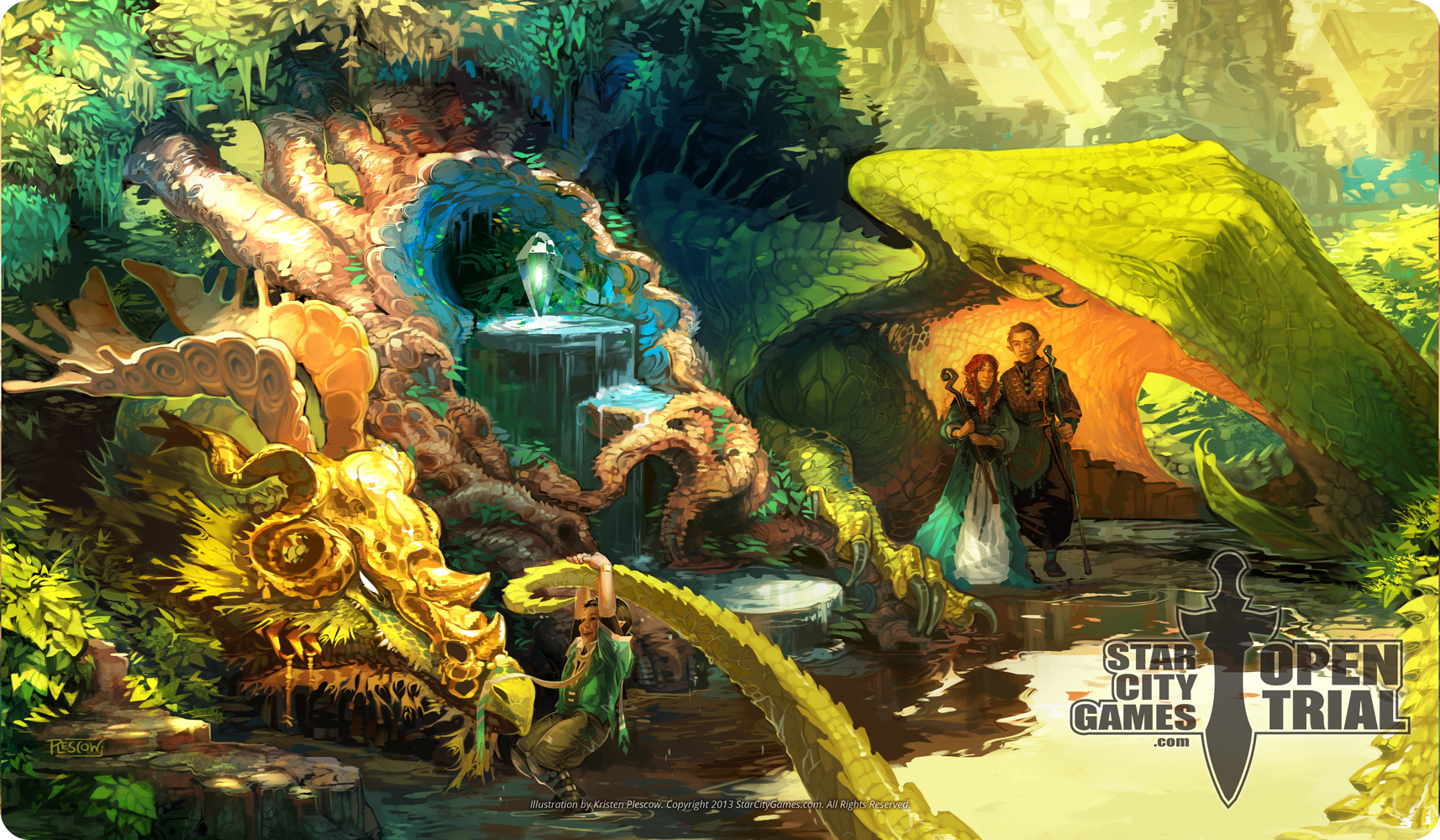 Click to enlarge
c) New Tokens!
The amount of exclusive and unique art produced for StarCityGames.com In-Store Programs lends itself perfectly to a series of tokens. Beginning in January, the following tokens will be exclusively available to all Star CityGames.com In-Store Programs events!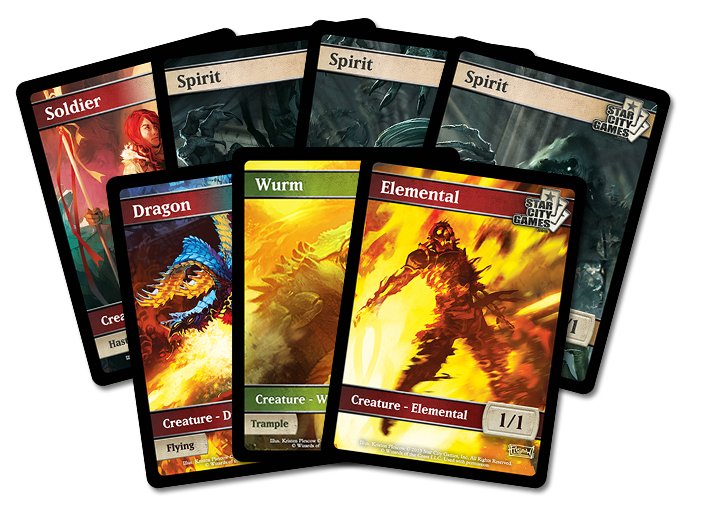 Click to see all token images
Each token will also feature a unique back denoting the token and season it was distributed in.
Click to enlarge
Oh, and 2014 will also herald in one more addition to our StarCityGames.com In-Store Programs . . .
4. StarCityGames.Com State Championships – #SCGStates
Since the launch of StarCityGames.com In-Store Programs, one of the most frequent requests we've received from retailers and players alike has been to offer some sort of State Championship event. Today I'm excited to announce that the 2014 StarCityGames.com State Championships will take place on Saturday, May 17th – Sunday May 18th (Spring) and Saturday, October 11th – Sunday, October 12th (Autumn) at 52 select game stores throughout the United States and Puerto Rico! Each event will offer uniquely branded Top 8 pins and playmats, a championship medallion, a slot to any of the next four StarCityGames.com Invitationals, and more! Mark your calendars now for #SCGStates!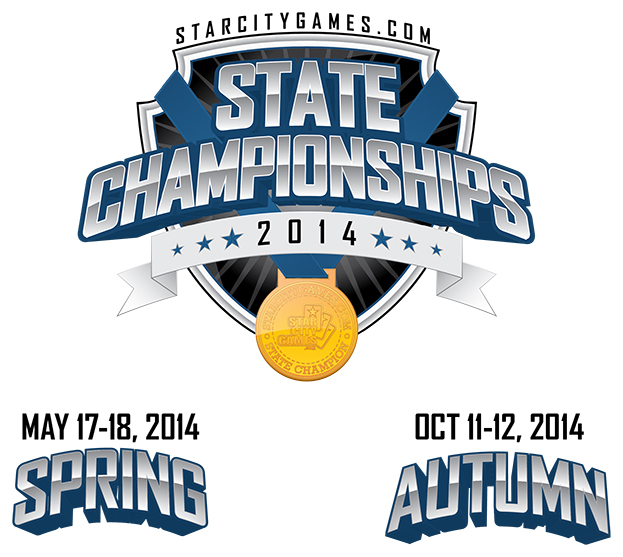 5. 1Q 2014 Open Series Schedule
Since WotC announced their full 2014 Grand Prix schedule, many players have inquired about our 2014 Open Series schedule. While we are not yet able to announce the complete schedule, we can announce our complete 1Q 2014 StarCityGames.com Open Series schedule, including the date and location of next year's first StarCityGames.com Invitational!
| | | | |
| --- | --- | --- | --- |
| January 4-5 | Indianapolis, IN | Standard | Legacy |
| January 11-12 | Orlando, FL | Standard | Legacy |
| January 18-19 | Columbus, OH | Standard | Legacy |
| January 25-26 | Baltimore, MD | Standard | Legacy |
| February 8 | Richmond, VA (Classic 5K) | Team Limited | – |
| February 8-9 | Nashville, TN | Standard | Legacy |
| February 15-16 | Somerset, NJ | Standard | Legacy |
| February 22-23 | St. Louis, MO | Standard | Legacy |
| March 1-2 | Atlanta, GA | Standard | Legacy |
| March 15-16 | Seattle, WA | Standard | Legacy |
| March 22-23 | Los Angeles, CA | Standard | Legacy |
| March 28-30 | Charlotte, NC (featuring Invitational #1) | Standard | Legacy |
| | | | |
And speaking of Invitationals . . .
6. 2014 StarCityGames.Com Invitational Locations
After Charlotte, the remaining 2014 StarCityGames.com Invitationals will take place in:
2Q Columbus, OH
3Q Somerset, NJ
4Q Seattle, WA
This may seem like a lot to announce at once, but there's still a lot more to come! Let's just say that you definitely won't want to miss tuning in for coverage of December's StarCityGames.com Open Series featuring the Invitational in Las Vegas. 🙂
In the meantime, be sure to visit www.teamstarcitygames.com all week long as Cedric Philips and Reuben Bresler chronicle TeamSCG's quest for victory at Pro Tour Dublin!
Best wishes,
Pete Hoefling
President, StarCityGames.com
www.starcitygames.com