The multi-armed bandit problem is a mathematical problem dedicated to resource allocation in order to maximize some gain. More specifically, the focal point of this problem is on the trade-off between exploitation and exploration. The problem is described as such:
Let's say there is a slot machine with many arms. Each arm has an unknown probability distribution that describes how it pays when the arm is pulled. Every time you pull an arm, you get some reward belonging to that probability distribution. Your goal is to pull the sequence of arms that maximizes your reward.
In the world of Magic, gain isn't in dollars, but rather game wins. Furthermore, Draft can be described as a "restless bandit problem." This means that the probability distributions are also dependent on the draft pool. At any given point in a draft, a player is trying to take a card out of a pack in order to maximize the expected win percentage of the deck they will end up with, given the pool they currently have. The pool is the state. Each card is a slot machine. The goal is to take the card that maximizes your expected win rate.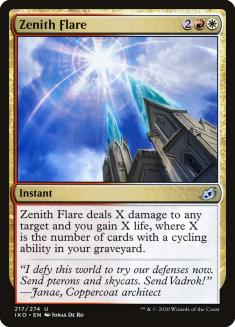 When I draft a deck, I then play the games. Those games give me information related to the reward distributions of each card in my deck with respect to each other. This updates my understanding of each card. It only took casting Zenith Flare once to drastically update my prior thoughts of how I expected it to impact my win rate.
But why does this problem definition matter? It's just inapplicable theory, right?
The importance of identifying Draft as a bandit problem is that it demonstrates that optimizing your win rate is directly tied to the trade-off between exploitation and exploration. Win rate isn't just a function of each individual draft decision as it relates to the current deck. Win rate increases with the skill of internalizing information from exploratory decisions. This means that, in the long run, taking the incorrect pick for the purpose of learning can often yield higher reward.
The line between exploiting strategies known to work and exploring new ones is hard to discern. It's a skill to cultivate, and one with huge long-term benefit. In fact, it motivated my draft below starting as early as Pack 1, Pick 3.
Pack 1, Pick 3
The Picks So Far:
The Pack:
The Pick:
Pack 1, Pick 4
The Picks So Far:
The Pack:
The Pick:
Pack 3, Pick 1
The Picks So Far:
The Pack:
The Pick: